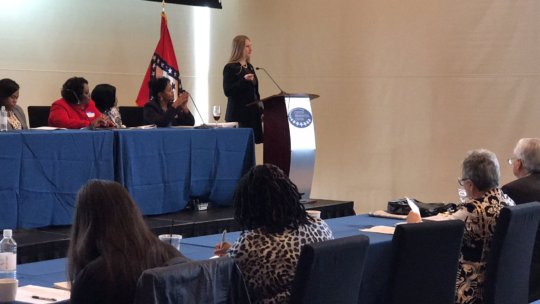 In late October, Arkansas Women's Business Center (AWBC) Director participated in the Delta Grassroots Caucus at the Clinton Library in Little Rock, Arkansas. The Delta Caucus advocates for economic progress and equality across the eight-state Delta region. Director Liz Young served on the panel for women and minority issues regarding community and economic development, along with leaders of other organizations across the nation.
Young shared AWBC's mission of helping women-owned small businesses start, grow and compete in markets by providing quality training, counseling, and access to capital and other resources. Young also highlighted big changes for women-owned business certification in Arkansas. The AWBC has assisted a growing number of clients in recent years seeking their women-owned business certification (WOBC) as more state and local agencies prioritize business with women- and minority-owned businesses. Until 2017, the only certification process for women-owned businesses was on the federal level. While this federal certification is great for those businesses seeking business with the federal government, those needing it for state and local businesses were going through a time-consuming and sometimes costly process to certify. While women can also self-certify for free, this process involves a large amount of paperwork and can take several months to complete. Their other option is to pay a third-party certifier to complete paperwork requirements and submit for the business. This third-party certification costs more, but is less work for the business owner and a quicker process. To be eligible for WOBC, a business must be at least 51 percent owned and controlled by one or more women who are U.S. citizens, whose business formation and place of business are in the U.S., and whose management and daily operation are controlled by a woman with industry experience.
In 2017, Arkansas legislators passed a bill that allows women to be considered a minority in the state of Arkansas. This is huge for the WOBC on a state level! Now, women are under the new Minority and Women-Owned Business Enterprise (MWBE) Certification. This certification will increase opportunities with the state of Arkansas for those who participate. It is free and a fairly quick process, taking 30 to 45 days to complete after an application is submitted.
"According to the latest U.S. Census Bureau's Survey of Business Owners in 2012, the total number of women-owned businesses in Arkansas is 75,952 (with or without paid employees), or 32.7 percent of all firms with or without paid employees," Young explained. "The percentage with paid employees is 16.8 percent. This averages a little higher than the most recent 2015 statistics for the United States of 31 percent women-owned firms, which generate $1.5 trillion in sales."
Young also shared about other programs and trainings AWBC delivers across the state, including new programs working with youth entrepreneurs.
"The AWBC is continually looking to serve as many possible women and minorities across the state, continually looking for new opportunities to deliver services, particular in rural and underserved areas of the state," Young said. "By connecting with champions within small towns across the state, partnering with community colleges across the state, and cross-collaboration on other Winrock International programs within the state, AWBC is able to expand our reach and serve those in need of our services."