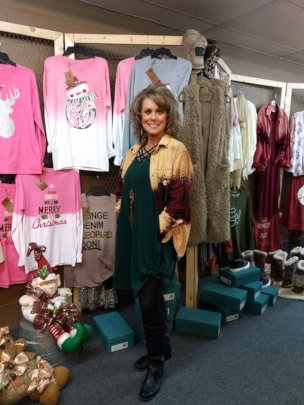 When Susie was just 15 years old, her mother taught her how to sew, and her lifelong love for crafts and design was born. Fifteen years later, in February 2012, that passion came to fruition when she founded Fabulous Designs by Susie, a specialty craft business in her hometown of El Dorado, Arkansas.
Before she started her business, Susie ran a successful RV park and raised two children with her husband -- but beyond designing and sewing outfits for herself and her daughter, she didn't have time to pursue her true passion. Susie says that fifteen years later, when she and her husband decided it was time to close the RV park, she had a life-changing epiphany. She realized that she didn't want to be an employee; she wanted to continue being an entrepreneur and own her own business. Susie's husband supported her dream, building her a 12' x 24' "sewing house" in their backyard. Here she spent hours designing and making everything from purses to clothing to holiday décor.
While browsing Facebook one day in 2014, Susie saw an advertisement for Arkansas Women's Business Center's (AWBC) Mistletoe Market. Though she already had a customer base on Facebook, she wanted to expand her business, so she requested an application and joined the 2014 Mistletoe Market show.
"I jumped and took a leap of faith. I was so scared, but stepped out of my comfort zone," Susie says. "I created new and different things that came to mind, but there was always worry and doubt that people wouldn't like my creations and not buy anything."
After her first show on November 8, 2014, Susie was hooked. At Mistletoe Market, people saw the value in the products that she had spent so much time and effort creating, and she sold almost everything she had made. Susie said she was humbled by the response of her customers, and that she knew immediately that she would participate in the event every year.
Fabulous Designs by Susie was a vendor at Mistletoe Market from 2014 to 2017. Each year Susie brought more merchandise, and each year she almost completely sold out. Mistletoe Market confirmed Susie's suspicions — she had a large enough customer base to support a storefront.
In February 2017, Fabulous Designs by Susie opened a storefront at 1001 North College in El Dorado, Arkansas. Her love for sewing and fashion soon filled an entire 1,200 square foot building. Susie has expanded into marketing retail — jewelry, shoes, soaps and candles — but she hasn't steered away from her main passion: sewing. The storefront has opened new doors for Susie, allowing her to maintain contact with her clients year-round rather than just seeing them once a year at Mistletoe Market.
Now that the AWBC holds two markets a year —Spring Market in April and Mistletoe Market held in November — Susie has twice the opportunity to expand her customer base. She enjoys the atmosphere at the events, especially meeting other entrepreneurs with the same passion for running their own businesses.