Kenya has not been exempted from the ongoing worldwide pandemic. They are sad to report that the schools are still closed until next year. The government stated that the schools will open once all the COVID -19 measures have been put in place.
The children are out of school and their lives are not the same. Most of the children are happy when they are at school. The village children are going through a lot of difficulties as they have no food. Many children depend on the meals served at school, this makes it hard for them to stay at home without a meal. Families are surviving on one meal per day and the children are finding it hard.
We have tried our best as an organization to support not only the children from our school and home but the children in the community. Since the month of March we have been giving food baskets to widows, widowers, and poor families. The program has been of big help to the community members, especially children. The basket comprised Maize flour, sugar, tea leaves, salt, cooking oil, and soap. The soap was a must because with COVID – 19 we need to wash our hands with soap every time and some families have cannot afford soap. They would rather buy maize flour than soap.
We would like to thank GlobalGiving for their generosity towards our food program. Tumaini benefitted from the grants and we were able to reach out to more families in the village. Our food distribution has benefitted 100 people directly and more than 500 people indirectly.
We would like to thank all our supporters who have continued to send their monthly donation during these hard times. This has helped us feed our children who have been placed in families and those outside Tumaini fraternity. Kindly share with friends about the good work you are doing. This is the only way we can be able to build our donor family and reach more suffering children.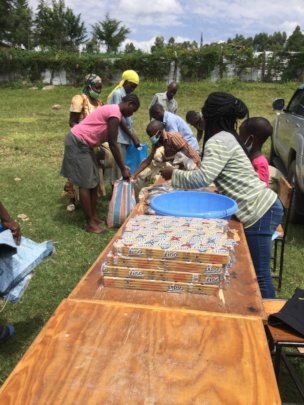 We are sad to report that we have had no activities in the last four months. The schools are still closed andwe are not certain when we will resume our normalcy.
Currently our government has reported 6800 cases of covid – 19 and 144 deaths. The number of cases per increase day after day making it hard for the government to reopen the schools. Our children are safe and we have not had any cases in our community. We are careful about the measures put by the government.
The only danger we are facing is how to feed the children especially those living with the guardians. We are doing what we can but it is so hard to feed every one. It is always easy for us to feed them at the school but we are forced to feed the families because these children live with families. The cost of each commodity has changed and it makes it hard for the needy as they cant afford. We thank all who are continually giving towards their sponsored children to enable us provide for them.
We are hopoing to report more activities after the schools are back to normal. We thank you all for your continued support and prayers especially during this hard times.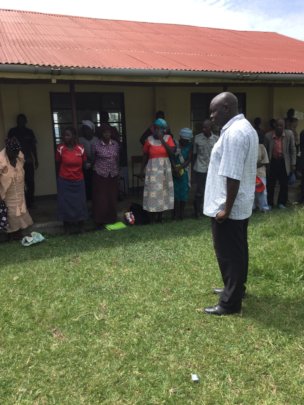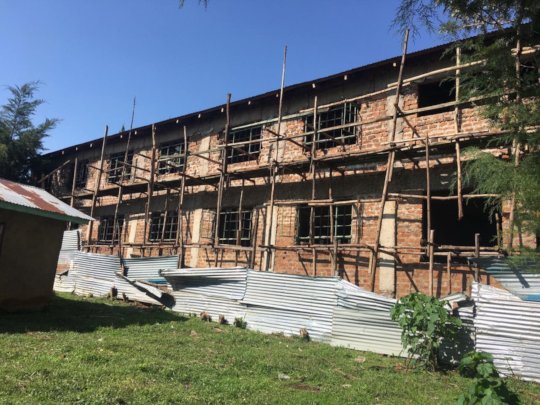 Time goes so fast, it's already three months since schools closed abruptly because of the Covid-19 pandemic. It is an experience that will never be forgotten. The education sector has been hit hard and this is very heartbreaking for the students especially those who were preparing for their exams. The eighth grade students were looking forward to joining high school next year but the hope is dying slowly by slowly. After the government announced the extension of lockdowns their hearts swell, the hopes ceased and they are now struggling to cope with the situation. The same happened to our high school students, they are always excited when they get to the end of their high school. They can't just imagine spending another two semesters in school but all in all they are coping with the situation.
The covid-19 has hit us as a school as well. It has been hard to share with the world about our new classroom building. We got stuck on the way but we thank those who have given towards the building. We all believe that all students have a right to have a conducive learning environment and that is exactly what we are doing. We have worked tirelessly to finish one side of the block and we have been able to roof. We have are now working on the plastering, fixing the windows and doors, floor tiles and painting. After this we will have at least some students who will be able to use these classes when we reopen the schools.
The other remaining part has a lot of work, we need to raise the columns and do the walling.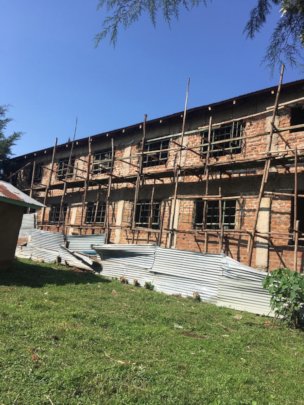 WARNING: Javascript is currently disabled or is not available in your browser. GlobalGiving makes extensive use of Javascript and will not function properly with Javascript disabled.
Please enable Javascript
and refresh this page.