We published Monthly Report vol.9,
Please find attachment and visit our facebook page(www.facebook.com/civicforce).
Industry restoration support (May,2011 - on going)
After research and investigations conducted since May, a new type of type of fund to support the restoration of industry, the General Incorporated Foundation Tohoku Kyoeki Toshi Kikin(Tohoku Common Profit Investment Fund), was established in December. The project was not only created to be a success in a specific business, but also as a "common profit investment" that would serve as a new regional industrial model that would regenerate local ties through its operation. With a plan for Civic Force to contribute 200 million yen from its donations and the remaining 300 million yen to be contributed by various businesses, the fund will support product development, marketing, sales promotion, and more.
Company volunteer dispatch (August,2011 - on going)
We began a project to dispatch various companies' employees to the island of Oshima, Kesennuma, Miyagi Prefecture in August. Since September, we have collaborated with Global compact Japan Network's disaster area restoration program, with a total of 284 employees from 9 companies visiting disaster-stricken Oshima. Each month, 3 groups are sent to stay on the island for five nights and six days, removing rubble and cleaning photographs. In December, we held a workshop to look bank at the activities conducted so far and consider future reconstruction activities. Starting in January, we plan to construct rafts to be used for oyster farming. We also plan to continue harnessing the organizational and technological strength of commercial companies to conduct activities.
Attachments:
We met with Koji Arisawa and Waichiro Katsuda from Civic Force in the port city of Kesennuma, on a blustery but clear day, April 4 2012. They took us through a backroad through the mountains until we saw the sea again. Like every other coastal town we had seen on this trip north from Sendai, no houses remained, but a road stretched out towards the point. So we drove down as far as we could, then scrambled along the rocky coast until we happened on a low slung building that used to house an oyster research facility. Inside were a dozen women threading baby scallops onto ropes.
Hatakeyama-san is one of 3 brothers, whose father's house was one of the only houses spared by the tsunami, because his house was up on a bluff overlooking the shallow bay area. He and his brothers had also been active in environmental preservation in the area trying to prevent deforestation and preserving water quality long before the tsunami. So when their parents' house was the only one spared in the area, and they were able to leverage their relationship with the oyster research station to arrange for an immediate lease and conversion into an ad hoc shellfish cultivation station to re-employ villagers, they jumped at the chance. Now villagers--who have to drive 30 minutes now to get to the cultivation station from the temporary housing that they have all been relocated to--are one of the few people who can point to oyster and scallop harvests for 2012, being one of the first fishermen back at the business in the week after the earthquake and tsunami.
Every single one of the survivors has a story. Hatakeyama-san's younger brother was in a boat when the tsunami struck, having tried but failed to get out to the higher seas, but managed to swim his way out to one of the many little islands dotting the bay. From there he was eventually rescued by the one boat that survived the devastation because it had been anchored far out, to be back buying seed oysters and scallops a week after 3.11.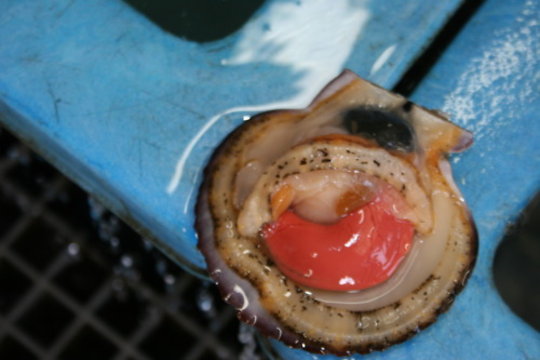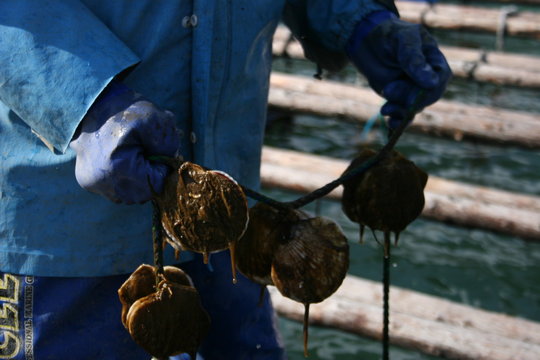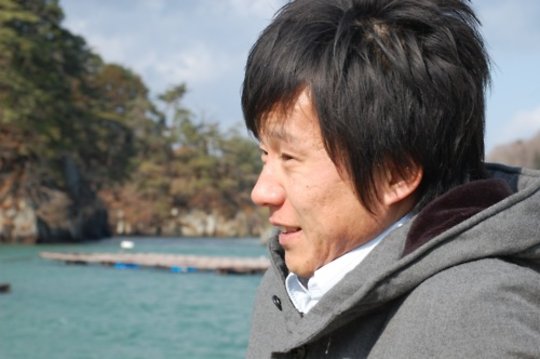 We published Monthly Report Vol.8,
Eight months have passed since the earthquake
Eight months have passed since the Tohoku Earthquake. Along with the start of the harsh Tohoku winter, numerous new issues are arising such as discussions of moving to higher ground and the psychological care of disaster victims. Meanwhile, people are also making steps towards recovery from the disaster, stating "We cannot be depressed forever" and "Let's face the future."
Tohoku's recovery will still require many long months and years. While supporting disaster victims as they restore the area, Civic Force is also utilizing its experience in Tohoku to proceed with preparations for the next unpredictable disaster.
While new issues related to reconstruction are arising, the 8th Monthly Report will introduce cooperative partner projects which have entered a new phase. The cooperative partner projects have been implemented since April. Through cooperation with partner organizations that are able to respond to various needs in areas hit by the disaster using their specializations, the projects provide social services.
The eight projects of Phase1 were implemented just after the disaster. The seven projects of Phase2 utilized specialization and novelty to support reconstruction efforts while also aiming for the participation of the community of disaster victims themselves. Currently, the five projects of Phase3 are aimed solely at supporting local organizations. Below, we report on the Phase3 operations, which include a portion of phase2 projects which have been started anew.
If you need further information, please find attachment and visit our facebook page(www.facebook.com/civicforce).
Attachments:
WARNING: Javascript is currently disabled or is not available in your browser. GlobalGiving makes extensive use of Javascript and will not function properly with Javascript disabled.
Please enable Javascript
and refresh this page.