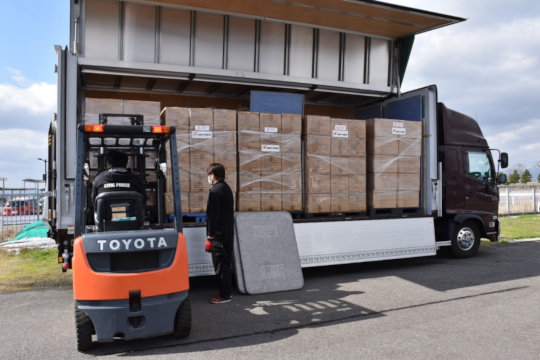 The new coronavirus (COVID-19) continues to spread and has infected over 82,000 globally and killed at least 2,800, the vast majority in China. Alarmingly more and more medical facilities are depleting their stocks of protective supplies. In response to this need, Civic Force arranged transportation of 504,000 masks to the International Health Welfare Institute (IHWI), a local partner in Shanghai, China. The masks were delivered to IHWI on February 20 and will be delivered to Chinese medical facilities in desperate need of supplies. The masks, including 252,000 children's masks, were a part of a stockpile stored in a warehouse in Fukuroi, Japan. Civic Force has opened our stockpile and received requests from many medical facilities in Japan to provide protective supplies.
As the number of infections outside China continue to rise, Civic Force needs your continued support to meet the needs of medical facilities. Your support contributes to turning the tide against this outbreak.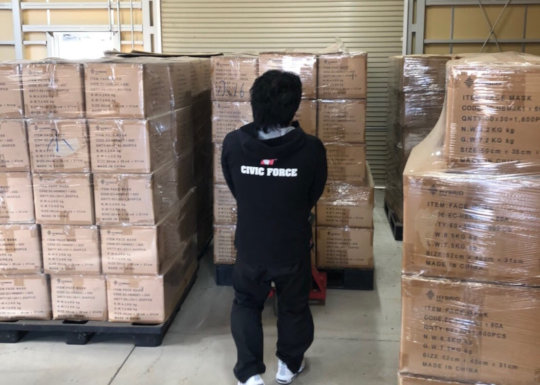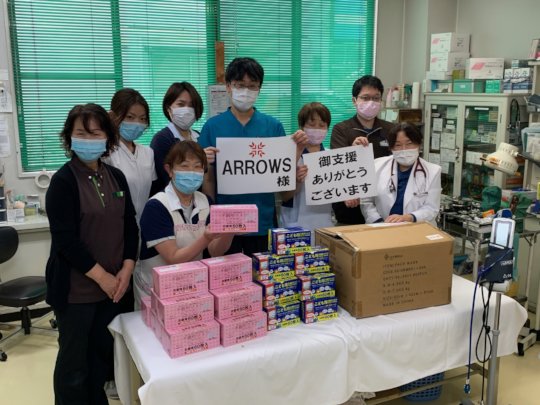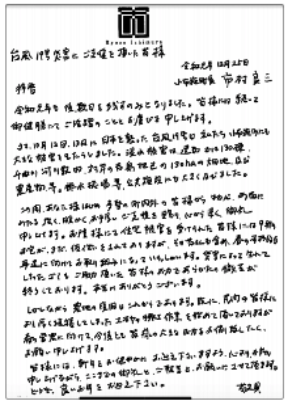 As part of emergency assistance activities for Typhoon No.19 (Hagibis), Civic Force has been leasing five pressure washers free of charge to the disaster volunteer center at the Obuse-machi Social Welfare Council in Nagano since October 19, 2019. Obuse-machi is known for their famous chestnuts and many tourists visit the town this time of year to enjoy this snack. However, the number of tourists have decreased drastically this season due to the disasters. In the midst of this recovery period, Civic Force received a letter from the Mayor of Obuse-machi. A section of the letter is extracted below:
"Typhoon No.19 on October 12-13 that hit Japan brought immense damage to our town. The flooding damage was wide-spread across 130 buildings, the Chikuma River bank, 130 hectares of farmland, and public facilities including a drainage station.
I would like to send my sincere gratitude for the tremendous in-kind support and well-wishes from people in and outside of Obuse-machi including Civic Force. While nine households are still living in temporary housing, families whose homes were flooded are now working toward reconstruction in spring. Thanks to the volunteers, the debris has been mostly removed. Thank you very much.
However, rehabilitation of the damaged farmland has just begun. While many well-wishers have been helping us to remove mud, I would like to ask for your continuing support as we aim to recover by the farming season in spring."
-Mayor of Obuse-machi, Ryozo Ichimura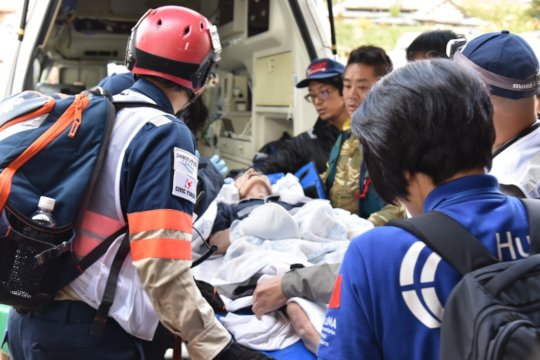 It has been two weeks since Typhoon Hagibis made landfall in Japan, leaving 83 confirmed dead and 11 missing in its wake. The 19th typhoon to hit Japan this year, the people of Japan were still recovering from Typhoon Faxai from September. Prior to landfall, Civic Force and our partners remained on high alert and responded quickly by sending our search-and-rescue team.
From October 13-16, Civic Force participated in a patient transfer operation for 228 patients. The operation assisted the Sanikukai Clinic in Nagano that experienced continuing power and water outages. The patients were transferred to eight nearby hospitals.
Civic Force also conducted needs assessments at three evacuation centers around Nagano. Toyono-Nishi Elementary School, Showa-No-Mori Fitness Center, and the Hokubu Recreation Center were converted to receive evacuees. Civic Force distributed such relief items as clothing, hygiene products, cups, medical masks, etc.
Civic Force has expanded the target area for needs assessments by going to affected areas in Fukushima Prefecture. Soma has been experiencing a water outage so our team delivered portable water containers.
Additional items Civic Force has distributed include:
5,600 winter clothing items to evacuation centers in Nagano and Obuse
1,200 pairs of socks to Chikuma city hall, Nagano
5,712 pairs of underwear to evacuation centers Nagano and Fukushima Prefectures
5 pressure washers to Obuse, Nagano
Civic Force is continuing to support the victims of Typhoon Hagibis by distributing much needed relief items. The evacuees temporarily staying at evacuation centers and victims able to stay at their homes have changing needs to we are trying to meet. We thank you for your support and please spread the word on the situation in Japan.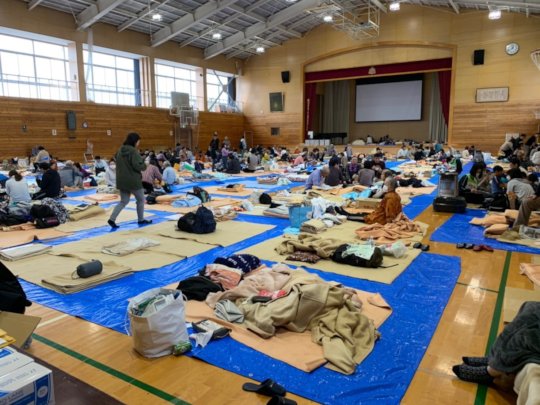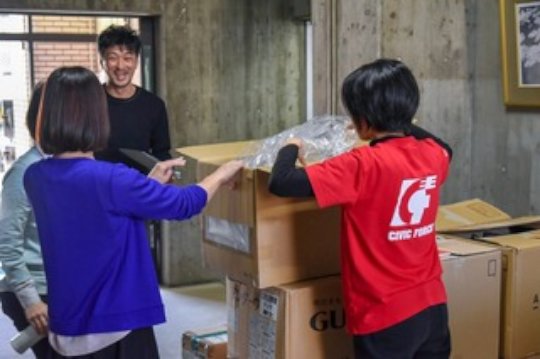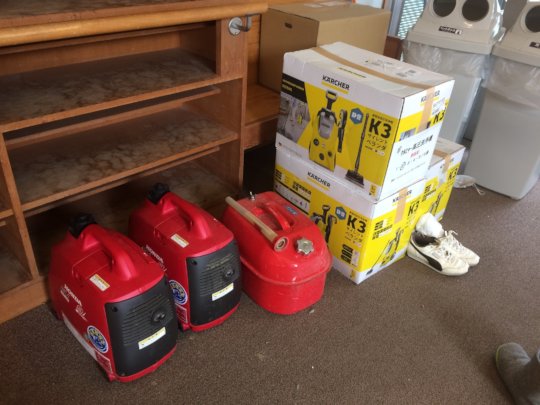 WARNING: Javascript is currently disabled or is not available in your browser. GlobalGiving makes extensive use of Javascript and will not function properly with Javascript disabled.
Please enable Javascript
and refresh this page.