Dear GlobalGiving Supporters,
I would like to share the story of Kalpana who has selected innovative business-
After becoming a member of the Mann Deshi Chambers of Commerce, Kalpana has improved the branding, packaging and marketing of her cold pressed oils, uses digital transactions to improve her efficiencies and build her credit history, and has acquired thousands of new customers through Mann Deshi's various marketing platforms. Kalpana could understand the market demand and improvising strategies in her work. She has also opened an Recurring Deposit account in the bank and started saving, She has availed a loan of 100,000 rupees to expand her business.
Little wonder that her profits have doubled!
Thank you so much for all your support !!
Links: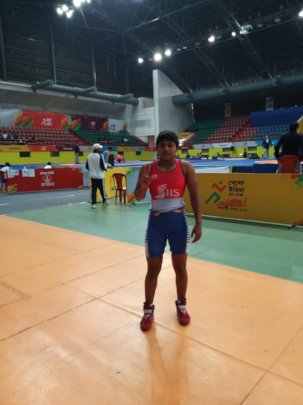 Story of courage and hard work
Kajal is in 12th standard. She has always been amongst the brightest students in the class. She has always dreamed of becoming a wrestler just like her father. However; when Kajal was a child, her father was not happy, since he wanted to have son. She barely had any guidance from her friends and family to pursue her dreams.
Her father is a farmer. Her village receives no to very less rainfall every year and suffers from draught. So, the marginal farmers' suffer the most from the recurring draughts. They tend to be caught up in trap of indebtedness every year. With a poor economic background of her family, Kajal was unable to convince her father to admit her in the wrestling academy of Mann Deshi Champions.
On the occasion of a village fair, kajal entered in a wrestling bout against a boy, her father had no idea, This was Kajal's only opportunity to show her father she is no less than a boy. With lot of courage, and strong mind, Kajal won the bout. In the village everyone was talking about her victory and the move she played. Kajal's father had to notice her achievement. Finally Kajal joined Mann Deshi Champions program. She felt as if the new doors of opportunities have opened for her. In the beginning she struggled to speak out in front if others, whereas; her hard work and the continual opportunities to take part in the wrestling bouts at the center every week helped Kajal to grow her confidence. Kajal started to work hard on specific moves. She was excelling day by day.
Kajal also participated in the workshops on gender at the Mann Deshi Champions program. There she told her story of how it was challenging for her while growing uo , since her father wanted a son. She smiled and said now wrestling makes me happy and has given me confidence and courage.
Kajal's handwork took her till the national level. Kajal has participated nine times in the nationals has won twice gold, once silver and twice bronze medal. In the year 2020 Kajal is aiming to represent India in the Asian games. She speaks with all the courage now and shares her story with other members of the center. She actively participates in the workshops competitions, chooses different topics, prepares to her best and delivers the speech. We remember the Kajal who used to hide behind and used to hesitate to speak is now fearless speaker. We are proud to see the transformation in Kajal.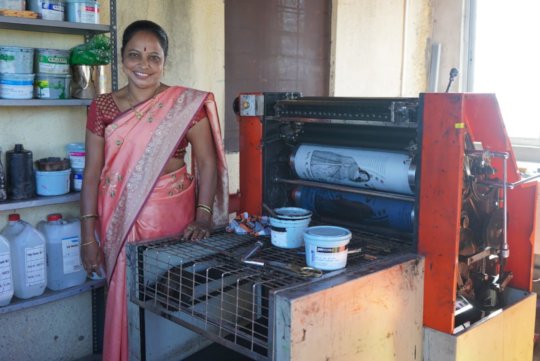 Dear all,
I would like to share the story of Vanita, the inspirational lady.
Vanita came from a poor family of 10 who would work as daily wage workers at odd farm jobs. She was forced to drop out of school and get married at the tender age of 17. Her husband worked at a private bag manufacturing unit which was overloaded with an order backlog. Vanita started stitching and manufacturing bags at home to support her husband's workload. She availed a loan of rupees 10,000 from the Mann Deshi Bank and bought a automatic bag making machine. As their income improved, neighbouring women asked to be a part of this activity. So Vanita, industrious as she is, made a group with these women to collectively stitch bags at home. She has started designing and printing on her bags and now provides employment to 35 other women who assist her growing business. She has even purchased a scooter which enables her to additionally market her products. Her husband would often discourage her saying that a woman's job was simply to manage the household and kids, not to work for money. However, empowered by the Mann Deshi network and business management workshops, Vanita is determined to prove him wrong. She is a regular attendee at training workshops, has taken several subsequent business loans, repaying each one as due. She now runs 4 manufacturing units with an aim to grow her business and employ more and more women. Vanita is a truly inspiring woman and stories like hers underline the vision and mission of Mann Deshi. At the Chamber of Commerce- organized Mahotsav stall in Satara, she made seven months' worth of profit in only five days.
In 2016, she availed a loan of rupees 1,00,000 again to grow her business. She bought a printing machine to print beautiful patches on the bags. On the advent of the plastic ban in Maharashtra, the demand for the cloth bags has been increasing and Vanita is making a good profit and have created the income source for other women as well. She has recently bought paper bowl and plates making machine to start a side business. She is doing very well and she earns more than 30 thousand rupees a month. Vanita is an inspiration to many other women in the area.
Thank you so much for all Mann Deshi supporters.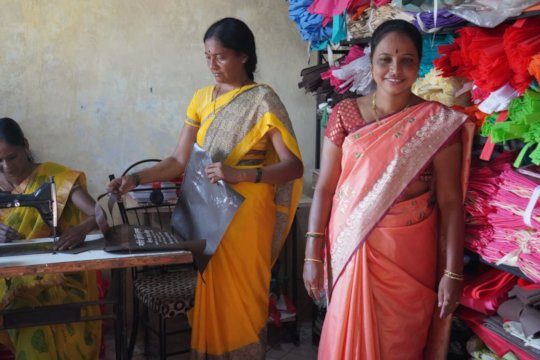 WARNING: Javascript is currently disabled or is not available in your browser. GlobalGiving makes extensive use of Javascript and will not function properly with Javascript disabled.
Please enable Javascript
and refresh this page.