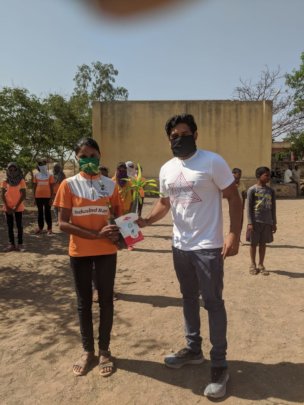 Mann Deshi Champions Sports Program allows rural and tribal children to play sports and eat nutritious food. That draw to eat an egg and banana eventually led to Kajal becoming one of the best hockey players in the state of Maharashtra. Kajal introduced her friend Sarita, who comes from a family of shepherds who walk 300 km a year in search of water for their sheep, to the program. Sarita, who had developed a keen ear and was an excellent wolf tracker, also developed a natural affinity for hockey and now plays with Kajal on the state team. Unlike other fifteen-year-old girls in their village who worry about being pressured to drop out of school or marry early, Kajal and Sarita dream of being selected for the Indian Olympic hockey team. And their families support them. This is because sports has given them the freedom they could never have imagined - money. With the lockdown and covid19 pandemic, things are very different for rural national level athletes in India like Sarita and Kajal. They are struggling to find food for their families in the midst of a complete lockdown. With their savings fast depleting, they are contributing to the family's or neighbors' field, earning a daily wage. They are busy cooking for their large families, finding wood for fuel, and taking care of their younger siblings.
At Mann Deshi, we are concern about our athletes. Since Mann Deshi Champions athletes come from a tribal and rural background, they are unable to receive adequate nutrition. Just the other day, when one of our coaches called to check-in, one aspiring young athlete said that he missed eating the dates he gets at the Mann Deshi Champions ground. There is a possibility athlete like Reshma, Sarita, and Kajal who joined sports to go away from child marriage, If covid19 continues for some-time, lot of rural athletes will end up leaving the sports and will get married.
Here are some efforts of Mann Deshi Champions to deal with the pandemic.
Plant a tree and eat a nutritious meal with protein
Though Mann Deshi Champions is providing protein bags to over 300 athletes, bags are consists of dates, eggs, bananas, vitamins, and protein powder. Along with the protein bags, Mann Deshi Champions are providing two trees, a Mango, and a Neem tree, so in the lockdown, they could take care of the trees.
To support the athletes and give them confidence, Mann Deshi has been doing zoom calls with tribal and rural Mann Deshi's athletes and Olympians/ International Champions. In this mentorship session, Mann Deshi Champions and International elite athletes discuss their daily lives, sports techniques, coaching, and diet
Get to know Mann Deshi athlete: Psychological Counseling:
Mann Deshi Champions athletes come from tribal and rural communities, at the midst of lockdown, Mann Deshi Champions athletes are facing challenges of hunger, coaching, and support. To mentally prepare them, Mann Deshi Champions came up with a unique idea where International level athletes, Olympians, and top professional athletes, mentors, the nutritionist will have zoom calls with the Mann Deshi Champions athletes. In this mentorship session, Mann Deshi Champions and International elite athletes discuss their daily lives, sports techniques, coaching, and diet. The idea to support each other and share their perspective to survive in this pandemic.
While speaking with Aparna, a badminton Olympian, one of the Mann Deshi Champions athlete Reshma a marathon runner shared with her experience of getting rejected and bullying at the beginning of her career but sports is what helped her out to fight back. Similar things had happened with Aparna, who is an Olympian and commonwealth games, medalist. Similarly, Erin a WNBA player spoke about the importance of coaching and leadership.
In May, Mann Deshi Champions had about 10 Zoom sessions with different athletes, coaches, and mentors.
Mann Deshi Champions digital platform:
Mann Deshi Champions coaches are providing all our athlete's guidance of workout, injuries, nutrition through phone, video calling, and WhatsApp videos. Every week our coaches are putting up videos of wrestling, track, and field, endurance workouts, etc. Athletes who can use or have access to WhatsApp are daily doing exercises through the videos