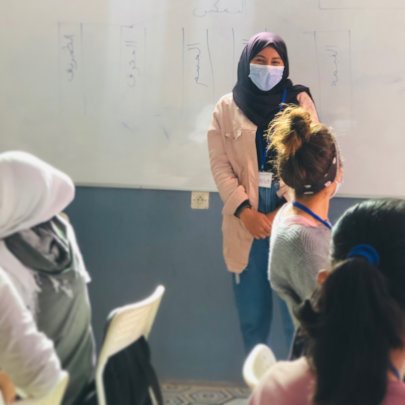 Dear Friends,
We hope you continue to be well and in good health as we send our gratitude to you.
Thanks to your support of this campaign, we purchased cooling units and fans for Project Soar headquarters! As we are transitioning into cold-season, we will be purchasing cozy blankets to continue making this empowerment space more comfortable for these feminist girl leaders.
Since the state of emergency and mandatory quarantine has been lifted in Morocco, staff have returned to work at the office with new COVID-19 safety protocols including temperature readings upon arrival, sanitizing surfaces daily, mandatory mask-wearing, regular hand washing, and social distancing.
The 2020-2021 school year began on September 7th, with the Moroccan Ministry of Education issuing a hybrid model of in-person schooling and distance learning. This allows Project Soar to launch a mix of in-person and online Project Soar in a Box sites this year when teen girl empowerment is needed more than ever.
Sunday, November 1st, marked the official kickoff of this year's cohort with an orientation for new Project Soar Girls at headquarters. This is a huge bright spot for girls who have been isolated from friends and their support system during lockdowns. New girls shouted the Project Soar Affirmations for the first time: "I am Smart, I am Strong, I am Capable, I am a Leader, I am a Feminist, Girl Power!!" All precautions were taken to implement the orientation safely. There was singing, encouragement, smiles through our masks, and lots of girl power energy!!
Stay tuned for more Project Soar news, and never doubt that you are making a difference!
Warmest wishes,
Jenna and the Project Soar Team