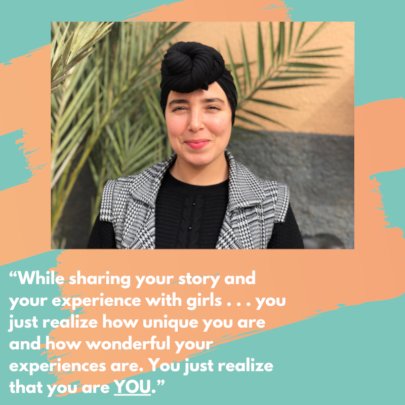 Hi Friends! We are sending gratitude to You, our supporters, and positive wishes for good health as we look forward in the new year.
Transitioning back to safe, in-person workshops has been challenging, but the Project Soar team has been giving it our all to ensure Project Soar Girls have access to their empowerment curriculum and feminist support from their Empowerment Facilitators. These courageous women are leaders of change in their communities. They continue to show up and advocate for Girls across Morocco and Uganda during these uncertain times. Your support of this campaign helps provide positive role models in the lives of girls to continue developing their confidence and leadership.
This week, we sat down with one of our Empowerment Facilitators and newest Project Soar in a Box Coordinator, Warda Bouye. She joined us in January and has quickly become a vital part of our team. Warda is eager, warm, and a wonderful role model for Project Soar Girls.
Warda not only helps Project Soar girls grow and find their voices, but embodies gaining more confidence through sharing her own experiences with girls.
After working at Project Soar for a month, Warda is more confident speaking in public and feels she can make friends even more easily. "I used to hide all of my ideas. Now, I just share them." She also noticed significant changes in the Project Soar girls she works with. The girls "used to be silent and talk in a quiet voice." Now, she realized, "they just started to defend themselves. They can now say, 'No' to people. 'It's me, it's my body. Don't cross the line.' When I was their age, I didn't know this."
Warda's favorite thing about working with Project Soar girls is "making them realize how valuable they are." It's an amazing thing to tell a girl "that she is someone in this world and she can do whatever she wants. . . that whatever she is dreaming about can be true."
Warda leaves her younger self and other Project Soar girls with this advice: "Just be you. Sometimes we pretend that we are somebody else and we act how other people would want us to be. Let's just be ourselves--that's more true to us and to others."
Thank you for supporting Warda and all of our Empowerment Facilitators. Our work would not be possible without their commitment to and deep care for these girls.
Stay tuned for more stories from these incredible women, and never doubt you are making a difference!
Warmest Wishes,
The Project Soar team