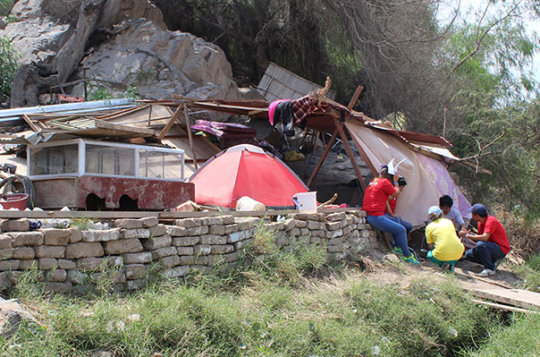 Three months have passed since devastating floods and mudslides swept Peru's coastline and communities north of the capital of Lima, killing 113 people and destroying the homes of an estimated 700,000 people.
The powerful rainy season storms, sparked by an El Niño in the neighboring Pacific Ocean, cut power and access to clean drinking water in the region. Roads and bridges crumbled, leaving remote farming villages isolated for days.
Volunteers and staff from Socios En Salud, as Partners In Health is known locally, responded immediately to the disaster. Every day for a month since the flooding began, 50 medical brigades over the past month pushed throughout the Carabayllo District, PIH's headquarters north of Lima, and beyond to deliver emergency aid and medication to more than 3,200 people, distribute 500-plus baskets of food, and tend to the mental health needs of nearly 200 patients.
It was all possible because of your generous support -- on behalf of our staff and patients in Peru, thank you!
Thank you for continuing to support Partners In Health/Zanmi Lasante!
Our work to provide high quality medical care in Haiti has never flagged -- not since we started our first clinic there 30 years ago, and not since the devastating earthquake in 2010.
One of the most pernicious public health problems that Haiti faces is malnutrition -- which PIH, thanks to your generosity, has the tools to treat. Please read on for an excerpt from a report and reflection from a PIH staff member who visited a malnutrition clinic in Boucan Carre, Haiti (pictured above). You can also find a link to the full story below.
Roughly 1 in 5 children are starving in Haiti, and twice as many are stunted. Not all of them receive the care they need, but some do make it to PIH clinics and get enrolled in a malnutrition program. In Boucan Carré, an average of 127 patients visited the clinic every month and nearly 700 patients enrolled last year alone. That was just a fraction of the 9,000 children suffering from malnutrition whom PIH helped at its clinics and hospitals across the country in 2016.
Most children graduate from the malnutrition program after completing three months of appointments and Nourimanba supplements. They gain weight and grow inches taller. They begin reaching major development milestones, such as sitting, crawling, walking, and talking. In other words, they begin to do what children their age are supposed to do.
Links: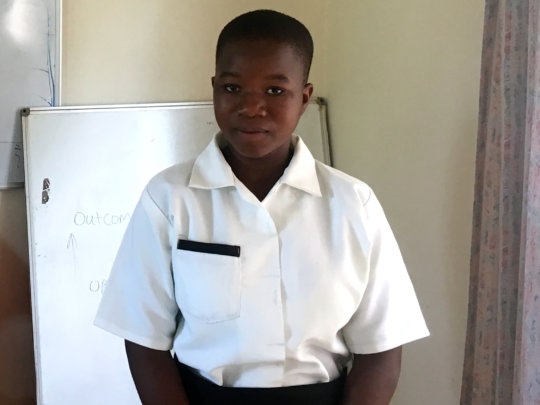 Blessings (pictured above) is a promising student currently in her second year of secondary school in Neno District, one of the poorest districts in Malawi.

Blessings herself comes from a family that has weathered tremendous financial hardship. Her father's sudden death left her mother and grandmother to care for Blessings and her three siblings with no consistent means of earning income. The POSER program has supported Blessings' education for the past four years.

"Without the POSER program, I would not have been able to continue school. My family is so vulnerable, there is no way they would have been able to pay school fees or get scholastic materials." This year, POSER has covered school fees and provided critical scholastic materials (including pens, books, and mathematical instruments) to 295 secondary school students in Neno District, making it possible for students like Blessings to continue their education. Budgetary constraints in previous years had made it impossible to provide school uniforms, but this year POSER resumed providing school uniforms to secondary school students as well. Not only do uniforms serve to reduce the distraction of class-consciousness in school, but they are, in fact, required for attendance in Malawi. The POSER program is proud to help remove this barrier to education and to help more students stay in school.

The POSER program invests similarly in younger students, supporting just over 1,900 primary school students in Neno District this academic year with the supplies necessary in order to attend school and participate fully in lessons, including exercise books and pens.

For the first time in the POSER Program's history, more female students are being supported in primary school than male students. This is a heartening accomplishment given that encouraging women's education remains an organizational priority.

"It's important," Blessings says, "that everyone either male or female should be given an equal opportunity to attain education." Though she speaks with the confidence of a future stateswoman, Blessings insists that she aspires to be a doctor. Her favorite subjects include mathematics, chemistry, physics and biology, and she hopes to return to Neno after her studies to work as a physician. "Doctors help patients and they are very important in their community," she explains. "I would like to work in Neno so that more girls from Neno have a role model to encourage them to go to school." Echoing her mom and grandmother's commitment to her education, Blessings emphasizes, "it's a pity that so many girls drop out of school. They should know this chance only comes once in your lifetime. They should work hard and keep in mind what the future can hold."
WARNING: Javascript is currently disabled or is not available in your browser. GlobalGiving makes extensive use of Javascript and will not function properly with Javascript disabled.
Please enable Javascript
and refresh this page.