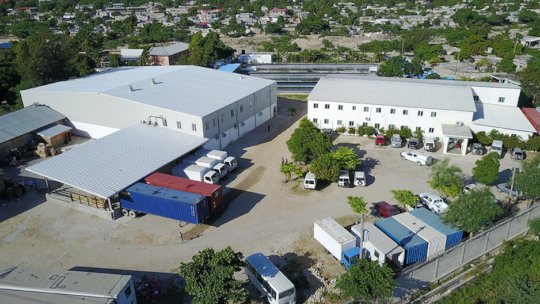 Staff, stuff, space, and systems—those are the ingredients, says Dr. Paul Farmer, to strengthen a health care system. With the recent completion of a single facility in Haiti, made possible by your support, PIH has invested in all four.
The new state-of-the-art, 17,000-square-foot distribution center in Port-au-Prince dramatically increases warehouse space for PIH's stock of lifesaving supplies, is climate controlled, and runs on a sophisticated open-source software system developed by PIH. The supply chain team can now easily find anything—from sterile gloves to lab tests, vitamins to scalpels—quickly pack it, and send it to a clinic. The result: clinics and hospitals provide better, more consistent care.
Before the distribution center opened, getting clinic staff the essential stuff they needed was a slow process. PIH's supplies lived in a plywood warehouse that could not support a formal inventory system, nor store temperature-sensitive medication. Without refrigeration and a way to easily track materials within the warehouse, many drugs had to be stored off-site, and staff would spend days unloading shipping containers or packing trucks to get necessary tools to a clinic.
"Today we know exactly where we put our inventory. We can receive two containers and prepare three trucks to make deliveries to sites at the same time," explains Villarson Avignon, supply chain director for PIH in Haiti.
There is still much more we can improve. The team could really use another 17,000 square feet, Avignon says. The difference, however, is already immeasurable for the supply chain team and for doctors, nurses, and patients throughout Haiti. "Nothing comparable," says Avignon. "Day and night."
Links: