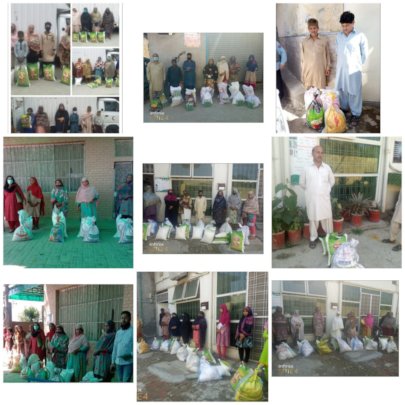 Even before the coronavirus pandemic, food security had posed a huge threat to the national security of Pakistan due to socio-economic conditions, natural disasters, terrorism and sectarian violence, among others factors.
But the threat has become even more pronounced since the pandemic. It now has the potential to further aggravate poverty in the country.
The primary challenge facing the government at the moment is to curb the spread of COVID-19 and minimize its socio-economic impacts.
Full and smart-lockdowns have led to a reduction in incomes and a disruption in food supply and production. Consequently, households across the country are being forced to cut down on the quality and quantity of their food consumption.
The restrictions on movement of goods and people and lockdown are likely to cause adverse impacts on livelihood and food and nutrition security of people if not accompanied by well thought policy measures.
It adds that around 40 to 62 million people (20-30% of Pakistan's population) are experiencing some form of food insecurity.
However, these are conservative figures. Keeping in mind the scale of the COVID-19 emergency, it is reasonable to conclude there will be a substantial increase in the number of food insecure people in Pakistan in the coming months or years.
In this case, the vulnerable and marginalised groups such as women, children, daily-wage laborers, small- and medium-scale businesses, agriculture and other informal sectors will be disproportionately impacted, not only economically but also in terms of human cost i.e., mental trauma.
During the Pandemic (COVID19), Fatima Memorial Hospital played a vital role in treating as many patient as it possibly could. Since the hospital provides various medical facilities and that too to the needy and deserving patients, it requires support from the donors in providing healthcare facilities and food to the patients.
Now that the third wave has hit the country, more and more patients are expected to be admitted in the hospital. The number of patients is increasing as the spread of the virus cannot be stopped. In these times, the nation is looking towards us to support them.
As a result of which, we rely on the donations by our esteemed donors to cater to the nutrition needs of the patients/patient attendants.
Your valuable donation is of utmost importance to Fatima Memorial Hospital, so please continue to donate maximum so that we can provide food to maximum patients at Fatima Memorial Hospital.
Thank you!