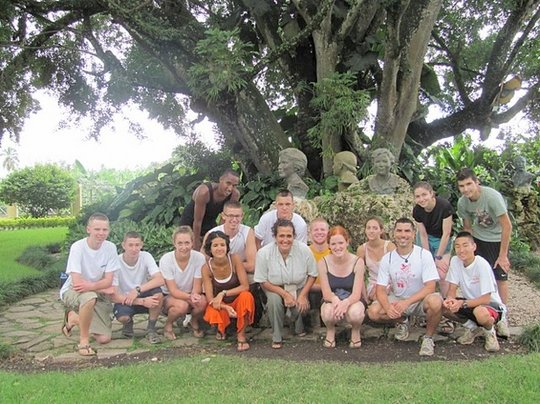 Eight boys and four girls from Lakeside School in Seattle came to the Dominican Republic in July 2010. These students spent a month in the remote village of Tres Ceibas above Rio San Juan on the North Coast. For 30 days they lived with the community and created a special summer camp for 30 local children and worked on three homes.
Hosted by local families, these students became deeply connected to the people of this small community and put their heads together to come up with a long-term plan to help alleviate extreme poverty here on the North Coast of the Dominican Republic.
The focus of The Mariposa DR Foundation programs is the Girls Leadership Program. We realized through working with girls that many of them miss school and work because of their period. Unable to afford menstrual products girls and women often stay home for 3-5 days per month. For an adolescent girl this means that she could be missing out on up to 20% of her education in her critical teen years! We began to do some research on how to tackle this problem and came across the solution - Luna Pads (
www.lunapads.com
). Luna Pads are reusable sanitary napkins that are environmentally friendly and will provide a girl with the menstrual products she needs for up to 5 years. We immediately contacted Madeleine Shaw at Luna Pads and created a specific plan for The Mariposa DR Foundation including a specially designed and priced kit. The Mariposa Edition Pads4Girls kit will be available for $20 instead of the usual $30. We realized that we had come across something huge but needed a powerful force to realize our vision. This force is those 8 boys and 4 girls from Lakeside Academy.
Six days before the Lakeside students were to return home to Seattle, Executive Director, Patricia Suriel and Associate Director, Jessica Lawson presented the idea of Luna Pads to the group and proposed that they begin a fundraising campaign to provide Luna Pads for all adolescent girls in Cabarete. The Lakeside students were immediately on board and began working hard to create The
POWER
Project
fundraising initiative to make this happen. The Encargo Group, a shipping company based in the Dominican Republic has also joined the team to provide free shipping for the products.
There is something quite powerful about 8 teenage boys and 4 teenage girls from a privileged school in Seattle raising funds to provide more education and freedom for Haitian and Dominican adolescent girls living in poverty.
Lakeside originally set a fundraising goal of $10,000 and surpassed that very quickly. The goal has now been raised to $20,000 which will enable The Mariposa DR Foundation to expand distribution to the Tres Ceibas community as well as start training women to make Luna Pads right here on the island. The
POWER
Project
will help Mariposa educated, empower and employ more girls and women and it will change lives. Join us and help them help these girls.
Links: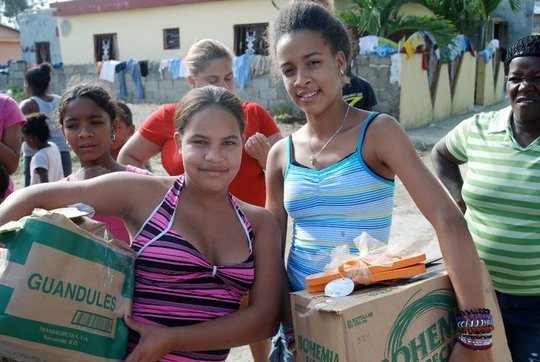 Dear All,
We want to extend a heartfelt thank you to all of those who donated to the Global Giving challenge. We far exceeded our expectations and are amazed that we were able to raise over $30,000 in such a short amount of time. We are proud to be the project that won for most unique donors!
Your support makes it possible to breakdown the barriers that prevent girls living in poverty from getting an education and making it from adolescence to adulthood safely. We are a young organization and we are thrilled to have you endorse our cause. As you know the cost of continuously improving lives does not go away and we hope for your continued support in the future.
Over the Christmas holidays we were able to provide boxes of food for all of the 52 girls and their families. Soon we will launch our new video and have lots of great things planned for 2011. We're also recruiting long-term volunteers to come and work with our girls!
Stay up to date with the Mariposas by joining our Facebook Page here:
http://www.facebook.com/pages/The-Mariposa-DR-Foundation/237342154878
Happy Holidays,
The Mariposas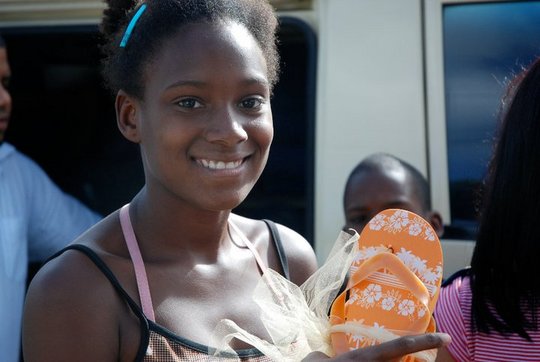 WARNING: Javascript is currently disabled or is not available in your browser. GlobalGiving makes extensive use of Javascript and will not function properly with Javascript disabled.
Please enable Javascript
and refresh this page.