Dear Friends,
This year is off to a very busy start at The Mariposa DR Foundation. Because of your generosity in the Girl Effect Challenge, we raised enough money to move onto our new property! The girls, their families and more than 50 local and international volunteers have been hard at work cleaning, painting, moving, making basic repairs and getting everything set up. We have moved our main offices in the Dominican Republic over to the new center and are now running our daily programs in our very own space. It feels truly amazing and the girls are thrilled!
While it's all coming together nicely, we have a long way to go. Currently our two biggest needs are replacing the roof and furnishing our kitchen/cafeteria so that we can provide consistent meals during our programs. In the next few months we will welcome several volunteer groups including Lawrence Academy from Groton, Massachusetts, to lend a helping hand in planting gardens and organizing classrooms.
Currently we are running academic tutoring, art, theatre, dance, softball, soccer and our Saturday programs at the new center. If we can raise enough funds in the next month to furnish our kitchen and replace the roof then we can work on getting our very own pool ready for swimming lessons, just in time for the summer! We are also working hard to build out our library. If you would like more information on specific ways you can help or special naming opportunities now available please get in touch with us at info@mariposadrfoundation.org.
We cannot thank you enough for your ongoing support and we look forward to an exciting 2013.
Warmly,
The Mariposas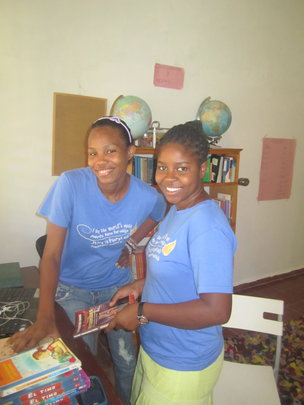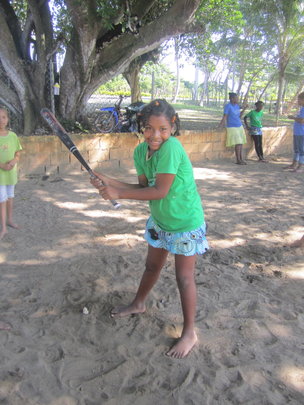 Links:
Dear Friends,
This fall we started a new component of our empowerment program for the older girls at The Mariposa DR Foundation. All Mariposa girls ages 15 and older made bi-monthly trips to Puerto Plata, the nearest and 3rd largest city in the Dominican Republic, to learn their way around. The purpose of the trips were for the girls to obtain the necessary knowledge and navigation skills to understand where to go when presented with any special situation or circumstance, familiarize themselves with available resources, and be able to orient their families and community members to the city.
The girls visited health institutions, government offices, schools, cultural centers and more. Several places offered special workshops, speakers and mini-courses for the girls. At a free HIV/AIDS clinic they gathered information on how to protect themselves from sexually transmitted infections and unwanted pregnancies. During their visit to the Court they learned about their rights and where to go in the event they are violated and need to file suit. They talked about domestic violence and had a chance to meet with female judge, Luisa Marmolejos, and ask her questions. At the secretariat for women the girls participated in vocational courses from art and jewelry making, to secretarial and hospitality training.
The girls also had the opportunity to attend the inauguration of a monument dedicated to the famous Mirabal sisters in Puerto Plata. On this occasion, they listened to a speech given about the significance of their murder on November 25th, 1960 and how these powerful women from the Dominican Republic have inspired a worldwide movement to end violence against women.
We are off to a great start in 2013 and have just moved our main offices in the Dominican Republic over to our new center! We have lots going on in the coming months so stay tuned for more updates from the field. Thank you always for your continued support.
Sincerely,
The Mariposas
Links:
Dear Friends,
October 11th marks the first ever International Day of the Girl. The reality is that the world is only now starting to realize that tens of millions of girls daily face poverty and discrimination, simply because they were born female. We want to thank you again for being ahead of the game, supporting the Mariposas and showing the world that our girls are a powerful force for change!
We've had a great start to the school year. Because we have received so much support this year we have been able to offer our girls entering high school scholarships to private school! This September seven Mariposas began the 9th grade at Cadin, a private Dominican highschool run by long time community leader Flavia Vidal. It is our hope that with continued support we can continue to send all of our girls to this school, increasing their chances of completing a secondary education and ending generational poverty for their families.
We are super excited to announce that we have recently acquired a large piece of property in our community to create the Mariposa Center for Girls. Over the next few months we will be putting together a capital campaign to support the development of a 5,000 square meter complex where our girls can engage in sports, academic tutoring, job training, crafts, computer classes, library access and much, much more.
We continue to be amazed by the tremendous amount of support and look forward to updating you on plans for the new center soon!
With gratitude,
The Mariposas
Links:
WARNING: Javascript is currently disabled or is not available in your browser. GlobalGiving makes extensive use of Javascript and will not function properly with Javascript disabled.
Please enable Javascript
and refresh this page.