Dear Friends,
October 11th marks the first ever International Day of the Girl. The reality is that the world is only now starting to realize that tens of millions of girls daily face poverty and discrimination, simply because they were born female. We want to thank you again for being ahead of the game, supporting the Mariposas and showing the world that our girls are a powerful force for change!
We've had a great start to the school year. Because we have received so much support this year we have been able to offer our girls entering high school scholarships to private school! This September seven Mariposas began the 9th grade at Cadin, a private Dominican highschool run by long time community leader Flavia Vidal. It is our hope that with continued support we can continue to send all of our girls to this school, increasing their chances of completing a secondary education and ending generational poverty for their families.
We are super excited to announce that we have recently acquired a large piece of property in our community to create the Mariposa Center for Girls. Over the next few months we will be putting together a capital campaign to support the development of a 5,000 square meter complex where our girls can engage in sports, academic tutoring, job training, crafts, computer classes, library access and much, much more.
We continue to be amazed by the tremendous amount of support and look forward to updating you on plans for the new center soon!
With gratitude,
The Mariposas
Links:
Dear Friends,
We have had an extremely busy few months at The Mariposa DR Foundation. While we will continue monitoring the success of The Power Project, we will no longer post project this as a fundraiser on Global Giving. Fortunately we have been able to acquire a large amount of inventory and will begin a sewing program over the next few months on our new land that we recently purchased! This way the girls can produce the products themselves!
We want to extend a heartfelt thank you to all who have supported this initiative and encourage you to check out our other project pages, our Facebook page and join our mailing list where you can continue to receive updates on the success of the Mariposas.
With gratitude,
The Mariposas
Links: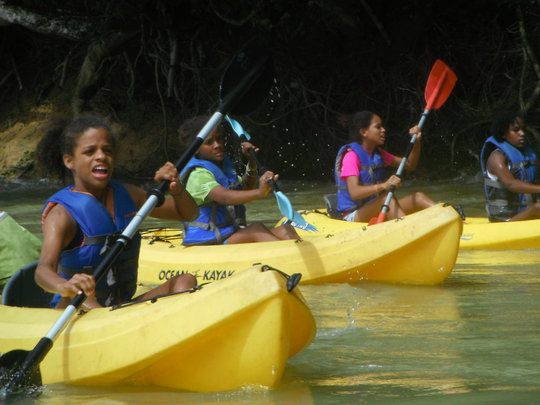 Dear Friends,
We are just five months into 2012 and already this has been an incredibly busy and successful year for The Mariposa DR Foundation. Since January we have welcomed several new members onto our executive and advisory boards, worked with over 50 international and local volunteers and teachers, hosted several student groups and service learning trips as well as strengthened our programs to effectively serve the needs of girls in the communities where we work.
July 2012 will mark our 3rd Annual Mariposa Girls Summer Leadership Program. This year we will welcome more than 20 international and local volunteers and teachers for the summer to work with 70 girls in the community. This summer we anticipate accepting 25 new girls into our program. We have many exciting things planned for our girls including theatre, art, dance, sports, field trips and more.
We have been working hard over the past few months to really develop and strengthen the sports component of our Girls Leadership Program. Sports help girls build self-confidence, develop important teamwork and goal-setting skills, and increase their capacity to learn by improving memory and concentration, giving them a leg up in the classroom. In addition to water sports this past spring we also had girls participate in volleyball, soccer, tennis, capoeira and circus!
As always we thank you for your continued support and look forward to sending another update during the summer!
WARNING: Javascript is currently disabled or is not available in your browser. GlobalGiving makes extensive use of Javascript and will not function properly with Javascript disabled.
Please enable Javascript
and refresh this page.