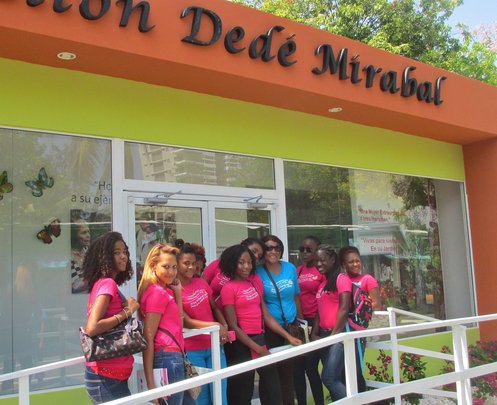 Dear Friends,
We are thrilled to present to you our very first "graduates" of Unleash the Leader in a Girl. For the past few years, these girls have attended consistently, worked hard and grown into shining examples of what we believe Mariposa girls should be. We are often asked the question - what does success look like? Or, when do girls graduate from Mariposa? What kind of assistance will they recieve after they phase out of the day to day programs? What makes our program unique is that we treat each participant as an individual and help them develop personal goals. Success is different for each and every girl. While our graduates will no longer attend daily programs at the Center, they will always have trusted advisors and a strong network of support at Mariposa. Many of them will stay involved as part time employees and/or mentors to the younger girls coming up in the program. Below we are pleased to share some brief details on the class of 2014!
Elisa, 18 years old, is a scholarship recipient at Cadin, a private school in town. She is very active in sports and takes Jiujitsu classes 4 times a week at a local studio. She has taken a course to be a waitress, and will be applying for a yoga teacher training course in the fall. She has completed a water safety course and will form part of our surf group this summer.
Rosa Lourdes, 17 years old, will be graduating this year from high school. This last semester she finished a sewing apprenticeship with Sherry Herdman, our sewing volunteer. As an apprentice, she taught several other mariposa girls the basics of sewing. During our camp this summer, she will be teaching how to sew quilted pot holders to some of our more advanced sewers. She is interested in finding a part time job as a seamstress, while she studies to become a pediatrician.
Edileysa, 17 years old, will be graduating this year from high school. She is currently in the process of applying to medical school. Her goal is to become a pediatrician and work in a public hospital, where she can best treat the needs of her community. She is currently working as our on site secretary at The Mariposa Center for Girls, and learning basic computer skills that will help her to achieve her goals. We hope that she stays working with us part time as she continues her studies. She is also actively involved in water sports and kitesurfs regularly. She too, has completed a water safety course and will form part of our surf group this summer.
María Inés, 17 years old, will be graduating from high school this year. Maria Ines has found a part time job working at a local coffee shop, where she has proven to be an exemplary employee. Due to her new job, her English skills have improved, which will help her to achieve her ultimate goal, to become a flight attendant.
Ana Iris, 18 years old, will be graduating from high school next year. She currently works at The Mariposa Center for Girls full time as part of the kitchen and cleaning staff. She has proven to be a responsible, reliable team member at Mariposa and is extremely flexible in helping us with programs for the younger girls when needed. Her perspective as both an employee and an active Mariposa program participant is fundamental in understanding the needs of our older girls.
Ingrid García. 20 years old, is in her junior year at a local high school. She is interested in going to beauty school and her goal is to open up a small salon near her home. She is currently employed as a nanny.
Mabreidy Martinez, 17 years old. Mabreidy had a baby recently, but that has not stopped her to continue her studies. Throughout her years as a Mariposa, she has actively participated in water sports. She served as our summer life guard assistant during camp last year, and is an avid surfer and kitesurfer. She is currently working as a nanny and will be starting her summer job working at a kite school in town.
Because of your support we were able to treat our graduates to a very special trip! On May 6th we traveled to Santo Domingo to celebrate literature and the arts at the 17th Annual Book Fair. The girls went home with books, saw a Guloys theatre production in the national theatre, listened to a "conscious rap" performance and visted the pavillion dedicated to the late Dede Mirabal. For some of them this was their first time in the capital and first night being away from home! It was a spectacular adventure for these girls and it would not have been possible without your generosity.
We look forward to sending you more exciting updates from the field as we gear up for summer!
With love and gratitude,
The girls, families, volunteers and staff at The Mariposa DR Foundation
Links: