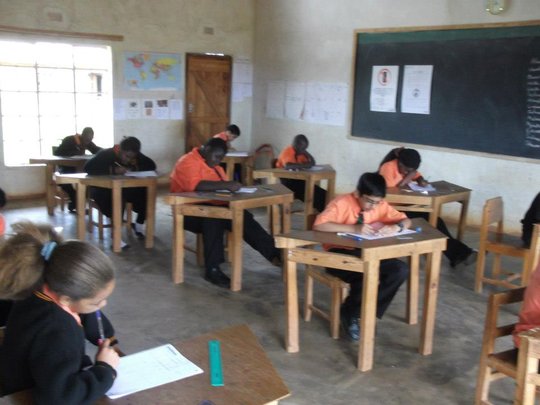 The eldest students at the school know how to work hard and play hard!
University of Cambridge International Exam
BeeHive School's Standard 7 class takes the Cambridge International Exam every May. This exam covers science (biology, chemistry, physics, and scientific enquiry), math (geometry and measure, handling data, and number) and English (reading, usage and writing). Each section is based on a score of 0-6, with 6 being excellent, 3 good, and 0 poor.
This exam is important for teachers and students alike, for it not only gives the the students and teachers feedback as to what the children know, but their results will help them get a place in a secondary school after they graduate from BeeHive School.
(see last year's report "BeeHive School Finishes The Term with Triumph" for results from last years class!)
Studious Standard Seven
Standard 7, the highest level at BeeHive, did a lot of preparing for the University of Cambridge International Exam. All their hard work on their science experiments, maths homework, essays, reports, reading assignments, and practice tests was about to pay off. The students were prepared! At the beginning of May, we pulled the desks apart to make individual work stations, and the students took the multiple day examination.
We hope they did well - the results come out in July!
Standard Seven - Hadouken Style!
Now that the exams are complete, the class has a bit of down time for some fun. They were allowed to come to school in regular clothes (no uniform day!), their teacher took a camera, and they had a 'Hadouken' photo shoot! The photos were very popular among the younger children at the school!
Great Job Standard 7!!!