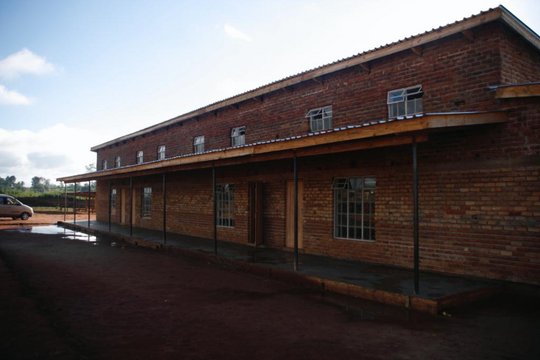 Dear BeeHive Supporters,
Sorry for taking so long to post a new update, but communication with our field partners has been minimal, since the internet connection has been down for Niall. A new connection should be established soon, so we'll have pictures and hopefully even video headed your way soon.
We recently sent over $1000 USD, which at the current currency exchange rate works out to about 131000 kwqacha. These funds came in the nick of time as construction at BeeHive School is still in full-swing. They are working on the administration block, library, and computer room. The funds went straight into cement, which is surprisingly expensive in Malawi. Since Malawi is an under-developed nation certain materials which we take for granted in the United States are actually quite expensive. As a point of comparison, $100 USD can buy you 6000 bricks in Malawi, but it will only buy you a few bags of cement. Bricks are locally produced and there is a large market, therefore they are competitively priced. Cement, wood, and glass are harder to come by and thus more costly.
Niall has taken some video with the small HD camcorder Katy, Spencer, and Eva bought him as a Christmas gift. Since his internet connection is so slow we can't transfer the files online. We have sent him a few USB memory flash drives and he will be sending those our way soon. Unfortunately it can take anywhere from 1-3 month to mail packages from Mzuzu. But you can look forward to those videos in the coming months!
I didn't want to leave you all hanging, so I have included some photos from Troy Smith who visited the school a few months ago.
In some other news - a few of our volunteers are planning fundraisers in the form of garage sales soon when the spring comes, so if you're interested in hosting one contact us at info@beehiveschool.com for suggestions.
Niall also reports that the school is looking fantastic and he's excited to upload photos once he can get access to a good internet connection. He encourages all his friends and supporters to come visit soon!
We will never be able to say it enough - but Thank You, Thank You, Thank You to all our BeeHive supporters. It's because of your unwavering support that BeeHive has been able to weather all the challenges over the past couple of years and build a truly remarkable new school that will safely house generations of students to come.
Warmly,
Eva Markiewicz on behalf of The BeeHive School Team