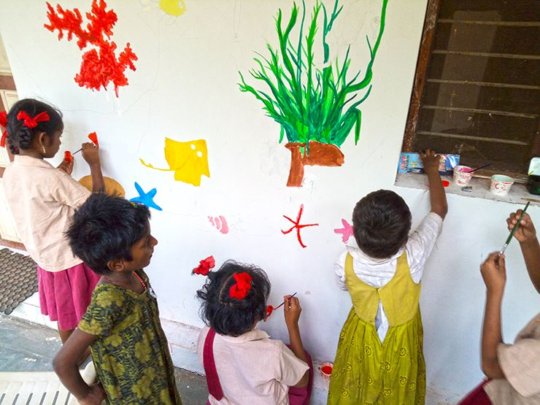 Dayspring home, located in Chittoor, is always in need of funds and volunteers to improve children's living conditions, this is the reason why we never stop. New projects are always there in order to teach our children how to be more self-sufficient, increase their knowledge and in order to get funds as well.
This last months different activities have been carried on:

At the beginning of July, art came to DSH in Chittoor. One of our volunteers, Danielle, painted a friendly and colorful mural on our wall. DSH was in need of change, the paint was old and dirty. That is why she inspired herself and draw for us a friendly face with flowers rather than hair. Other volunteers continued colouring our house. In that case was Gael-Anna, from France, who created with children's help, a lovely underwater scene. Finally, in the middle of August, more artistic activities were at DSH, it that case our young artists coloured a peaceful Earth with a white pigeon. Budding artists are at DSH!
Creativity was not finished with painting activities. In the middle of July, we had fun with mehndi palm tattoos. It was carried by Cristina, our new intern. Girls, whose inspiration is immeasurable, drew amazing lotus flowers an swirls on the palm of their hands. They enjoyed as much, as they would like to have one more pair of hands!. Boys, curious as well, gave a try and wrote their names on their palms with henna. The activity finished with a photo session, all of them was happy to be photographed with their new tattoos.
At the end of August, a group of twelve students from Kamaraj college of engineering visited us at DSH. A useful and grateful teaching and playing day was planned for all our kids. The day started with a presentation and questions related with the job of our kids dreams. Then it continued with a lesson of hygiene, prayers and great advices. Later, while girls were at the class, a thorough cleaning of our surroundings was done by our boys. After that we had a tasty lunch and we enjoyed a funny performance activity. Kamaraj students gave us presents, as a notebook, pens, colours and a toothbrush. It was an incredibly day all together. Our young ones have an awesome example to follow.

More farming issues are in process of giving us benefits in our Organic Farm at DSH. Our kids have been busy gathering fruits all this July and August. One of them is neem fruit. It is used for cosmetics but it has a lot of medicinal properties, as anti-inflammatory, antiulcer, antimalarial, antifungal, antibacterial, antiviral, antioxidant and anticarcinogenic. Something magic!.They have picked up brinjal or eggplant as well and after that it was sold at the market. We have the most hard-worker children at Blossom!
Finally different activities are being planned by our volunteers. One of them is the implementation of a composting system. It will help us to manage manure produced by organic farm at DSH. It will consist on three kinds of composting systems: on a composter, on a bag and on a pile. Our eldest kids will feed them for six months and at the end they will bring samples to the laboratory. After that, compost will be used in our fields or will be sold. It will be an interesting project because it will teach different skills as self-sufficiency, team-work, and agricultural and environmental knowledge. A great challenge!.
It is awesome enjoy all these activities together, but it would not be possible without your help. Without volunteers and donations our children cannot eat, cannot wear proper clothes and cannot live the life that they deserve.

Thanks to all of you for your inconditinal help!