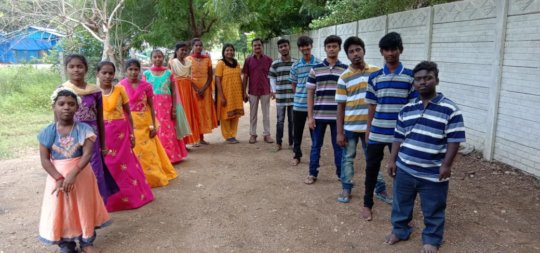 Dear Donors & Supporters
Thank you all for the kindness, support and generosity that you have shown. We are always incredibly grateful for the support of our generous donors, especially during such difficult times with the ongoing COVID-19 pandemic. We hope this report will provide transparent updates on the positive progress being made at Dayspring.

Tractor

With your donations, we have been able to buy a much needed tractor for Dayspring. The tractor has allowed us to safely carry heavy rocks that were on our ground allowing for land to be cultivated efficiently and prepared for for a bigger sow. Furthermore, the tractor has also allowed for the flattening of the land and continued preparation of the ground for plants to come.
Alongside agricultural benefits and an increased yield, the tractor will also have social benefits for the surrounding villagers. We are looking to rent the tractor at a fair price to other local smallholder farmers to help them work with their land. This would allow for Dayspring Home to generate a small income and get closer to the self-sufficiency we're ultimately aiming for.
DIwali Celebrations
Despite COVID19, we were still able to celebrate Diwali at Dayspring. We limited the festivities to just the children at Dayspring, ensuring celebrations took place in small COVID safe circles. We gave firecrackers to all the children. In total, it was a safe and enjoyable way for the children to celebrate Diwali.
COVID19
India has been affected considerably by COVID19. The impact on Dayspring has been no different. In response to the pandemic and with the aid of your generous donations, we have been able to continue operation at Dayspring in a safe and considered way. For example, we have been able to move classes over the phone to reduce transmission and allow safe spaces for effective quarantining.
Unfortunately, we have had two cases of COVID at Dayspring. One child alongside our Director Mercy Annapoorani, both caught COVID earlier this year. We were able to catch the symptoms quickly and isolate them both, ensuring that no-one else at Dayspring has caught the virus. Both have since recovered well and continue in good health.
Thank you and stay safe!
We sincerely thank you for your generosity. We hope we have expressed the impact your donations continue to have on our beneficiaries, particularly in times such as these. It is only together that we can make Dayspring Home a safe and prosperous home for vulnerable children.
We will continue to keep you informed on how your money is being used and provide regular updates on the project. If you have any questions about the project, please do not hesitate to get in contact.


With best wishes and sincerest gratitude,
Mercy Annapoorani, the Blossom Trust Team and the children of Dayspring Home
Links: