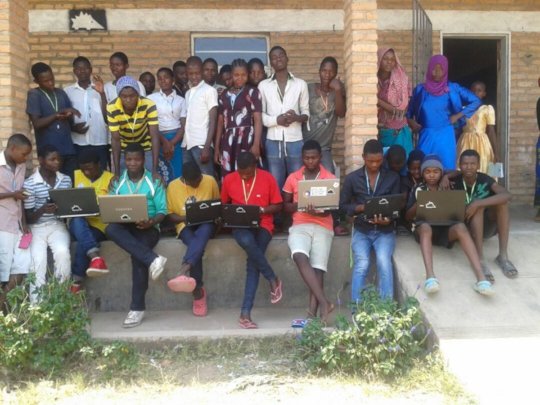 It is with great pleasure that we report the launch of our eLearning Center which was held on the 11th of September 2019. The event was attended by community members of Mbando village, users of the eLearning centre, academics from the University of Glasgow, our International Volunteer from France and members of Abundance team.
Brian Barrett and Kenneth from the University of Glasgow tested a drone at Mbando village, which was very exciting, particularly for the younger members of Mbando community.
Julie Charmetant, our volunteer from France spent a month in Malawi and stayed at Mbando village at Moses Phulusa's house. She also participated in the launch event.
Ruth Mumba, Grace Moyo, Clifford Mkanthama and Andrew Kamvazakazi, our Abundance team members were all present for the launch. Clifford and Andrew stayed with the team from Glasgow and Julie at Moses's house the day before the launch, getting a flavour of Mbando village life. Enjoy some photoes from this event, which YOU all helped set up!
It was a successful event and the laptop which underwent maintenance (total 8) was given to the center and all keepods deployed. Kayetha Banda from ShiftIT provided a three day training, which started a day before the launch. We took advantage of the event to raise awareness of the Sustainable Development Goals which are related to Abundance's work. Enjoy some photoes from this event.
In the past months, our volunteers have been busy and have successfully translated 10 books for our eLearning center. We are keen on making learning resources relevant to the users.
This weekend (2-3 November 2019), we held another training session focussing on the regular users particularly the youth. We will continue updating you on the progress of this project which YOU all helped set up!