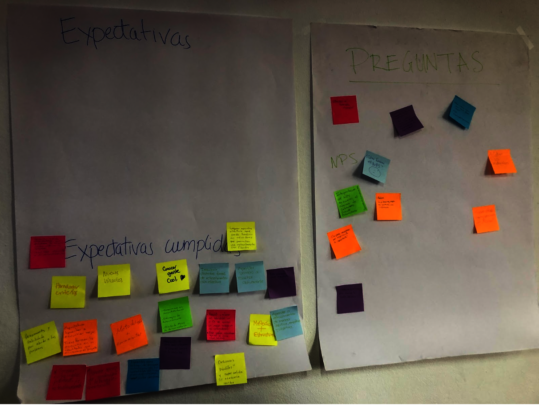 We believe that when leaders invest in feedback, they can make monumental changes at their organizations. The Feedback Crash Course program trains individual feedback champions to be fluent in feedback loops, and then and helps them share their learnings with and implement at their organizations. Through the Crash Course, we train nonprofit and foundation leaders in how to build a feedback practice, and foster a growing community of feedback champions.
Now, we are thrilled to officially announce that with the support of GlobalGiving and advocates like you, the Feedback Crash Course has gone international!
In 2019, we moved our feedback tainings outside of the DC bubble, and hosted Crash Courses in New York City and San Juan, Puerto Rico. On January 23, 2020, we completed our first international Crash Course, in Oaxaca, Mexico. The success of this program illustrated the shared experience of listening, across countries and languages. It also helped us learn what adaptations we can make to the course to make it more culturally and linguistically relevant as we continue to venture forward to sharing the Crash Course worldwide.
What happened at the Oaxaca Crash Course? Attendees started by learning the basics of the feedback loop, through interactive activities, a feedback case study, and table conversations. Then, they collaborated to solve a specific feedback-related challenge that they face in their work. By the end of the day, the attending practitioners created a preliminary feedback plan to meet the needs of their organization and earned their certificates as a feedback pioneer.
The Feedback Crash Course in Oaxaca was a huge success. Attendees rated their experience with an NPS score of 88 (on a scale of -100 to 100), citing the clear instruction, dynamic, participatory activities, and learning materials as what brought the theory and practice to life. One attendee noted that the Crash Course was so useful, that they would deem it necessary for Mexican civil society organizations.
Attendees also gave constructive advice for how to make the Crash Course better! One attendee suggested creating a glossary for the existing concepts in the feedback field so that new practitioners can better understand the context. Other attendees expressed their desire for follow-up with courses to do a deeper dive into specific stages of the loop, and to share feedback knowledge with their organizations. We look forward to exploring some of these additions over the coming year.
What's next? There was a lot of energy following the day of learning. Crash Course attendees started an email group to share their immediate actions and long term feedback plans and hold each other accountable. Now, they have a community of practice to continue to reach out to and learn with on their feedback journey.
Thank you for your continued support as we bring the Crash Course to new locations to train superstar changemakers across the world. Together, we can make feedback the norm!
With gratitude,
Meg & the Feedback Labs Team