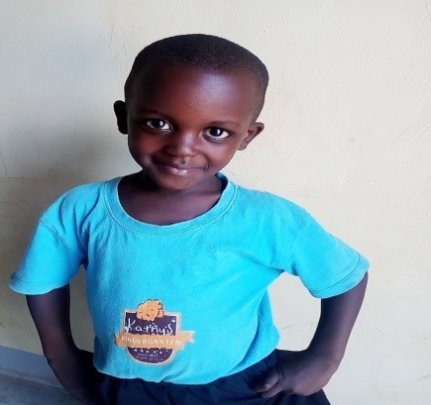 Meet Travis – he is 5 years old and is among the pioneer leaners here at Kathy's Kindergarten.
Travis is a bright young learner and makes us feel proud of him as teachers, but another interesting factor is, he is the only boy in his age group. The other 7 children in his group are female, a fact that we are delighted about as girl's education is not normally a high priority for our community.
Travis is the first born, only child, living under the care of his mother in Mayuge town. Travis's father works away from home.
"I feel Kathy's Kindergarten is playing a very great role in shaping my child's personality at this early age of his childhood, as well as building his foundation towards a bright future through the education that he is acquiring." said Travis's mother, Prosy.
Not only does his mother feel grateful and excited about of what she sees in Travis, but she applauds the Kindergarten for being child-centred. "This has greatly encouraged our son's participation, creativity, self-esteem and general well-being."
Prosy further notes that before Travis joined Kathy's Kindergarten, he had very low self-esteem. She is thankful that the all-round curriculum being offered at Kathy's Kindergarten, has shaped him to what he is now, "a confident, curious and enthusiastic learner".
"We feel so overjoyed as parents to Travis for these great mile stones and excited that, later this year, Travis will be graduating to primary school. We shall greatly miss Kathy's Kindergarten and Travis's teachers and peers. Thank you for giving our son a brighter future through this unique early education."
Help us develop more bright minds and brighter futures for Mayuge's children by making a monthly donation to our project. £25 a month pays for one child's education at Kathy's Centre.
Links: