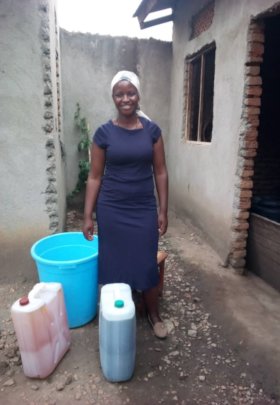 Yolesi (25) from Kasese District, Western Uganda, is one of our many young women who have been positively transformed both socially and economically through trainings under our project 'Ugandan Girls Thrive'. She tells us how she now enjoys an independent lifestyle without looking to men as a source of income.
"I dropped out of school due to lack of fees after the death of my father who was solely responsible for paying my school dues from a small business of shop keeping in our village."
Yolese, a once miserable young girl, started seeing light for an improved lifestyle after attending Act4Africa workshops and life skills programs.
"I was empowered and equipped with skills of beading and later liquid soap making in my group which has transformed my life as a young woman."
Yolesi told us, "After stopping schooling, I sat at home and would do farm and domestic work with my mother. As a young girl I lacked several things to make me look like other able girls in the village. My mother could not manage to provide for me or my other young siblings at home.
Being home all the time exposed me to many men whom I looked at as an alternative way of getting small money to buy myself basic needs as a girl. This was the only way out for my situation. I did all this in 'total darkness' because I never thought of the consequences of having multiple men, I never thought of HIV/AIDS, pregnancy and other STDs because I was not aware. I was so exposed, every day I placed my life to risk of being infected with HIV or becoming pregnant and facing isolation and rejection."
"The trainings on HIV/AIDS knowledge and other sexual reproductive health information greatly opened my mind as a young girl. The enterprise and financial literacy knowledge encouraged me and others to form a small village savings group. With some of the savings, we hired a local entrepreneur to train us on how to make liquid soap. This later became the turning point in my economic status."
"I saved my little profit share from the group business and later requested a loan from the same group, which I used to start up my own liquid soap making business with my mother. It is now the base of our financial status at home and my young siblings school fees are paid from the income we earn."
"My big dream is to produce liquid soap in large quantities and supply schools and markets around my sub-county and beyond. All this would not be possible if Act4Africa had not come, with this life-changing program, to my village. I would be having many children and married by now because of being desperate and having nothing productive to do."
Yolesi ended her story with heartfelt appreciations: "Thank you to Act4Africa and all those who support them. I wish you come back again to train many more girls such that we can live an empowered and independent life as young girls and not be trapped in poverty by men."
Thank you for your donations to the 'Ugandan Girls Thrive' project. Please share Yolesi's story with others.
Act4Africa is competing for a place on the GlobalGiving Girl Fund. Help us make our way up the leader board by donating to this project on or before 13th March. If successful the funds received will allow us to put up to 45 adolescent girls through our comprehensive training programme, empowering and enabling them to take control of their future just like Yolesi.
Links: