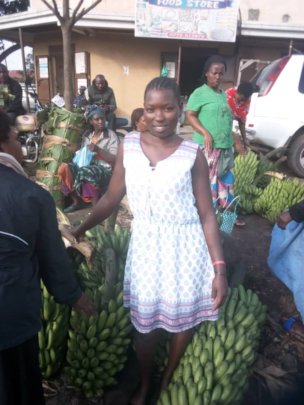 Agnes, a victim of domestic violence resulting from polygamy and alcoholism is one of the young mothers benefiting from the adolescent young mothers Global Giving project in Kasese District, Uganda run by Act4Africa.
Just like other young mothers benefitting from the enterprise and sexual reproductive health program in Kasese district. Agnes narrates her story;
'My name is Agnes aged 22 years and a single mother from Kasese District. I became pregnant at the age of 17 years after staying home for a long time without going to school. My father, a police constable with 3 wives and 14 children had failed to raise money for my fees claiming that he could not waste money on a girl who will leave the family for a man soon in the future and I had to stop school.
I was forced to get married to the man responsible for my pregnancy and I would not resist because it was against our tradition for me to stay in the same house with my parents when I am pregnant.
In marriage life became extremely hard with my husband who was a boda boda rider at the boarder market of Congo Uganda. He was never home early and several times he returned drunk, yet I was expecting to give birth soon.
My life became extremely hard when my husband married a second wife and left me to suffer in a rented room alone which forced me to work in people's gardens to get food, yet I was heavily pregnant.
I gave birth at a traditional birth attendant's home and went back to my place together with my husband who stayed home for only a week and disappeared, so I was left completely helpless with my child which forced me to return back home at my parents' place'.
One day our local council chairperson mobilized us that there was training for young mothers and it was for free. I joined other girls in our village to get trained by Act4Africa at the sub county. From the trainings, we received knowledge on enterprise and financial literacy and in the end, we organized ourselves.
With the help of the Act4Africa staff we formed a savings group which started with savings from the funds meant to be for our refreshments and later we started offering labor to peoples gardens in a group and we would save some money and take home some for simple basic needs.
Within the saving group I realized there were many girls who had similar challenges like mine and some even more than what I thought of. This greatly encouraged me to stop the stigma on myself and enabled me to easily relate with the of group girls.
I realized from the trainings that women have equal rights with men regardless of our tradition and the knowledge on business and financial literacy greatly empowered me and was the turning point in my livelihood.
The savings group has been expanded and has grown its capital; we all have small businesses that have improved our lives. Now I sell matoke (plantain) in the main market which has assured me of basic needs to me, my child and also helping my mother at home.
This has given me hope that I can live a single life till I make a decision again to get married at the right time of my choice.'
Agnes like many other beneficiaries of this Global Giving project in Kasese has received knowledge and skills which has been a point of change in their lives. They give big thanks to the Act4Africa and Global Giving donors for this wonderful opportunity which has seen them being economically and socially empowered to become recognized community members both in the family and community at large.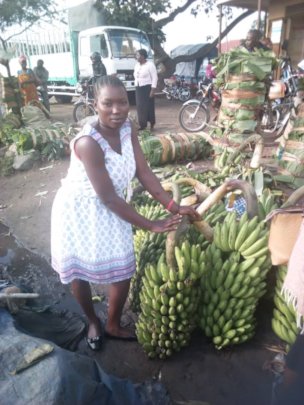 Links: