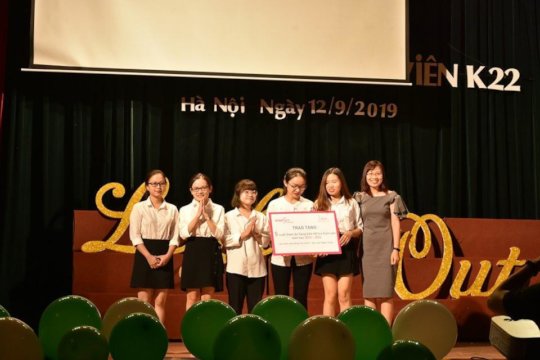 During the period from September to December 2019, activities from Financial activities and support for poor students project has officially executed, specifically as follows:
1. Granting scholarships
Out of 48 students participating in DynaGen Initiative, 24 students under difficult circumstances have received 1 million Dong scholarship/ per student / per month for 10 months. Of whom, 12 students (banking and finance, business, information technology major) received financial support from Bac A Bank, 3 students (medical and social major) received financial support from Dai-ichi Life Vietnam, 10 students (technical and social major) received financial support from some other organizations and individuals. This scholarship has partly helped students to reduce financial pressure, better finance their living expenses and make them feel secure to pursue their dreams.
2. Coaching knowledge and skills to assist in learning, scientific research, and career development
The first training course of DynaGen Initiative was held on October 6, 2019, with the topic "Understanding yourself and Managing goals". The training course was led by Coach Ms. Tran Thi Khanh is the CEO of Viet Nhat Link Joint Stock Company (VIJA Link) and TOP ONE Group Joint Stock Company. Through the training session, DynaGen Initiative students have been equipped with new knowledge about successful thinking, leadership skills, and goal setting methods. Evaluating after the training session, Mrs. Khanh commented "DynaGen's students were very active and open. They were ready to share their knowledge to create an ecosystem for mutual development."
On December 15, 2019, a training course on soft skills under the topic of "Study to Success" was organized with the participation of Coach Ms. Mai Thuy Hang (Human Resources Department, Sun Group) and Coach Mr. Le Minh Dung (Head of Recruitment Consulting Department, Navigos Search). At the end of the session, students have received new knowledge on ways to create a compelling CV, build personal images in front of employers' eyes, interview experiences and grasp the skills to build relationships and adapt to a new working environment.
3. Organizing seminars, workshops, forums, networking between students and scientists, experts, businessmen, and alumni.
Following DynaGen Initiative's training series, the Workshop "Trends in the labor market and the path of career development" was held on November 16, 2019, with the participation of experts: Ms. Vu Thu Hang (Communications Manager of North Asia Commercial Joint Stock Bank, Ms. Mai Thuy Hang (Human Resources Department, Sun Group), Ms. Ma Thi Hien (Recruitment Consulting Manager, Navigos Search) and 48 students. Through the workshop, students have access to information on career trends of the labor market in the current period and the next 4 years, effective job search channels, necessary skills for students, etc.
"Every day coming the DynaGen Initiative is a day of learning and accumulating new knowledge, for me this is amazing. The stories, knowledge, and information that coaches shared during the seminar have helped us to firmly believe in ourselves and prepare ourselves so that we will not be afraid of hardships and be able to grasp opportunities to achieve our dreams. It's hard to say which part excites me the most, because they each different in their ways, thus giving us a holistic, honest view of the path, they have come across, the knowledge, the skills we lack. I understand that, do your best at the present then success will come. I believe so"- shared by Nguyen Minh Thuy - Vietnam National University of Agriculture.
4. Introducing - connecting students to employers
Through the project activities, it has introduced and connected DynaGen Initiative students to businesses who are partners of the project. This has created learning, internship and practice opportunities for students such as 2 students received a full Japanese scholarship of Vietnam Japan Link Joint Stock Company, 6 students became collaborators of "I'm Powerful" project of Care International in Vietnam, 10 students were given opportunity to join the Office Tour program of Navigos Group, etc. In addition, many sponsors of the project have pledged to give priority in recruiting DynaGen students if they meet the requirements.
5. Others activities
In October 2019, 6 DynaGen Initiative students became collaborators of the project "I'm Strong" in 2019-2020. This is a project of CARE International's Urban Vulnerable Population Program in Vietnam, a project aimed at improving the quality of women's working life in the garment industry. Through this project, factory female workers will be supported in exercising their rights and improving their welfare both inside and outside the factories. Collaborators will be the supporters of the organization and assisting capacity building process of "I'm Powerful" groups of the Project. This is a valuable opportunity for DynaGen students to improve practical skills at work, participate in the implementation of a development project, and contribute to the community thus aligning with DynaGen's set out goal.
Within the training program of DynaGen Initiative, volunteer activities for the community were implemented. On November 1, 2019, as a volunteer, students of DynaGen, together with For Vietnamese Stature Foundation (VSF) and TH Group, implemented the "Green Living - Responsible Living" Program at Xuan Nha Kindergarten, Van Ho district, Son La province. The program granted 100 blankets, 145 coats, 310 slippers, over 300 sleeping pillows, a nutritious vegetable garden, books, toys, and warm milk glasses. DynaGen Initiative volunteers have personally decorated the campus and organized games for the children. This trip was one of the students' experiences on the goal of "living responsibly with the community". Ms. Moc Lan - one of the students shared: "The trip helped us to understand and sympathize with the difficult life of poor people in the mountainous village and experience the unprecedented things I have never had at school".
It is expected that in the next period, the project will continue to implement skills training courses for students, along with volunteer programs on the occasion of the Lunar New Year to allow students to spread love and contribute to the community and society.
For Vietnamese Stature Foundation (VSF) would like to thank GlobalGiving for supporting us and we hope to continue to receive your support in the future.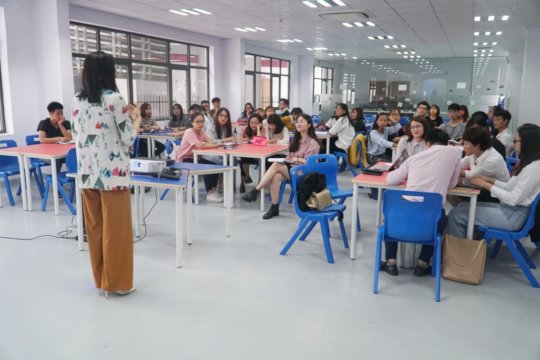 Links: