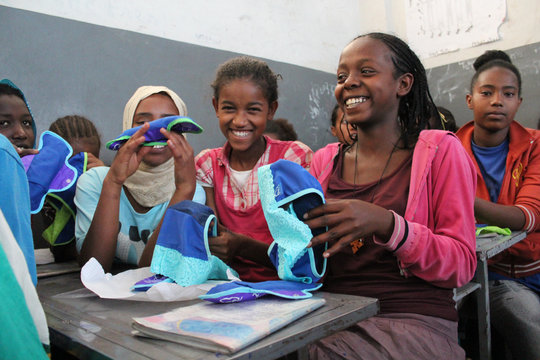 Don't forget to celebrate Menstrual Hygiene Day on May 28th!
"Many girls come from rural areas, and they've never heard of menstruation before. They are very scared, and they think it is something bad happening. Sometimes they are too ashamed to tell their parents or anyone." Sixteen-year-old Edagegn from Addis Ababa, Ethiopia, explains the heartbreaking situation that many girls at her school face, simply because no one talks about menstruation.
But let's get real. Menstruation might be an awkward topic, but it is keeping girls out of school. And that means we need to give it some serious thought.
When Plan launched a program two years ago to improve primary education for girls in Addis Ababa, it was clear that menstrual hygiene management would need to be a critical part. There were no safe toilets or water facilities at the schools, and many girls were using old rags or dirty cloths to manage their periods. It was no surprise that girls were often forced to stay home from school for a week every month. So we made sure that menstrual hygiene management training for girls and for teachers was an integral part of the program, along with a free sanitary pad service.
But there was one problem: The only decent sanitary products available were disposable… and wouldn't last after the project ended. The few reusable products that were available were prone to leak during use and even to mildew after washing.
It seemed too good to be true when we met Diana Sierra, CEO of the company Be Girl, which creates quality, reusable sanitary products for girls. Diana uses innovative design and high-performance material to develop a product that any girl would be proud to own. Together, Be Girl and Because I am a Girl are getting the highest quality materials into the hands of the hardest-to-reach girls.
About the Because I am a Girl Program in Ethiopia
In October 2012, with the incredible support of our donors, Plan launched a program in 8 schools in the slums of Addis Ababa to help them become friendlier places for girls to learn. Five water tanks and two sets of safe toilets were installed, over 1,000 uniforms and school materials were distributed, and extracurricular programs were created to give girls the support they needed to thrive at school.
Girls in these schools also learned how to safely manage menstruation, and free sanitary pads were available to girls when they needed them. A school administrator noted, "Girls used to stay home during menstruation, but now they don't miss even a second of school. I keep the sanitary pads in my jacket pocket all the time in case the girls need them. We also used to have a shortage of water, and the children would bring water in plastic bags to school if they could afford it. But with the new water tank, there is always a supply of water for drinking and washing."
About Be Girl
Diana Sierra, the CEO of Be Girl, didn't always work in social enterprise. Her background includes consulting in industrial design for companies as diverse as Panasonic and Nike. But when she realized the struggles that girls faced in developing countries every month trying to manage menstruation, she decided to use her skills for another purpose—"empowering women through design." And thus, Be Girl was born.
The first Be Girl product was a leak-proof sanitary pad that could be easily washed and reused. The girls in Uganda who tried to first prototype loved everything about it… except for the black color. They said it was boring! So Diana responded with pads in blue, purple and green, giving girls a product that wasn't just functional but fun.
But there was another problem. Girls from very poor families sometimes didn't own underwear and couldn't use the sanitary pad. So Diana took her design process a step further and created a pair of leak-proof underwear with a mesh pocket, where girls could insert toilet tissue or clean cloths as needed. The final product met the specific needs of the girls and gave them a sense of pride in ownership.
About the Partnership

In April, Diana traveled to Ethiopia to personally donate 500 reusable pads and 120 pairs of her innovative underwear to the girls in the Because I am a Girl project. They loved the products - it meets their needs and, what's more, it was designed with love especially for them. Diana says, "I believe that every person has the right to feel ownership of products that fill him or her with pride and a sense of dignity." Diana's products are more than just basic needs; they are vehicles to dignity. And this is at the core of Plan's partnership with Be Girl - a belief that all girls deserve to live with a sense of pride and self-respect.
Links: