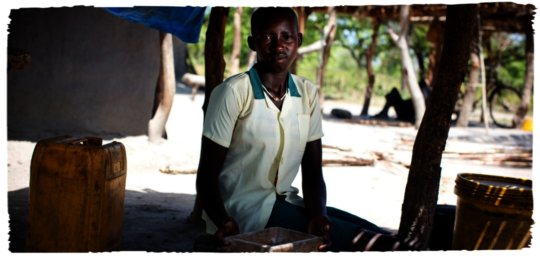 Fifteen-year-old Mary took part in her very first school lesson last year.
Since its independence, South Sudan has suffered from civil war and famine, and a large proportion of children do not go to school in the country. Around 1.8 million school-aged children are currently not attending classes. Most of them are girls.
But things are slowly starting to change, and Mary's newfound pursuit of an education serves as evidence.
"I live with my mother and father and have three brothers and four sisters," she said. "Some are older, and some are younger. My cousin was killed in the fighting—he was just a boy—he was shot while trying to flee. I had a twin brother, but he died just after we were born.
"I started school when I was 14 years old. I didn't go to school before that because there was fighting and it wasn't possible. There was fighting all around—I remember it very well and it used to really worry me. I used to get scared that something would happen. I was young and I don't like guns."
Although soldiers confiscated many of Mary's possessions, she made sure they didn't take her school bag.
"When soldiers came to our house, they took some of our things," she said. "I was given a school bag by Plan International and this was taken by the soldiers, but I chased after them and got it back. I told them it wasn't their bag—it was mine—so they gave it back. This was last year.
"My mother didn't go to school but I wanted to go to school because I think it's important. My father was given seeds and tools by Plan International last year, when the drought was very bad. After this, I was able to start school.
"Life was very bad before my father started farming, we didn't have much to eat. Before we got help, we were only eating things we could find in the forest. We sometimes didn't eat and when we did, we only ate once a day. We were eating wild fruits and vegetables. Mango from the trees—things like this, tamarind and other fruits."
The seeds provided by Plan made an enormous impact on Mary's life, and on the life of her family.
"But now things are better, and we eat twice a day—morning and evening. In the morning we will eat porridge and in the evening porridge again. This is my favorite food and what we eat the most. I also like rice. Sometimes we eat meat, but we cannot afford it often. If we could I would eat it more. Since my father started farming, we have been able to eat every day. When we had no food, we felt hungry and grew thin.
"At school, my favorite subject is social studies because it is easy to understand. I find science difficult. I want to get married and become a doctor because I want to help people and cure their sickness.
"My biggest challenge is hunger. Before, when we couldn't afford food, this was hard. I don't worry about this happening again, if my father is working in the garden, then there is no worry. My biggest worry is being hungry.
"My family has more financial security now so there is no danger of me being married early. I want to finish school first before I get married. I would like my children to have a good life, and have a job.
"One of my friends is married. She is 17 years old and has never been to school. She has three children now. She should have gone to school. School is important because if you go to school you will be able to have a successful life."
Plan is supporting families in South Sudan by distributing seeds and tools so households can grow their own crops and are able to generate an income, allowing them to send their children to school. Plan also works with communities in the Lakes region of South Sudan to improve nutrition, promote good hygiene, and distribute dignity kits to adolescent girls so they can manage their periods effectively.