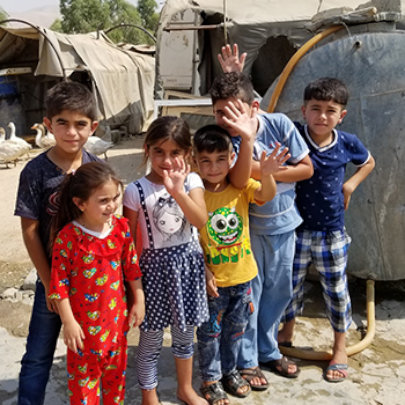 These families have been victims of extreme and unspeakable violence, forced to live for years in harsh and impoverished conditions in tents, tarp homes, old abandoned factories, and the like. They have lost homes, farms, businesses, and beyond material things, they suffered the loss of family and friends who were taken or killed.
On a recent trip, we helped the Yazidi families by leaving the funds that many of you donated to carry on the aid work they desperately need and want. Their love and appreciation is profound. The joy so many have in the midst of a terrible situation is amazing. My heart is torn between the joy of being with them again and the continued hardship and sorrow they live in.
Working Toward TCD
We are working on hybrid Disaster Relief/Transformational Community Development (TCD) projects to help the Yazidis improve their lives despite being displaced. We held an all-day training to work out first steps to implement a project. It is extremely difficult to consider, much less execute, development projects when you own nothing, but we can do it.
In light of this, the Yazidi are hard workers and some are slashing their way out of the jungle of extreme poverty and hopelessness. One man started a soap business three years ago. He began with making ten bars that were worthless. After persevering, he now makes thousands a month, has hired six people, takes only what his family needs from the profits, and gives the rest to the poor in his community. What an amazing family!
Finally, I met with my friend who is a Yazidi farmer. He is a good and hardworking man. Back in his homeland of Sinjar, he had a farm. I am hoping that he is able to get his own land to make a good living. I have brought him high quality, non-genetically modified seed that he will be able to grow and sell in the market.