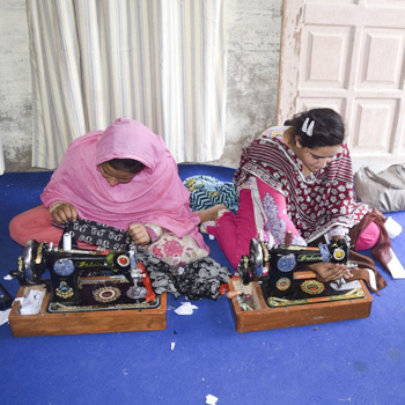 Sewing Center
The sewing center is providing the best skills training to women, enabling them to make a difference in the community as they help their families. We are on the track to empower the women to live better lives.
*Mariam belongs to a community of a certain religion. She was never allowed to go outside, and when she finished her religious education, she still never went out. Mariam's family allowed her to be part of this sewing center, and now she is receiving training. Mariam shared, "First of all, I learned love and discipline from this center. Before, I never learned to love and respect others. Now that I am part of this center, I think of myself as an ambassador of mercy and love. I am encouraging other girls to join this stitching center. It has developed my life in skills and manner."
Farming
Agriculture constitutes the largest sector of our economy. The majority of the population, directly or indirectly, is dependent on this sector. We are uplifting the community by helping to provide the farming project at OM Land. We are also planning to start fish farming at OM Land. This will also provide resources for many people.
After the drought, water is now available, and the farmer planted new crops. Last month, we invited the agriculture consultant for an awareness seminar about water and fertilizer. The seminar taught farmers how to conserve the fertilizer and water.
Computer Center
Through computer technology, we are equipping the youth for a better future. Many students have already completed the training course and we are still receiving more students.
*Asher was part of our computer academy. After completing his course, he applied for a job as a computer operator. He is currently doing this job and helping his family. Asher said, "It was like a dream for me to get a job in the computer technology sector. My hard work and skills that I learned from the computer academy helped me a lot to get this job."
*Pseudonyms have been used for reasons of protection and security.
Links: