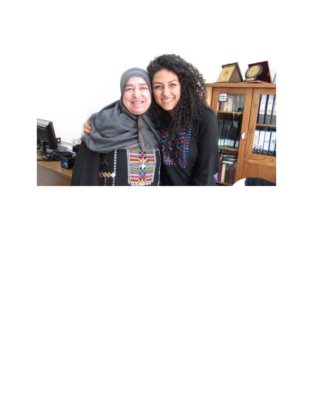 This family is from Syria from Homs. Um Ali has grown up with lots of Christian who lived in her neighbor, she also studied in a church as they had no school at their area. She said; " we didn't think of oh your Christian, you are a Muslim, that wasn't there at all, we used to live in peace, to eat together, to spend all day long together. I have many Christian friends, they are closer to me than my family."
Um Ali married when she was 25 years, she has 2 children (Ayah who is 17 years, and Ali who is 13 years). During our talk, Um Ali started to describe her house, it was a heavy moment for her, she paused, she had a smile when we first started to talk and then we arrived to this point her face turned red. She said, it's hard for me to remember, I want to forget, I can't and I won't yet I want to hide it and never think of it or recall. War is no fun. War is harsh and cruel. I love peace."
Yet she expressed and described its design and setting, where she used to sit and read for hours. She loves reading, she used to read a lot of documentaries. She wished she took lot of photos for her house. She loved her house. She loved it a lot, and she misses a whole lot now.
Um Ali was a teacher. Life changed. Everything changed after you live under attacks, hearing rockets and gun shots.
One day, extremists were randomly picking and they arrested her husband and tortured him for 12 days, they tortured him with electricity, they hit him on his head and it was cruel and brutal. " These people are like animals, no wait, animals are merciful, animals are loyal. But these people!! I don't have words to describe them.'' Um Ali said.
Her husband suffers from Parkinson's and retinal detachment and eyes cataract after all the torture he received. Later, they went to a shelter, and stayed around 4 months but then they left Syria in 2013 to come to Jordan. In Jordan, they stayed in Zaatari refugee camp for 25 days. Life there is not life. "It's hard, very hard to live there" Um Ali said. They couldn't bear the situation there, it was dirty, no privacy.
They managed to leave the camp and headed to Amman.
"I feel Jordan is my home, here I found peace. I don't ask about anything no money no power I just ask about peace. " Um Ali said.

Links: