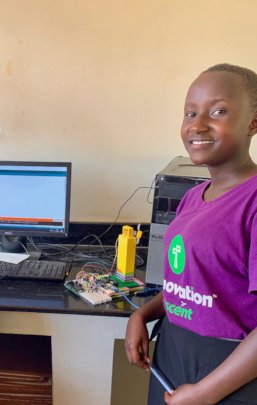 Your donations are changing the lives of so many girls in the community. Girls, like Rabecca, now have the opportunity to pursue their interests and realize their full potential. Here are some of Rabecca's thoughts on her participation in the recent robotics camp at Nyaka:
"My favorite part of camp was learning more advanced computer engineering -- typing codes and using electronic components that I had never seen or been exposed to before. It was amazing and I was introduced to a completely different way of thinking. I have always loved computers but I lacked the access and opportunity to use them.

Through Nyaka tech camp, I had access to the technology that I have wanted to learn about. And, more importantly, I am working with instructors who can teach me how to use it.

Girls need experience using computers. Many think that it might be a career or interest for boys but we need girls too! When I grow up I want to be a doctor and I know the skills I'm learning here will help me in this career. At this camp I've seen people make many inventions that could be used in a hospital. For example, my friend made an automatic tap that will make hand washing easier and more effective, preventing infection and the spread of disease. I've seen how other countries are using technology to develop and I'm hopeful that I can become one of these innovators."
Thank you for continuing to lift girls like Rabecca up. We are a stronger community when our girls feel supported and encouraged to think outside the box!
Links: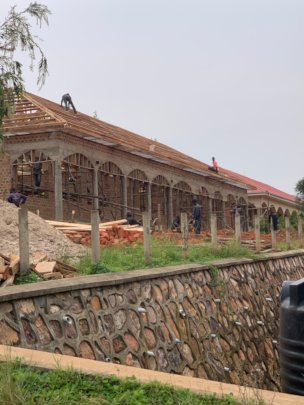 You are providing funds to build a Chemistry and Physics laboratory to complete the construction of Nyaka's Vocational and Secondary School! These facilities will provide the equipment and space necessary for students to develop their practical skills and increase their knowledge in all matters STEM (Science, Technology, Engineering, and Math). Access to these facilities will set students up for success in secondary school and beyond.
With your continued support, students will continue learning and thriving and will have a competitive edge in Uganda's crowded job market. Nyaka is already seen as a leader in technology and innovation-- we hosted our second annual Robotics Camp this year, giving 84 students from across the region the opportunity to learn essential skills like coding and website design. By expanding our STEM facilities, you are contributing to future camps and programming that will support even more students in the community!
When provided with the right resources and facilities, Nyaka students thrive. By continuing to fund the construction of these laboratories, YOU are ensuring that Nyaka students are receiving the best possible education. You are helping them to realize their full potential and to explore opportunities they might never have deemed possible. Thank you!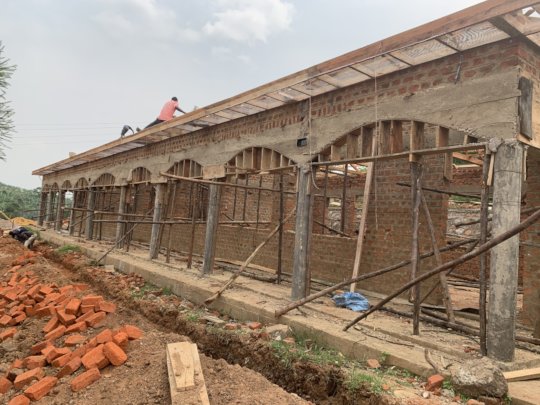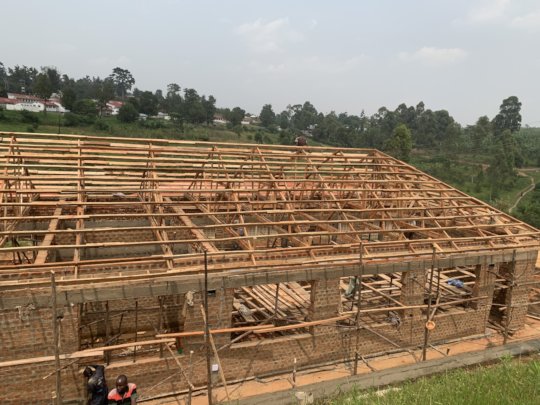 Links: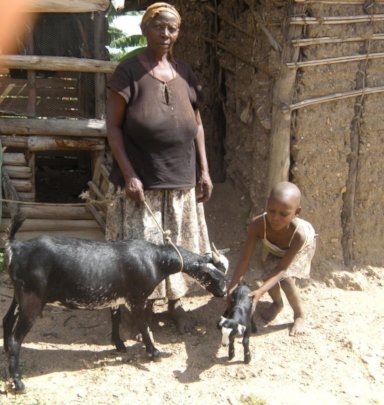 Ester is a 67-year-old widow from Nyakatunguru village with two grandchildren Oscar and Night. Ester was born in Nyakishenyi where she married a man named Kanungu. Together they had nine children. Unfortunately, they lost two children to cancer.
Ester has been a part of YOUR Grandmother Program for a very long time. She has benefited from the Grandmother Program by receiving essentials like a water tank, gardening hoes, training, funds from the microfinance program, solar lights and also a goat from the Goat Project.
Ester is so thankful for YOU because the goat project changed her life both economically and socially. She is excited to take care of her goat and make sure that it produces more and more milk which she can sell and use to feed her family. Ester wants to say thank you for all you've done to help her!
Links:
WARNING: Javascript is currently disabled or is not available in your browser. GlobalGiving makes extensive use of Javascript and will not function properly with Javascript disabled.
Please enable Javascript
and refresh this page.