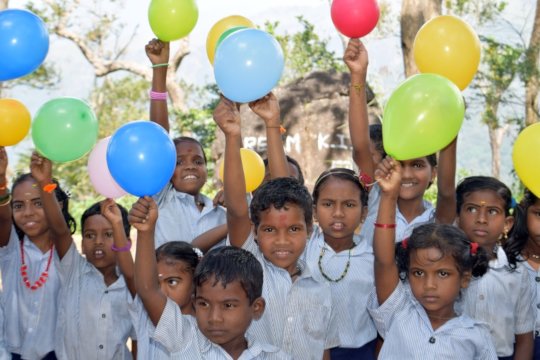 Nandhu and Sharat are siblings and they have a dysfunctional family. Hence the children had not been to school though they are 14 and 12 years of age. It was through a tip off to our child helpline that we came to know about them. Our team reponded with a visit to their home. As there were not any reponsible adults to look after them, the children were into some bad habits like drug addiction and they were often roaming with freinds and almost never at home. After convincing the relatives both the chidlren were rescued, produced before the judicial committe and sheltered at our own home.
It was a herculian task to get them learn the basics of language and through strenuous efforts we mananged to teach them to read and write. Another equally tedious task was to get them to regular school as they were not used to a disciplined life. There were lots of 'dropping outs' and 'bringing ins'. However through sustained follow up now both of them are rather regular in school and are interested in learning.
It is always difficult to bring back children who have dropped out of regular education as often it is also due to the fact that children have lost interest in education due to lack of fundamentals in smaller classes. It is equally difficult to eudcate children who are older and who have never been to school before.
Thank you for your sustained support to get chidlren back to schools and it is education that can empower them!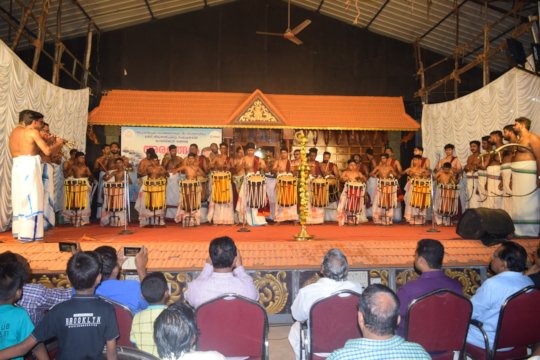 Of the 22 chidlren who began the chenda practises 11 have finished the training and the initiation ceremony was conducted. The Mayor of the city and tousim departements graced the occasion. They were plesantly surprised by the skill that the kids aquired so gracefully. A crowd of over 300 people participated in the initiation ceremony.
Regular practices and perforamnce by chidlren are still continuing. There is a lot of transformation among the chidlren who attended the chenda lessons and went through the rigour of continued practise. Chidlren have improved their attention and there is marked improvement in the academic performance among the children.
We have approached the resorts and hotels in Trivandrum to allow our children to perform during their welcome ceremonies as well as when they need to show case acultural extravagenza. The Leela Raviz hotel has already accepted our request and our chidlren have performed twice of which one was to welcome the West Indies cricket team! New opportunities and exposure for our kids.
Thank you for your contribution to make a difference in the lives of deprived children!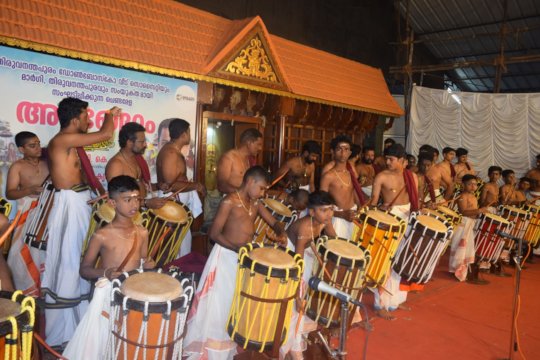 Close to the railway platform there was a family with six children in a dilapidated house. The father of the family was a drunkard and the mother had no means to take care of her 6 chidlren. A call to our helpline number came at 6 o'clock in the morning. The caller said that the children were starving and they had no food and needed urgent help. Our team rushed to the spot and studied the situation and found that indeed there was nothing for the children to eat and fire in the oven was last burnt 3 days before.
We intervened with the mother and with the order from the Child Welfare Committee we resuced the mother and chidlren fromt he home and the father of the family was not anywhere in picture. The chidlren have been sheltered at our cnetre and their basic need of food was not satisfied for many days.
Presently through our intervention the mother has a job and the children have food to eat and other basic necessities are taken care of. They are attending school regularly and there is happiness and joy on their faces.
WARNING: Javascript is currently disabled or is not available in your browser. GlobalGiving makes extensive use of Javascript and will not function properly with Javascript disabled.
Please enable Javascript
and refresh this page.