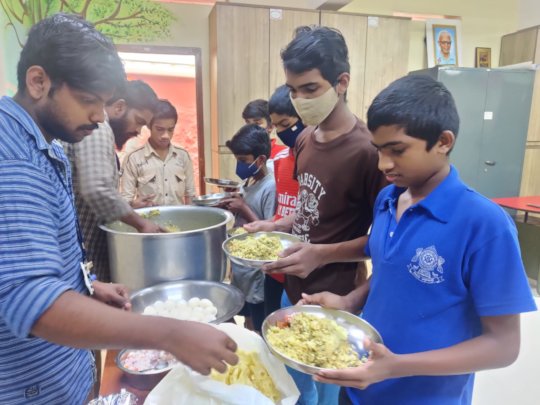 Don Bosco Nivas has been working for the children at risk since 1991. The organisation has been rescuing children from streets and from the drastic risks they face during their childhood which even has the potential to lead their lives to peril. Through our efficient and effective services which we provide for children we can proudly claim that the children at risk are no more at risk nowadays as they are in safe hands of ours. The children rescued from streets are obtained in the state of malnourishment and they desperately need food for their empty bellies.
Don Bosco Nivas with the help of kind donors from GlobalGiving platform was able to provide them with good quality nutrition for these children throughout the year.
The nutrition menu has been revised for the children as per the fund we recieved throught the donors of GlobalGiving
Sunday:
Morning : Bread, Butter, Jam, Egg omlet, Milk
Noon: Chicken Biriyani and lime juice
Night: Rice pudding, Pulses and pickle
Monday:
Morning: Dosai, Coconut chutney, Milk with horlicks
Noon: Rice, Aviyal, Pulses, Cabbage curry
Night : Chappathi, Tomato curry
Tuesday:
Morning: Appam, Kadala curry, Milk with horlicks
Noon: Rice, Tapioca, Soyabean curry, Dal curry
Night: Rice pudding, Coconut chutney, Pickle
Wednesday:
Morning: Masala dosai, Milk with horlicks
Noon: Ghee rice, Chicken curry, Pickle, Pappadam
Night: Onion Dosa, Sambar'
Thursday:
Morning: Poori, Potato curry, milk with horlicks
Noon: Rice, Aviyal, Fish curry
Night: Iidyappam, Egg curry
Friday:
Morning: Idli, Sambar, Vadai, Milk with horlicks
Noon: Rice, Fish fry, Thoran, Sambar
Night: Porotta, Beef curry
Saturday:
Morning: Rice puttu, Kadala curry, Milk with horlick
Noon: Rice, Sambar, Soyabean curry, Salad
Night: Chappathi, Potato curry
The children are recieving quality nutrition as per the revised menu of food and nutrition at Don Bosco Nivas because of the caring mind of the GlobalGiving donors.