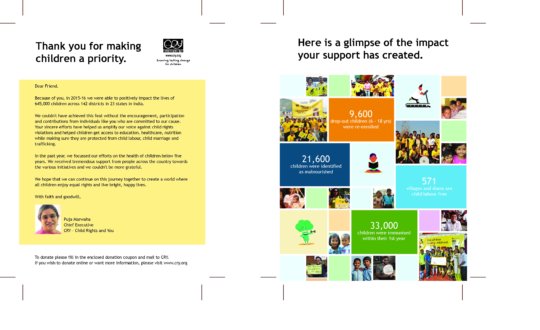 3 year old Saina's mother Hosanara, was always aware that her daughter was a little underweight for her age but she never thought it could be anything to worry about overtly. It never even crossed her mind that her child's life could be in danger….busy managing 4 young children, including Saina and her bidi making work – she did not realize the severity of the child's condition……
When a representative of CRY supported project MARFAT, came into contact with Saina, he realized intervention was required urgently! He educated Hosanara on Saina's condition and immediately connected the child to a Nutrition Rehabilitation Center. Since mother and child needed to be at the center for at least a few weeks – the team also ensured that the youngest child could stay at the center with Hosanara. They also ensured that the other children were placed with relatives and were well looked after. They would also take the children to visit the mother at the center so that she did not worry and come back in a hurry.
Saina, slowly gained weight and as her condition improved, her mother also learnt how to look after the child once they came home and ensure she didn't slip back again.
Today she is a bright, cheerful little girl, well on her way to celebrating her 5th birthday and a healthy life thereafter……
Introduction:
From birth to 5 years is a very crucial period in a child's life and often sets the tone for the years to come. Access to proper services at this time and their rights being upheld, ensures that they have the proper start that they need, be it healthcare, nutrition or early childhood care. Proper care for the mother also plays a very important role before birth as well as during the months of breastfeeding. Therefore along with the child, it is also very important to ensure that pregnant and lactating mothers as well receive proper care.
However, the reality is that many children today do not get this right start to life. Lack of access to service, insufficient care for mothers, little awareness and sensitization – all leads to many children missing out on the crucial care and attention needed in this phase for life and the result is too frightening to comprehend.
CRY's intervention:
CRY works across these communities to identify the root causes why young children between 0 – 5 years away from the very basic care that they require in this crucial phase of life. Looking at this through the lens of overall child rights for all children in these project areas, the on ground project teams work towards correcting the root causes and ensuring a lasting change – for these children and the communities as a whole.
Impact:
Your partnership helped us reach out to 6,44,780 children across 3118 villages and slums across 23 states in India in the last one year alone. You ensured 33,274 infants received immunizations and now are well on their way to a healthy start in life. Anganwadi centers have been opened across the country – giving more and more children access to proper health and nutrition. You helped us go from strength to strength and we ended the year on a high note by ensuring 2,50,532 young children are going to celebrate their fifth birthday and build a solid foundation for their lives ahead.
Links: