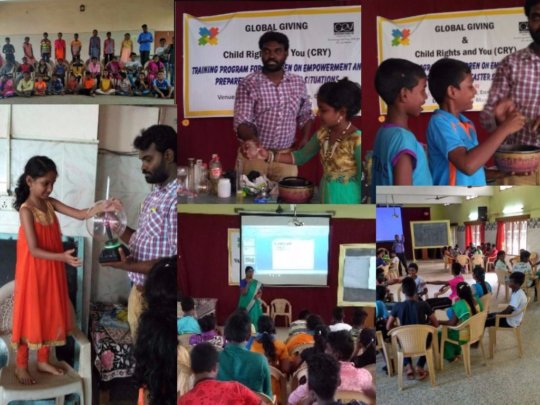 Thank you for supporting life skills & disaster management workshops for children from Vyasarpadi Slums
The workshop were conducted in the last quarter with same energy and zeal, powered by curious participants as the first batch we told you about on our previous report.
Life skills and disaster mitigation workshops were result of your faith in us. When Global Giving visited us to understand the CRY's relief support to slum children in Vyasarpadi, victims of floods in 2015, you funded for; Global giving and you further extended your support to CRY's resolve to prepare children in the Vyasarpadi slums, Chennai, for any such disaster or stressful situations, in future. And thus, with you on our side, we started empowering children in handling themselves in such situations through these workshops. The workshop for first batch was held in February and for second and third batch during April and May. The workshops are designed by professionals to help the participating children acquire life skills and understand disaster and be prepared to such scenarios to protect self by using avilabe limited resources.
Workshop – Disaster and science
The two day workshops were divided into several sessions in understanding science behind everything – light, fire, conductors and electricity, floods and the like. Demonstrations engaged children in understanding what happens when there is a disaster and how they can act in different situations and use simple things around them as aids. Children also watched videos to understand how their brain and heart functions especially in stressful situation. Sessions also involves role play and activities that helped children to act not only during disaster occurrence but also after.
Life skills
The sessions also were scientifically designed to help children understand concepts such as self – identity, uniqueness, awareness, action, acceptance and self-respect. The sessions aided them in understanding feelings and individuality and response to situations through games, participation in discussions.
The batch two comprised of children from age group between 11 to 14 years while batch three from age group 15-18 years and hence the content of workshop was also designed age appropriately. There were 40 children in each batch from SCSTEDS, Vyasarpadi slums, Chennai who participated in the workshop. Children were also excited as they got an opportunity to camp at the centre for two days as it was first time they were out camping and learning with their peers. They also prepared for a cultural event and performed.
Thanks to you and Global Giving, over 100 children from our project SCSTEDS, Vyasarpadi Slums, Chennai have been trained in life skills and disaster management. The fourth and final workshop is scheduled in July and we will keep you posted and bring you a consolidated report!
We need you; to continue supporting our work and hope you'll be by our side and continue making a difference in lives of children as ever.
With Gratitude,
Thanks and Regards,
Prithvi
Links: