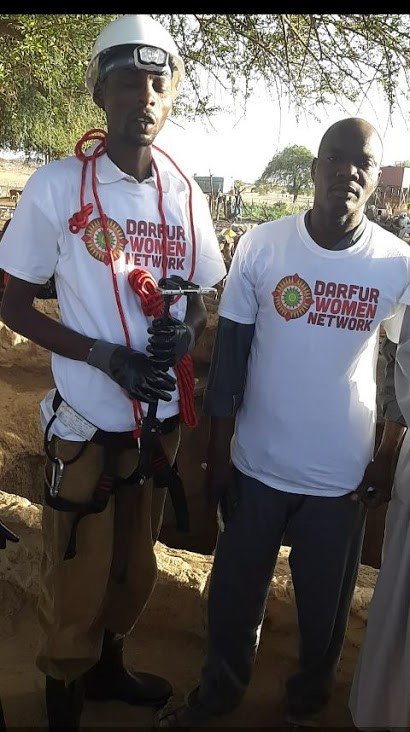 Hello our supporter,
Thank you for standing for Darfur refugees, the survivors of genocide, who fled their country to live in Chad for over 17 years. The majority are Women and children of the residents of the camps and are unable to meet their basic needs of living. Lack of social services, for drinking water, and sanitation expose these vulnerable communities to numerous challenges and life-threating situations, including malnutrition and diseases.
The 2020 has been a quite challenging year, COVID-19 has presented the Darfur refugees in Touloum camp in Chad with unprecedented challenges in addition to lack of food, water, healthcare, education, and no jobs or any sources of income.
The Darfur Women Network committed to serve Darfur refugees with passion to survive. We worked with the refugees to raise awareness. We conducted ten awareness sessions on the prevention of COVID-19, each session for the habitants of each zone, the refugee camp consists of ten zones. Our staff taught them about the important of social distance, wearing masks, wash their hands to enable them to survive. Then, we distributed personal protective guidelines education and materials such as: Masks, gloves, sanitizers, and soap to the 30000 refugees.
Clean Water has been the critical needs for the refugees to survive COVID-19. Your donations have helped us to provide safety tools to our volunteers' team to clean up water drinking wells to ensure that clean water is available for drinking and for personal hygiene to prevent coronavirus.
The refugees depended on drinking water on rain, but, now, they drink from water wells. However, the wells have been buried during rainy season
DWN needs your generous support to be able to us to overcome the challenges to managing a COVID-19 outbreak. The refugees are in need to water for their personal hygiene. We are committed to provide water for consumption and hygiene. Your donation makes drinking water available to the refugees. When we ensure that refugees have access to water , soap, sanitizers, and mask, they will survivors COVID19.
We would like to invite you to support the refugees from Darfur to survive the COVID-19, please check our link below.
Please share our link with your network and your friends to create an opportunity to harness the generosity of people around the world to bring about real change in our refugees' camp. During this challenging time, http://goto.gg/44315