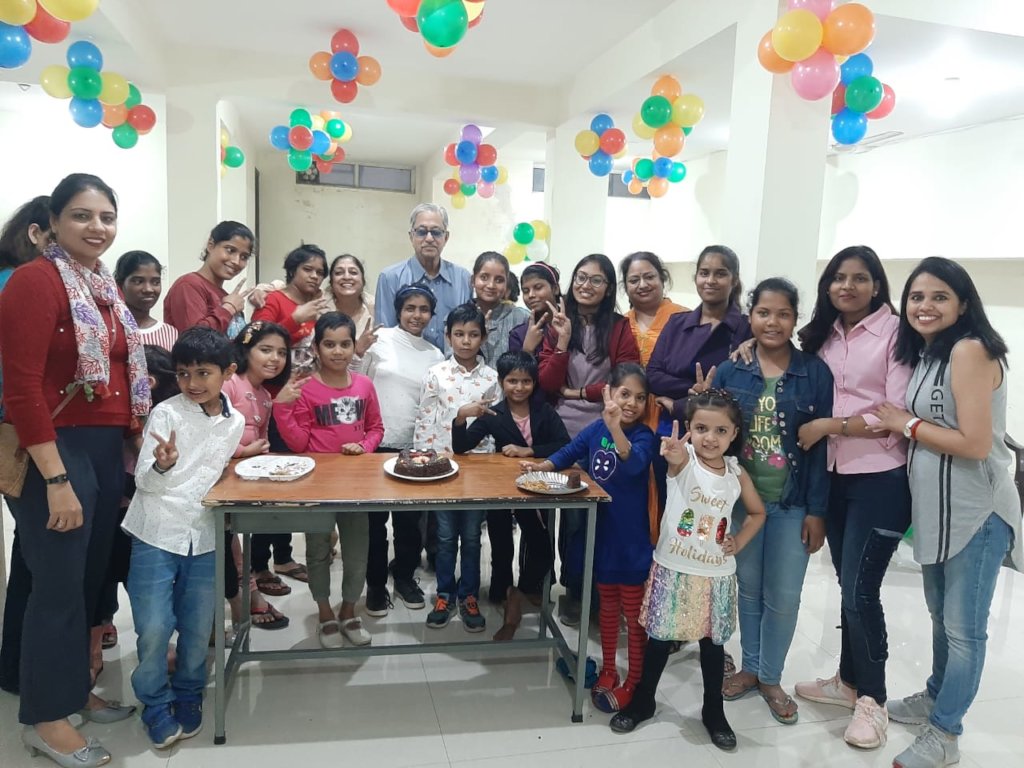 Udayan Ghar Programme
Udayan Care had set up its first Udayan Ghar (Home) for children in 1996 and created its own model of LIFE: Living in Family Environment. This model enables erstwhile children in need of Care & Protection in to grow in a loving family environment. In these homes, the children are loved and cared for by a group of Mentor Parents-socially committed individuals (volunteers) who groom the children with a team of Coordinators at homes, along with resident Care Givers, Supervisors, & Volunteers.
These homes are located in busy, middle class neighborhoods, so children can reintegrate themselves into society through direct community involvement which helps mainstreaming the children ahead. Our children and young adults are receiving quality education in some of the best educational institutions such as: The Sagar School at Tijara, Alwar, Mata Bhagwati school, Genesis Global school, Tagore International School, East of Kailash, Banyan Tree School, Global Indian International School etc. and colleges/ universities like College of Vocational Studies, University of Delhi, Hi- Tech Institute of Engineering, Ghaziabad, Punjab University, Lingaya's University etc.
Since inception, Udayan Ghars have nurtured over 1181 children with love, care and protection in 17 Homes across 4 states of India. Presently, there are 209 children across all homes. 34of our young adults are also being supported through our After Care Programme.
Workshops/ Activities during this Quarter
During the period of September - November, 2019, the team passionately worked for children ensuring that they are cared, loved and, protected and assuring that all their developmental needs are met. The quarter unpacked infinite joy, laughter and sense of oneness and belongingness among the children and the team. Festive celebrations, achievements and children being engaged in preparing for mid-term examination remained to be some major highlights of the quarter.
Workshops being a monthly affair continued to happen addressing several concerns pertaining to Children, Care-givers, Mentor Parents and Coordinators and also served for building their capacity. In order to strengthen the stakeholders the following workshops were held during the quarter:
September
Workshop on "Power of Gratitude" with Children
Workshop on "FAIRSTART Training Programme, Revision Session" with Caregivers and Supervisors
Session on "Findings of Research Study on After Care Practices in India" with Mentor Parents & Coordinators.
2. October
Workshop on "My Safety" with Children
Session on "Unpacking Learning from Biennial Conference held in Durban, South Africa on Child & Youth Care & Way Forward for Udayan Care" with Mentors & Coordinators
3. November
Workshop on "Creating Children's Manifesto" with Children.
Workshop on "FAIRSTART Training Programme, Session VIII" with Caregivers and Supervisors.
Children do not naturally know how to make good choices. Life skills help children know what to do in everyday situations as well as how to make good decisions about more abstract, long-term choices. Since, in a constantly changing environment, having life skills is an essential part of being able to meet the challenges of everyday life, Life Skill workshops at home were also held like every other quarter which focused on various subjects like self expression, managing emotions, relationship building, healthy & unhealthy relationships, knowing self, Problem solving, verbal & non verbal communication.
Opportunities, events and outings are some of the things that never end for our Udayan Ghar children. The major recreational and co-curricular events that took place during the quarter include –
Books may provide knowledge but, Teachers help that knowledge get blossom!
A beautiful day to acknowledge and appreciate ones who have helped children inculcate values, discipline, and education and motivate them to become successful and productive individual was celebrated as Teacher's Day where children across Udayan Ghars honoured their mentor parents and tutors. Children themselves organized activities, greeted their teachers with handmade cards having their thoughts penned down on it. The celebration was then followed by small snacks party.
Corporate Visit at our Udayan Ghar for Boys, Gurugram
The team from Toyota Group visited the Udayan Ghar for Boys, Gurugram on 7th September 2019 where they inaugurated their CSR Initiative by donating and bringing into operation in the Ghar the Water Cooler, Air Coolers, Silent DJ, etc. Arun, COO, Udayan Care along with the staff and children of the Gurgaon Ghar were part of this inaugural ceremony. The children and staff expressed their gratitude through momentos and an artistic card prepared by them as a token of respect.
Football Match with Team adidas
Celebrating the more than decade old association with Udayan Care and its children, adidas, had invited children from our Udayan Ghar for Girs, Lajpat Nagar Homes 1 & 13 and Udayan Ghar for Boys, Gurugram Home 5 at their office in Gurugram to play a friendly football match on 17th September'19.
The day began with interaction followed by light refreshments and the teams after that got set with all their safety gears ready to face each other in the football. Dave, MD (Adidas-India) addressed the children and helped them raise their spirits to high levels. Both the teams were packed with explosive energy and soon the ground was filled with some loud cheering. The teams did give a tough fight and gracefully, team Udayan Care won the match by 2-1.
Daughter's Day Celebration
To celebrate Daughter's Day, volunteers from KAZO, a merchandise company, visited the Udayan Ghar for Girls, Greater Noida on 22nd September 2019. The team of volunteers interacted with the children in the Ghar and donated merchandise from KAZO.
On 21st September 2019, children from Udayan Ghar for Boys, Noida Home 6 celebrated World Clean-up day organised by HCL Foundation at Noida Stadium. The engaged in the awareness drive taking forward the need for cleanliness, reducing use of plastic as well as imbibe a healthy living standards.
Daan Utsav (Joy of Giving Week Celebration)
Reinforcing the idea of not always being at the receiving end and instead to be grateful and be a giver, our young children came forth to celebrate Daan Utsav (Joy of Giving) bringing joy into the lives of less privileged people. Colors of celebration were displayed through children getting engaged in donation drives in the nearby slums, spending time and organizing edutainment sessions for children at under privileged schools, Home for Children with Special Needs and senior citizens at Old Age Homes.
3 Days Cricket Tournament, Aadhya Cricket Cup, 2019
11 Warriors representing team Udayan Care, returned back blowing the trumpets of triumph after they stood out victorious in the final cricket match played against Arya Anathalya (Home for orphans) on 13th October'19 at Bharat National Public School, Ram Vihar, Delhi. Team Udayan Care won the match by 8 wickets hitting 128 runs beating the targeted score of 127.
The 3 days cricket tournament, Aadhya Cricket Cup 2019 organized by Aadhya Foundation was seen as a platform for many underprivileged children to come forth and showcase their talent and love for cricket. Apart from Udayan Care, the tournament saw participation from several other NGOs.
With lost none and all won, team Udayan Care ruled over the hearts of not only the spectators and organizers but, also left a deep impression on its opponents.
Swachhata Hi Seva Campaign
"The greatest threat to our planet is the belief that someone else will save it."– Robert
Swachhata Hi Seva (Cleanliness is Service) Campaign, themed on Plastic Waste Management was promoted by children across 17 Udayan Ghars in full swing. The activities surrounding the campaign were undertaken during the whole month of October'19 where children from some of the homes organized awareness sessions and rallies in open communities educating people about harmful effects of plastic usage and the best alternatives that could be put in place to avoid its usage. Children from the other homes wrote slogans, distributed pamphlets, held dialogue with local market vendors and local leaders to put a complete stop on the use of plastic carry bags. Some children also initiated cleaning drives wherein they picked up rags from the community parks and other public places involving the local people.
Event by DCPCR to Felicitate and Honor Children scoring 70% & above Marks in Board Examination, 2018-19
District Commission for Protection of Child Rights, Delhi organized an event on 23rd October 2019 at open theater INA, Delhi to honor children, living in Child Care Institutions (CCIs), who have scored 70% and above marks in class X & XII Board Examination in the academic session, 2018-19. The event was seen as an innovative endeavor by the government authorities to recognize and acknowledge children's efforts who despite being gone through hardships in life rise up and shine. A total of 8 children were invited from Udayan Care for the felicitation where they were presented with a memento and a certificate. It was a proud moment for us, being responsible for their care and upbringing, and for the lovely mentor parents, Deepak (Mentor Father) and Saroj (Mentor Mother) who accompanied the children on the day of the event.
Dressed in their best ethnic outfits, illuminating their respective homes with colorful lights and diyas, exchanging gifts and sweets and sharing love, Diwali was celebrated with all joy and vigor by children, mentor parents and staff across all the Udayan Ghars. The bright and vibrant festival signifying the victory of good over evil had a lot to teach our young Udayanites about Indian culture and traditions and how everyone gets together to be a part of each other's happiness. No doubt, such festive celebrations help inculcate a sense of belongingness and oneness among children as a part of Udayan Care family.
Children and staff from Udayan Ghar for Girls, Gurugram Home 17were invited by United Colors of Benetton at their Head Office for Diwali Celebration. Children had a great time interacting with the team UCB. They were engaged in games and fun activities followed by a mouthwatering festive feast. The children also received Diwali gifts from UCB. Likewise, children from Udayan Ghar for Girls, Ghaziabad celebrated Diwali with Greenlam at their office.
Children's Day Celebration
Every child is a different kind of flower, and all together, make this world a beautiful garden.
A happy childhood nurtures confidence, talent, and creativity, helping children excel in their adult life. Children are not liability but, God's most beautiful creation that must be celebrated. Celebrating childhood and bringing a smile on every child's face, November 14th is celebrated as children's day all over the Indian nation.The staff and mentor parents at Udayan Ghars with all vim vigor put their best foot forward to make children feel happy and special where some of them had organized games, activities and delicious treats and some of them brought smile by giving surprise gifts. The day turned out well most importantly made children feel loved, cared and happy.
Success Story
The sun sets to rise again!
Childhood is the time wherein the munchkins, all adorable, are loved, cared for and protected against any harm to their delicate being and psyche but, fate had its own offerings for little Gulnisha who lost her parents one after the other at a very young age. The loss of parents rendered her into early childhood trauma. With nowhere to live and nowhere to go for support, Gulnisha landed on the streets of the capital city where she stayed for quite some time with her paternal grandmother and continued to struggle for shelter, food and survival. Rescued from the streets, Gulnisha was transferred to a government children's home for her care and protection but, due to the non-conducive environment at the care home she was later transferred to Udayan Care for her long term care and protection.
Provided with all the required love, care, attention and protection, Gulnisha started showing improvements in her self-confidence, sense of worth and developed her social and relationship building skills. The ghar team comprising of mentor parents, social work and mental health professionals and caregivers did all their best in grooming her and helping her to overcome her traumatized past through Trauma Informed Care (TIC).
Today, Gulnisha is studying in class VII in a reputed English medium school and surprising everyone with her talents and dedication. She has keen interest towards almost all extra co-curricular activities. Arts, dancing, singing and sports, she has left nothing. Recently, she has been awarded with a Gold Medal in North India Shotokan Karate Championship, 2019 organized by Shotokan Martial Arts Federation of India.