By Shafi Uddin | Sr. Documentation Officer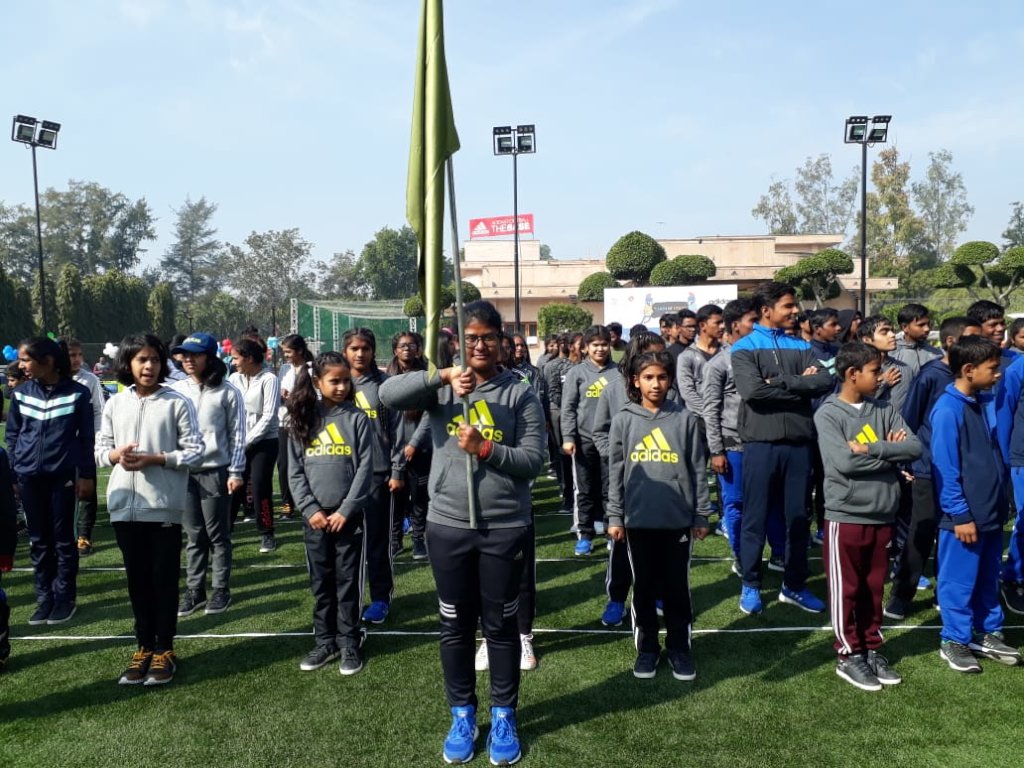 Udayan Ghar Programme
Udayan Care had set up its first Udayan Ghar (Home) for children in 1996 and created its own model of LIFE: Living in Family Environment. This model enables erstwhile children in need of Care & Protection to grow in a loving family environment. In these homes, the children are loved and cared for by a group of Mentor Parents-socially committed individuals (volunteers) who groom the children with a team of Coordinators at homes, along with resident Care Givers, Supervisors, & Volunteers.
These homes are located in busy, middle class neighborhoods, so children can reintegrate themselves into society through direct community involvement which helps in mainstreaming the children ahead. Our children and young adults are receiving quality education in some of the best educational institutions such as: The Sagar School at Tijara, Alwar, Mata Bhagwati school, Genesis Global school, Tagore International School, East of Kailash, Banyan Tree School, Global Indian International School etc and colleges/ universities like College of Vocational Studies, University of Delhi, Hi- Tech Institute of Engineering, Ghaziabad, Punjab University, Lingaya's University and so on.
Since inception, Udayan Ghars have nurtured over 1020 children with love, care and protection in 16 Homes across 4 states of India. Presently, there are 186 children across all homes. 26of our young adults are also being supported through our After Care Programme.
Expanding its embrace of care and protection to reach out to more children at-risk, Udayan Care has opened 2 new homes (girls Home in Gurugram, Haryana and another one in Vasant Kunj, Delhi) during the period December'18 to February'19, making it to the total of 16 homes.
Workshops/ Activities during this Quarter
During the period of December, 2018 - February,2019,the team continued working for the betterment of children and the programme. The quarter went well with children engaged in preparing for their final-term examination. The quarter brought along some major celebrations including adidas-Udayan Care Winter Carnival and 13thadidas-Udayan Care Annual Sports Day. Workshops being a monthly affair addressed several concerns pertaining to Children, Care-givers, Mentor Parents and Coordinators and also served for building their capacity.
Workshops were held with all the programme stakeholders (mentors, coordinators, caregivers, and children).In order to strengthen the stakeholders the following workshops were held during the quarter:
December
Workshop on "Time Management" with Children
Workshop on "FAIRSTART Training (Phase III), Session III" with Caregivers and Supervisors.
Discussion on "Understanding Child Sexual Abuse (CSA) as a Mental Health Concern in Alternative Care" with Mentor Parents and Coordinators
January
Workshop on "FAIRSTART Training (Phase III), Session IV" with Caregivers and Supervisors.
Discussion on "Preparing Individual Care Plan of Children" with Mentor Parentsand Coordinators.
February
Workshop on "Care Giving, FAIRSTART Training (Phase III), Session V" with Caregivers and Supervisors.
Session on "Understanding UdayanGhar Model" with Mentor Parents and Coordinators.
Children don't naturally know how to make good choices. Life skills help children know what to do in everyday situations as well as how to make good decisions about more abstract, long-term choices. Since in a constantly changing environment, having life skills is an essential part of being able to meet the challenges of everyday life, Life Skill workshops at home were also held every other quarter which focused on various subjects like self awareness & self identity, coping with emotions, relationship building, healthy & unhealthy relationships, knowing self, decision making, stress management, healthy habits; family & community, communication and problem solving.
Opportunities, events and outings are some of the things that never end for our Udayan Ghar children. The major recreational and co-curricular events that took place during the quarter include –
Theatre Show by Salaam Balak Trust
Children from Sant Nagar, Mehrauli and Ghaziabad Ghars went to see theatre show by Salaam Balak Trust, a not for profit organization providing residential care to vulnerable children. The play, Street Dreams portrays the story of three children living on the streets and facing various hardships take a call to transform to their destiny with their utmost determination. The skit for the play was written, directed and performed by the alumni and children of Salaam Balak Trust. The children were truly thrilled and motivated after seeing the play.
Christmas Celebration Josh Technology
Our Boys from Gurgaon Ghar were invited for Christmas party by Josh technology at their Head Office in Gurgaon on 21st December'18. Children from other organization were also a part of the celebration. They were engaged in different fun activities. Children danced, got Christmas presents and enjoyed some delicious food.
Greenlam's Family Day Celebration
Girls from Ghaziabad Ghar were invited to be a part of Greenlam's Family Day Celebration on 22nd December'18. Girls performed a skit and were made a part of several games and activities organized by Greenlam. The day ended with presents distributed to the children followed by a mouth-watering feast.
Heritage Walk by Apni Basti Mela
Children from Sant Nagar and Mehrauli Ghars went for a heritage walk in Nizamuddin on 23rdDecember'18 organized as a part of Apni Basti Mela. The children walked through the medieval settlement area, Nizamuddin, named after the highly venerated 14th century Sufi saint, Nizamuddin, wherein, they saw medieval era tombs, shrines, mausoleums and step-wells.
Adidas-Udayan Care Winter Carnival
The cadre of children and staff across different Udayan Ghars got together to celebrate "Adidas-Udayan Care Winter Carnival– Awaken the Superhero Within" at Jagshanti Udayan Ghar, Greater Noida on 5th January'19. Loaded with tons of fun, exciting games, mouth-watering eats, beautiful décor and banger that makes anybody dance, the carnival threw some spectacular performances where children dressed as superheroes revealed the colors of their super power to make the world a better place. They also gave some jaw dropping group dance performance as a part of talent hunt show.
Art Workshop by Art Reach India Foundation
On 12th January'19, participants of the Artroom Programme by Art Reach India Foundation went for the art workshop where they painted and drew posters and info-graphics inspired from the nature walk held at Lodhi Garden, Delhi.
Republic Day Celebration
Republic Day was celebrated across different Udayan Ghars on 26th January'19. Each home celebrated the glorious with its own taste where, some sang patriotic songs, participated in quiz and others hoisted flag, made presentation on revolutionaries and shared their stories. The day is celebrated at Udayan Care in order to inculcate patriotism, loyalty and a sense of responsibility in children towards the nation.
13th Adidas-Udayan Care Annual Sports Day – "Clash of Titans, Let's settle the score"
Udayan Care organized and celebrated 13th Adidas-Udayan Care Annual Sports Day – "Clash of Titans, Let's settle the score" on 10th February'19. One of the grand events, hosted by Udayan Care and supported by Adidas, Sports Day offers an opportunity for all children and staff across different Udayan Ghars to get together on the same platform and compete against each other in the track & field events with healthy sporting spirit.
Track & Field Event by JyotiYatra
Children from Sant Nagar, Noida Boys & Girls and Mayur Vihar Homes participated in the track and field event, Khelyatra, on 16th February'19, organized by Jyotiyatra, a not-for-profit, working to promote sports among underprivileged schools and children. Giving a tough fight to the competitors among 20 different teams from various schools and NGOs, our young Udayanites bagged gold and silver medals in 100 m dash, 200 m dash, 400 m relay race etc. under different age categories.
Success Story
"A family beyond family"
A girl child is the god's greatest gift to the world and, such gifts are to be received with all love, pampered, and cared for and to be nurtured well. But, the fate had it's own plan for the five little sisters, Neelam, Shalu, Komal, Kanchan and Sheetal, who have been through a traumatic past in their delicate childhood. The mother lost her life while giving birth to the youngest girl, Sheetal, one among the five sisters, rendering them into semi-orphanhood. Their father couldn't withstand the loss of his wife and sank into severe depression and was diagnosed with Tuberculosis too. Holding his little girls responsible for the misfortune, the father decided to leave the children with their paternal uncle and aunt who showed complete unwillingness to take the poor little girls into their care. The father with the hope to get helped by the children's maternal grandparents moved to Delhi but, due to financial constraints at their place, the family returned back with a rejection again.
Left with no other options, the father decided to put all his 5 children into Hope Foundation (an adoption home). But, as nobody came forth to adopt the children, they were transferred to Udayan Care in June, 2004, for their long term care and protection.
By this time, children had experienced so much of trauma, neglect and several rejections which affected their delicate childhood, their socialisation process and their mental & emotional well being. The time when these little sisters were supposed to play, learn, to be loved and free from any worry struggled for shelter, their protection and survival.
Neelam, Shalu, Komal, Kanchan and Sheetal were just 14, 10, 8.5, 6.5 and 5 years old respectively when they came at JagshantiUdayanGhar, Greater Noida. They had low sense of self worth, low confidence and limited educational background and often break out into tears for their fate.
With conducive environment at Udayan Care, the girls were nurtured with all the required love, care and affection and they believed that they have found a new family at UdayanGhar. The efforts of the ghar team, that consists of mentor parents, social worker, care staff & mental health professionals, have transformed them into responsible, independent and confident adults who share their experience of traumatized past without any hesitation.
The sisters were supported through the basic need of love and education too. They were enrolled into best schools and colleges as per their interest and capabilities where they have proved themselves and made some extraordinary achievements ranging from topping the batch to fetching scholarships in renowned institutes.
Today, Neelam is working with IBM an MNC for last almost 5 years. Shalu after working for a year with a pharmaceutical company Vygon India Ltd. is currently pursuing M. Pharma from Delhi University. She is presently in second year. Komal is working with a leading travel company Airbnb. Kanchan is working with Policy Bazar. The youngest one Sheetal is studying in NIFT, Mumbai on 100% scholarship. Currently she is in second year in Fashion Designing. It is worth mentioning here that Sheetal competed in an All India test conducted by NIFT in 2017 and secured an All India rank of 277.Definitely a very big achievement for her and a very proud moment for all associated with her.
Moreover, being raised in a family environment and inculcated with the right values, the girls are also supporting and looking after the same old ailing father who had abandoned them once in the past.