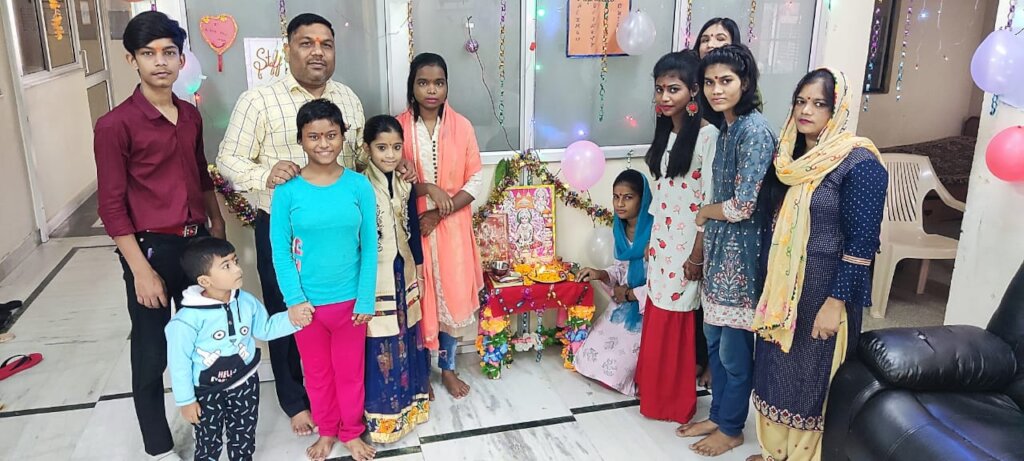 Love and Greetings from Sunshine Homes!
Hello friends! This is Ravinder, once again. I hope you all are doing well.
It seems like the third wave of COVID pandemic is all set to roll in. I, children and team at Sunshine Homes pray for everyone's safety and wish you all a good health.
We had gradually adapted to the New Normal long back and it has helped us to continue to work effectively towards providing care, protection and education to children in Sunshine Homes. During the period Oct-Dec'21 a total of 70 new children came to Homes. A total of 72 children moved out of the Ghars out which 59 were rehabilitated or restored to their immediate or extended family and 13 were transferred to other child care institutions. As on 31st Dec'21, 198 children lived across 17 Sunshine Homes.
Though the pandemic situation and the no. of COVID cases diluted gradually after the second wave, the risk of catching the infection and fear of having an outbreak situation at Ghars kept us gripped all the time. There has been a continuous and conscious effort to keep the children and residential caregiving teams safe at Sunshine Homes. Refresher sessions to maintain and follow COVID appropriate behaviour at the Homes were regularly conducted with children and staff. Systems for preventing and managing the COVID infection were further strengthened. By the end of Dec'21 over 250 alumni, aftercare youth and team members were partially or fully vaccinated.
As the COVID variant, Omicron, started to spread and a surge rise in the number of cases were reported in India especially in Delhi, the centralized COVID Response team at Sunshine Homes got into action. Complete halt on visit to Sunshine Homes by non-residential staff members, stocking up of ration, medicines and other essentials, refresher session on prevention and management of COVID, monitoring of daily vitals (temperature and oxygen level) etc. was all set in place. Simultaneously, the team also worked towards getting the children, in the age group of 15-18 years, vaccinated.
During the period we have also been able to organize various capacity building workshops for all our stakeholders and engaged the children in many fun and learning activities. Let's have a look at some of the activities we did during the reporting period –
Virtual Gandhiji Celebration
The second in our Series of Inspiring Idols, Virtual Gandhi celebrations were in full swing on 2nd October 2021. The series put together by children, marking the 152nd Birth Anniversary, took us on a journey of Gandhiji while revisiting some of the core values that we all aspire to imbibe in our life. The day gave an opportunity to honour and felicitate stakeholders who have been our guiding light as a support to us over the years. The children were highly appreciated by all present for their creative expression.
Diwali Celebration with team Taco Bell, India
Diwali this time got an exciting start where the team from Taco Bell joined in with children through a virtual celebration. With an inaugural speech by Kiran, the children soon got into a fervor of activities. From rangoli making to dance moves, children were seen to be decorating the Homes in their favorite colors and also putting diyas and lights making it an extravagant celebration.
Diwali Celebration across Sunshine Homes
Decorating with fairy lights and lighting the oil lamps, Sunshine Homes this Diwali were illuminated with a positive energy of a hopeful tomorrow. With the pandemic bringing in long periods of indoor time, during Diwali, children got to meet the Mentor Parents and other dear ones. Moreover, Diwali also brought in lots of exciting decorations made as part of "Best out of Waste" along with relishing traditional sweets. All the children at their respective Sunshine Homes also offered prayers, expressing gratitude for a healthy life and the continuity of a safe future ahead.
Virtual Children's Day Celebrations
On 14th November 2021, Children's Day celebration was at its peak with children and staff immersing in a joyful time together. From grooving to the sounds of music, to revisiting the journey of Nehru, learning from the anecdotes about his love for children, the day was filled with inspiration. Extending heartiest gratitude to our esteemed donors, children presented "Thank You Messages" to all recognizing the bond built over the years and sending across the message of being one big family. The Children's Day could not have been done in a better way where we acknowledged the support of donors who have stood by children as pillars of strength over the years.
Let's be kids again; Virtual Children's Day celebration with team Adidas
Children's Day was made even more special when team Adidas brought in surprises for the children. An online event was conducted by Adidas with an exciting quiz competition, curiosity raising scavenger hunt and a creative spree of "recreating a scene". The event closed with one of the favourite activities, the cookery competition where children with available groceries at the Homes prepared mouth-watering dishes relished as snacks during the event. The event also brought in exciting prizes, best wishes and an experience of being a master chef.
Christmas Celebration
Commemorating the birth of Jesus, this time children across Sunshine Homes, left no stone unturned to celebrate Christmas with full zeal. The generosity of donors brought to children a Christmas tree of their own to decorate along with a Santa costume to create an ambience of the festivity. Decorating the tree with knick-knacks, dressing up Santa sharing thoughtful messages, the gifts under the tree added to the surprise. The messages reflected oneness, gratitude and the greatest of all, cherishing the family bond.
Art Workshops by ArtReach India Foundation
Art as an expression of the thoughts in the mind, always have encouraged children to share their feelings and emotions. This time, the drawings made by children reflected the current situation along with imagining a better tomorrow. From drawing fairies to the animated version of the corona virus, children's expression had no bounds when they picked up their favorite colors to draw.
Parakram Celebration
The children and team at Sunshine Homes went on to celebrate Parakram on 23rd January'22. The 123rd birth anniversary of Bose was celebrated with children reciting poems penned by themselves, presenting group dance and singing patriotic songs. The children and team also shared some unknown facts about Netaji.
Impact story
Missing girl reunites with family after 3 years
While struggling to remember her way to her home, her family, child Tamanna went missing at the tender age of 8 years. She travelled and continued to wander on the streets until the local police in a colony near Ghaziabad rescued her and produced her at the Child Welfare Committee (CWC), Ghaziabad. Since no whereabouts of her family or home could be found, Tamanna was transferred to a children's Home in Ghaziabad itself. She was then transferred to Udayan Ghar, Ghaziabad in May 2019.
Tamanna while being at the Ghar was provided with much needed care, affection and opportunities to grow and develop. She was enrolled in a school for the first time where she was helped to strengthen her academic base. Observed soon was her improved social skills and she started to adapt well in the Ghar environment. But deep down, for her knowing that she has a family who she cannot find and meet again, left a void. Tamanna often used to cry missing her mother and her gentle and affectionate touch.
During a casual interaction with the social worker, Tamanna once mentioned about studying in a Madarsa while she lived with her family. When further explored, the child also shared some of her vague memories and named some locations. It was the turning point for both Tamanna and the social worker and soon the Ghar team got into action. Collaborating with the local childline team and taking along the child, the ghar team started to visit different spots mentioned by her. The teams also visited the spot from where the child was rescued and enquired in every single Madarsa in the Colony but nothing substantial could be found. Upon asking the locals, the team got to know that the place she has mentioned is in Meerut. The team got in touch with childline team and some local people in Meerut and within a couple weeks, arrived a news of her family getting traced. Connected over a video call, Tamanna broke in tears recognizing her mother and finally it was in October 2021, almost after 3 years, that the child reunited with her family.
Tamanna is now happily living with her family in Meerut and wish Tamanna and her family the best of joy and prosperity.
So friends, this is all what I had to share on behalf of the children and team at Sunshine Homes. With this, I thank GlobalGiving and the associated donors for their sustained support which has helped us to continue to provide care and protection to children and youth at our Sunshine Homes.
Hoping to connect again.
Regards,
Ravinder