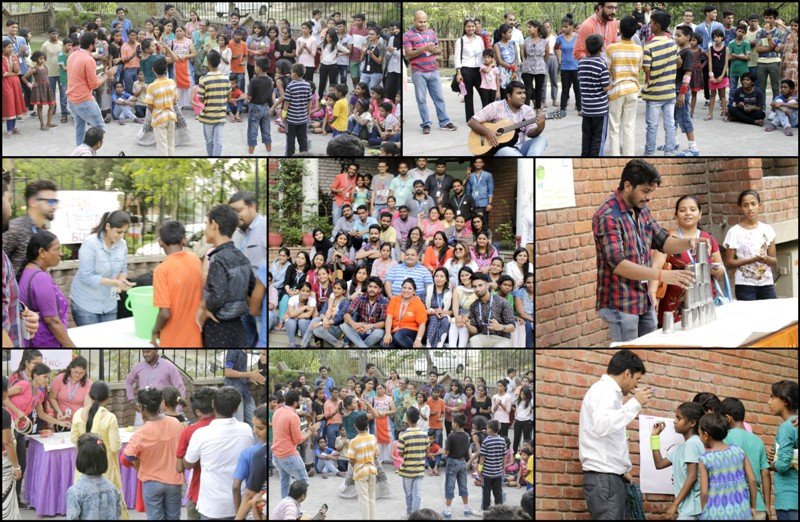 Udayan Ghar Programme
Udayan Care had set up its first Udayan Ghar (Home) for children in 1996 and created its own model of LIFE: Living in Family Environment. This model enables erstwhile children in need of Care & Protection in to grow in a loving family environment. In these homes, the children are loved and cared for by a group of Mentor Parents-socially committed individuals (volunteers) who groom the children with a team of Coordinators at homes, along with resident Care Givers, Supervisors, & Volunteers.
These homes are located in busy, middle class neighborhoods, so children can reintegrate themselves into society through direct community involvement which helps mainstreaming the children ahead. Our children and young adults are receiving quality education in some of the best educational institutions such as: The Sagar School at Tijara, Alwar, Mata Bhagwati school, Genesis Global school, Tagore International School, East of Kailash, Banyan Tree School, Global Indian International School etc and colleges/ universities like College of Vocational Studies, University of Delhi, Hi- Tech Institute of Engineering, Ghaziabad, Punjab University, Lingaya's University etc.
Since inception Udayan Ghars have nurtured over 800 children with love, care and protection in 13 Homes across 4 states of India. Presently, there are 187 children across all homes. 27 of our young adults are also been supported through our After Care Programme.
Workshops/ Activities during this Quarter
During the period of June - August, 2017 the team continued working for the betterment of children and the programme. The quarter went well with children engrossed in studies preparing for their final-term examinations and a few corporate engagements. Workshops being a monthly affair addressed several concerns pertaining to Children, Care-givers, Mentor Parents and Coordinators.
Workshops were held with all the programme stakeholders (mentors, coordinators, caregivers, and children). In order to strengthen the stakeholders the following workshops were held during the quarter:
Since, in a constantly changing environment, having life skills is an essential part of being able to meet the challenges of everyday life, Life Skill workshops at home were also held like every other quarter which focused on various subjects like self awareness & self identity, coping with emotions, relationship building, healthy & unhealthy relationships, knowing self, decision making, stress management, healthy habits; family & community, communication and problem solving.
Psychologist, Ms. Dipti conducts life skill workshops every month with both Noida Boys and Girls. The topics covered so far include, Effective Communication, Good touch & Bad touch and Self Esteem.
The mentor mother, Ms. Rukmani and the social worker, Ms. Rakhi conduct life skills workshops every month in the Jaipur ghar leaving no stone unturned in nurturing the girls. The topics that were covered during the quarter include, 'Effective Communication; Passive, Aggressive & Assertive', 'Understanding Feelings' and 'Relationship'.
The social worker, Ms. Naynee ensures that children in her Mehrauli ghar get well versed with all the skills required to carry out daily life activities. During the period, life skills workshop on Managing Emotions in the month of June, Body Image in the month of July and Self Esteem in the month August was conducted. And likewise, life skill workshops at other Udayan Ghars were also conducted during the quarter.
Udayan Care Annual Summer Camp'17, Masti Ka Udan Khatola - Journey of Joy
5 days residential camp, 12th June to 16th June'17, was organized at Jagshanti Udayan Ghar, Greater Noida. The summer camp themed "Masti ka Udan khatola - Journey of Joy"was Udayan Care's 23rd Annual Summer camp.
Summer Camp is the time when children across our 13 ghars come together for fun & learning and showcase their talent. It is the time filled with lots of surprises, gifts & awards and delicious eats. It is also the time where mentors, social workers and care givers get an opportunity to revive their relationship with the children. Summer camp brings along the opportunity for everyone to come together to a common platform for becoming a part of collective and collaborative learning.
Children from different ghars were engaged in various activities and workshops, including Art and Craft, Theater, Paper Meshy, Dance and Music, etc. Maximizing the fun, taekwondo demonstration, nukkad natak, fun mela by Genpact and various other activities were held during the summer camp.
The camp was concluded on 16th June with its grand finale throwing some spectacular performances including group dance, group song and a skit. Children's efforts reflecting from their academic performance were also recognized and they were awarded with scholarship.
Chief Guest, Ms. Suniti, Superintendent of Police, Greater Noida (Rural) and Guest of Honour, Ms. Melissa from CanAssist graced the occasion with their presence.
ICN Matsiko (World Orphan Choir)
The 3rd batch for ICN Matsiko tour departed on 14th June, 17 for the USA, with 3 little princesses being led by an alumna of Udayan Ghar Programme. Our children along with children from other countries will be travelling and performing in different parts of America. Being a part of Matsiko children's choir is a great honor and wonderful opportunity as it helps children improve their English language skills as well as develop confidence, increase self-esteem and hone their talent for singing, and gain from the exposure.
International Yoga Day Celebration
On the eve of International Yoga Day, 21st June'17, Udayan Ghar, Gurgaon in collaboration with Satkrishna Charitable Trust celebrated Yoga Day. Different stakeholders including Miss Ritu (DCPO), Miss Nisha (Legal Officer, DCPU), Mr. Ramveer (Sarpanch, Narsinghpur) and Mr. Rahul (Mr. Haryana) have participated in the event. Nearly about 225 people participated in the Yoga Day celebration.
Tree Plantation Drive by Baxter
On 30th June'17, World Environment Day (6th June) was celebrated at Udayan Ghar, Gurgaon wherein a team of employees from Baxter devoted their time in planting saplings with the children in the ground within the premises of the Ghar.
Dance Competition at YWCA
On 23rd July'17, seven girls from Greater Noida Ghar participated in a dance competition at YWCA (Young Women Christians Association). They performed contemporary dance and bagged second prize. Groups from various other NGOs also participated in the event. The victory has undoubtedly boosted the self confidence of the girls.
Teej Celebration at Jaipur Ghar
On 25th July'17, children at Jaipur Ghar celebrated Teej festival. Children applied mehndi (henna) on each others' hand and enjoyed ghewar (a traditional Rajasthani sweet).
Children's Performance at Dignity Foundation
On 29th July'17, an event was organised by Dignity foundation on the occasion of the inauguration of their Delhi Chapter. Dr. Kiran was invited as the Guest of Honour. The organization works for elderly and event was also dedicated to them. The speakers shared that planning strategies for the elderly has become the need of the hour as we will be having a population in future which would be majorly covered by the elderly. Also, it was emphasized that the elderly group needs to learn and unlearn simultaneously to adapt to the new generations maintaining their proximity. The children from Mehrauli and Gurgaon Ghar performed at the event and were appreciated for their efforts. The event was followed by the snacks.
Independence Day Celebration
Instilling the feeling of patriotism among children at Udayan Care, Independence Day was celebrated on 15th August throughout all the 13 ghars. The celebration started with flag hoisting and went through quiz & competitions, dance performances, patriotic songs, delicious eats and flying kites in the evening. The children enjoyed the day to the fullest.
Art Room Programme
ArtReach India has come up with Artroom Programme for the participants of Teaching Fellowship Programme to keep a sustained ongoing artistic engagement of the children.The workshops take place on every second Saturday of the month, starting from the month of July. These workshops are being led by different artists, therefore, giving our children all the more exposure & enhancing our children's artistic talent further.
The workshops took place on 8th July'17 and 12th August'17.
On 7th March, 2017 workshop on Menstrual Health and Hygiene was conducted by Ms. Purnima from National Institute of Public Cooperation and Child Development (NIPCCD) at the Udayan care Head Office.
Success Story (any one)
1) Showering Brothers at Udayan Care
Tears of joy, infantile smiles, affectionate embrace and glittering faces is what all, we witnessed at Udayan Care during the month of Raksha Bandhan. The piousness of the festival showered blessings on our children in a way that few girls residing at our Udayan Ghars were able to meet their long lost brothers.
Rakhi found her brother after 7 years
Mamta found and met her brother after 8 years
Muskan & Sonal found and met their brother after 11 years
Siblings Reunited After 11 Years (A story of one such reunion)
Siblings- Muskan (18 yrs), Sonal (16 yrs) & Tushar (20 yrs) had been through a difficult phase rendering them into orphan hood, abandonment & severance at a very tender age leading to early childhood trauma.
After the tragic demise of mother and later father, Muskan & Sonal were surrendered to the Child Welfare Committee (CWC) by their paternal uncle resulting in separation of the sisters with their brother. The girls were then transferred to our Jagshanti Udayan Ghar for girls at Greater Noida in 2006 for long term care and protection by the Child Welfare Committee (CWC) while no whereabouts of their brother were mentioned. The little girls hardly had any idea of what was happening nor did they have any idea about their brother and their place of residence.
Muskan & Sonal have been raised and nurtured with the required love, care and affection in a conducive, family environment and given the sufficient opportunities to grow. They have been groomed into strong, confident and self sustaining individuals under the guidance & love of mentor parents and other home staff.
The sisters are blessed with appealing personality and possess good intellectual and artistic abilities. Despite, being from a traumatic background, they have been able to mark their impression in academics and other fields like dancing, art and craft, sports etc.
One thing that had always disturbed and brought them pain was their inability to meet their lost brother. They missed him a lot and used to cry especially on the occasion of Raksha Bandhan. This was the time when the ghar team this year decided to swing into action through the bits & pieces of information in order to find the lost brother. Fortunately, the team was able to locate their brother, Tushar. On 14th of August'17, the sisters were totally surprised to see their brother sitting in front of them at Jagshanti Home. Indeed, it was a moment worth watching and capturing. One could feel their enthusiasm and eagerness to see and talk to each other.
The present era has seen the experts and champions of child protection emphasize more about children's rehabilitation and restoration to their family but, stories of children such as Muskan & Sonal, compel us to rethink over the definition of 'best interest of the child'.