Project Report

| Jul 22, 2019
MOHAN Foundation continues to create foot soldiers
By Ms. Pallavi Kumar | Executive Director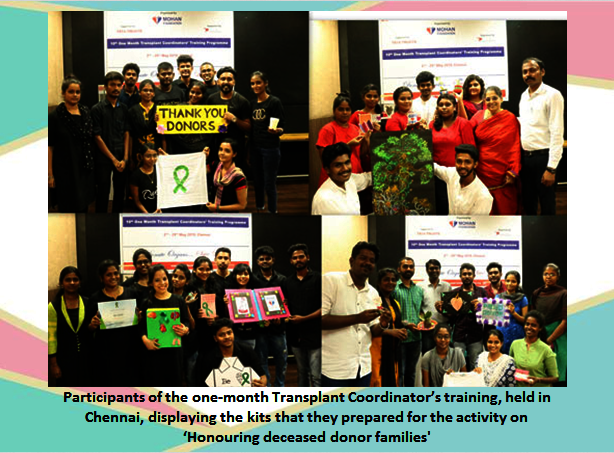 MOHAN Foundation continues to create foot soldiers to boost organ donation in India
10th One Month Transplant Coordinator's Training Programme held in Chennai
MOHAN Foundation conducted its 10th One Month Transplant Coordinators' Training Programme from 2nd to 29th May 2019 in Chennai. A total of 52 candidates from Assam, Maharashtra, Delhi, West Bengal, Karnataka, Kerala, Puducherry and Tamil Nadu were present. The participants hailed from various professional backgrounds such as social work, medical sociology, nursing, Accident and Emergency Care Technology, and dialysis technology.
Advanced Transplant Coordinators' Workshop 2019 held in Chennai
MOHAN Foundation in collaboration with the Network and Alliance of Transplant Coordinators (NATCO) organized an Advanced Transplant Coordinators' Workshop on the 21st and 22nd June 2019 at Hotel Abu Sarovar Portico in Chennai.
Around 50 transplant coordinators and healthcare professionals from across the country participated in the workshop. Faculty was drawn from India as well as from overseas. Lectures were delivered via Skype by those who were unable to travel to the venue.
Shreya Siddanagowder, Asia's first upper arm double hand transplant recipient was the keynote speaker.
Shreya lost both her hands in a meaningless road accident in 2016 and finally underwent hand transplant a year later (thanks to the generosity of the parents of a young boy). One can tell after interacting with her, that she is determined to live life to the fullest and spread awareness on hand transplantation along with her amazing parents who have been her constant support through her entire journey so far.
MOHAN Foundation Mumbai receives an award from ZTCC Mumbai, on the occasion of its 19th anniversary
MOHAN Foundation was invited by ZTCC (Zonal Transplant Co-ordination Centre) Mumbai for an event marking the 19th anniversary of their foundation day (31st March 2019). This program was scheduled to felicitate the deceased donor families, all Transplant Coordinators, Hospital Administrators, Intensivists and NGO's working selflessly in the field of Organ Donation. MOHAN Foundation also received the award for the substantial work done over past two decades and contributed in the field of Organ Donation.