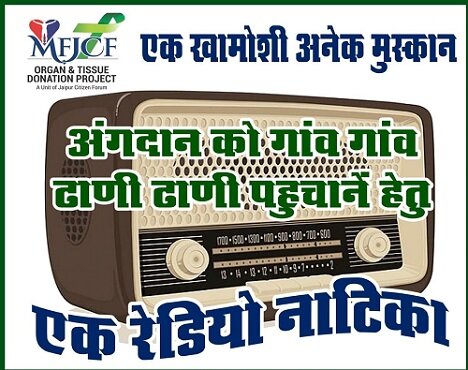 GLOBAL GIVING REPORT
3rd QUARTER

July, August & September 2021
Sensitizing people through community radio and online courses
In order to reach out to a greater public, especially those in rural areas, MOHAN Foundation has undertaken to tie up with various community radio channels to broadcast messages on organ donation through plays in regional languages. So far, the Foundation has been able to air plays in Hindi & Tamil.
AIR radio talk show on liver donation (on the occasion of World Hepatitis Day) and eye donation (on the special occasion of eye donation fortnight) were conducted on July 28 and August 29 respectively by the Jaipur office. A small drama in local Rajasthani language was aired followed by an interview session
Celebration of 'Organ Donation Week'
All the offices of MOHAN Foundation observed Organ Donation Week from August 7 to 13, 2021. Multiple awareness talks, online sessions, stalls, information desks, Rangoli Competition were organized to reach out to maximum people so that everyone is sensitized to the need of the hour and more and more people should come forward and pledge their organs.
In addition, multi-city sensitization sessions/events on organ donation were organized on online platforms like Facebook, You Tube & zoom for participants belonging to the cities of Delhi, Chandigarh, Jaipur, Mumbai, Nagpur, Indore, Dhule, Bangaluru, Belgaum, Chennai, Hyderabad & few people from USA & Saudi Arabia. 43,790 people were reached through the awareness sessions held in the reporting period.
MOHAN Foundation and many of its corporate partners honored at the Felicitation Ceremony of Times Organ Donation Drive
In a unique, first of its kind initiative, the Times Organ Donation Drive (an initiative by Times of India, India's leading media house) in partnership with Kokilaben Dhirubhai Ambani Hospital felicitated some of the corporates who have been supporting the cause of organ donation in India on September 3, 2021. MOHAN Foundation is TOI's key partner NGO in the Times Organ Donation Drive. SBI Foundation was amongst the 9 companies who were awarded for being associated with MOHAN Foundation to promote organ donation. Hopefully this recognition will encourage many more corporates to take up this life saving work.
Training & online courses
One-Month Online 'Transplant Coordination Professional Certificate' Course
MOHAN Foundation successfully conducted the one-month 'Transplant Coordination Professional Certificate' course on the MOODLE e-learning platform. There were a total of 91 participants from different parts of India.
One-year Online Post Graduate Diploma in Transplant Coordination and Grief Counselling (PGDTC) course
MOHAN Foundation has designed a structured one-year Post Graduate Diploma in Transplant Coordination and Grief Counselling. This is a unique blended learning (E-learning and contact sessions) for working health care professionals. The One-year Post Graduate Diploma in Transplant Coordination & Grief Counselling, 2021 batch commenced on January 18 2021. 50 participants are currently undergoing the PG Diploma course.
Organ Donation Ambassador Course
Organ Donation Ambassador Course is designed for the benefit of those seeking to gain knowledge about organ donation and transplantation and to volunteer to raise awareness on the subject by creating awareness themselves. In this quarter, 34 participants successfully underwent Organ Donation Ambassador Course. The trained ambassadors have already started conducting awareness sessions in their schools, colleges & societies.
Anudaan – "Making Transplants Affordable"
Anudaanaims to provide help to the economically poor and needy patients so that they can also have access to life-saving organ donation and transplantation. In the reporting period, 3 underprivileged individuals were able to undergo kidney transplants with support from Anudaan.