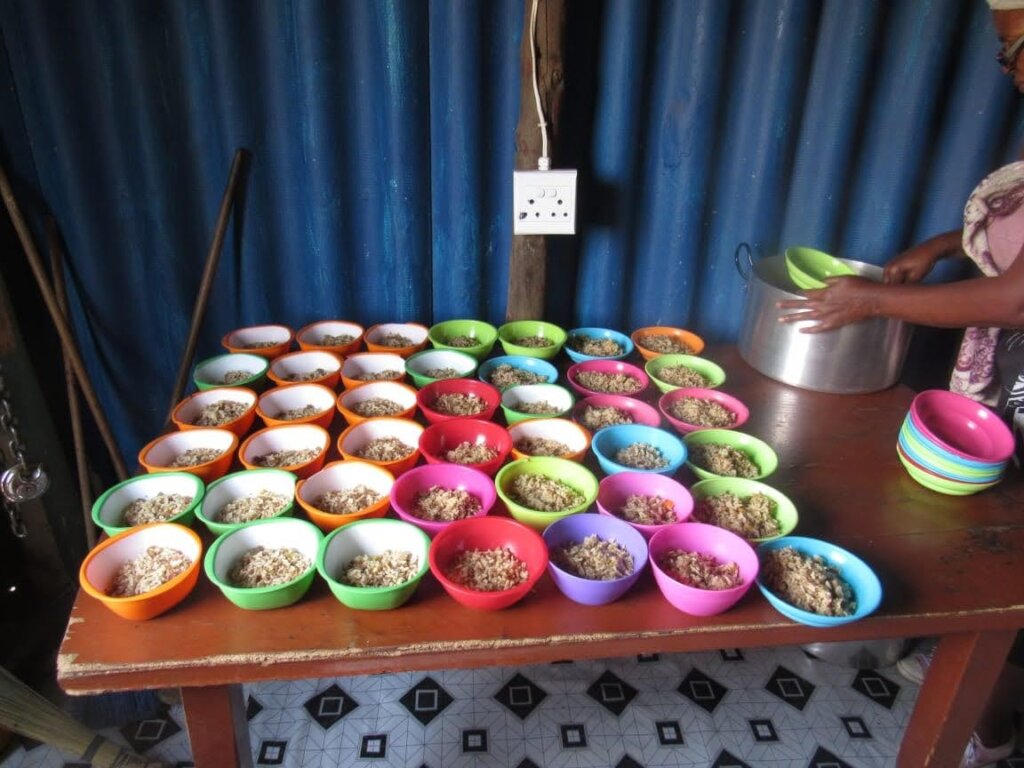 The Topsy Foundation is the only NPO working in the Dipaleseng Sub-district Municipality. Having donors, that are committed to investing in the work we do is important as it allows us to provide much-needed support and services. Ensuring that children in these vulnerable communities like the ones in Dipaleseng, Secunda, and surrounding areas are not left behind is vital for the future of our country.
Support from donors helps us make a difference in the communities facing challenges such as food insecurity, nutrition, and access to early learning for the children. This is how we have responded through our Orphan and Vulnerable Children (OVC) to assist vulnerable children and their families.
The project focuses on offering relevant assistance to families and or community members who have taken in orphaned children, empowering them to cope with the many challenges that the situation will require them to face. To participate in the project, a family needs to have on hand the child's mother's death certificate and the child's birth certificate. Topsy's community care workers are often required to assist participating families in obtaining the relevant documentation, and they make weekly visits to determine the needs of the new families. Free primary health care is offered, as well as assistance with education. Furthermore, with the assistance of Topsy's trained vegetable gardener, participating families are required to develop their vegetable gardens.
This participation is key to the buy-in of the project. Whilst the focus of the nutritional support provided by Topsy will be in the form of a vegetable garden, it is important to earn the family's trust and provide emergency relief until the garden is flourishing. Therefore, Topsy will deliver an emergency food parcel each month for three months.
The project delivers the following services:
The provision of primary healthcare for OVC participants

Assisting OVC participants with psychosocial support

The provision of food parcels and nutritional supplements to households threatened by malnutrition

Helping families obtain relevant documents and access to services

Assisting families in establishing and maintaining their food gardens

Provision of support to caregivers who assist OVC participants

Facilitating learning through the provision of educational resources and support
Below is a breakdown individuals receiving services and support through the OVC project in the Dipaleseng Sub-district and Govan Mbeki Municipality.
STATS
· 825 Individual gardens benefiting 2742
· 35 ECD vegetable Gardens benefiting 2250
· 11 Schools vegetables gardens benefiting 9186
· 25 Communal vegetable gardens benefited 280
· 407 food parcels distributed benefiting 1470
· 11 individuals assisted to obtain birth certificate
· 24 sessions attended by 269 individuals
· 13475 home visits 317 individuals receiving primary medicine
These are the challenges we are facing while implementing the OVC project.
Lack of running tap water to maintain gardens within households, especially for beneficiaries who live in informal settlements e.g. Marikina in Siyathemba

The number of project participants is growing; the field workers will need mobile transport (bicycles) to help reach the whole community in the stipulated time frame especially where ECD and Communal gardens are concerned.

Transport for Social cases beneficiaries is limited we cannot take a large number to assist them at once.

The process of home affairs is long and communication with officials is not always possible, causing frustration for families who rely on birth certificates and IDs to receive services.
Strategic Partnerships
Strategic partnerships with mostly not-for-profit organisations who have similar goals to those of Topsy are always welcome to enable us to successfully implement our Holistic ECD Programme. This includes
Breadline Africa provides infrastructural improvements for Early Childhood Development Centres, usually in fully equipped classroom containers.

Food Forward provides food it has collected from supermarkets that are nearing their expiry date and distributes it to NPOS.

Rise Against Hunger provides fortified rice bags that contain protein, vitamins, and minerals. It is a nutritious and complete meal that we give to ECD centres and families who are in desperate need.

Care for Education (Lego) sponsorship of Lego and Duplo playsets

UPD provides toiletries and medication for our pharmacy.

Head Start Kids provides Nutrilite Little Bits, a micronutrient supplement for malnourished children which, when taken daily, provides nutrients needed to grow and develop a healthier
Stories of Impact: Nqobile's Story
Nqobile, who is 12 years old is one of the many children who live with special needs in Siyathemba. She lived with her maternal family after her mother passed away and left her in the care of her grandmother. Children who are living with special needs face a lot of discrimination and stigma in the community, lack of information in communities is a major factor that contributes to this.
At her age, she had never been to school like other children who get to experience school and play outside of their homes with their peers because of her disability and not having a birth certificate. Her grandmother is one of the vegetable beneficiaries we assist in our food program; because of Nqobile, we saw the need to include her in the OVC and Social Support program.
Topsy donated a wheelchair, toiletries from UPD, and clothes to her. She is currently attending stimulation classes at Bophelong Stimulation Centre. Wednesday 02 March 2023 was her first day attending the centre and she has been receiving all the care and support she needs. Her social and emotional skills have improved. She is even receiving special attention in training to control her anger issues.
Stories of Impact: ECD Principle's Quarterly Meeting
We hold meetings every quarter with Principals to discuss challenges they may be having. This meeting helps us to come up with solutions, we are also able to determine what will take place in the next quarter. Principals leave the meetings feeling more inspired.
The meeting this quarter, held on the 15th of February 2023 at our centre in Grootvlei focused on the way forward with the gardens and challenges faced by the ECD centres, consent forms needed for children to be part of our programme, and those participating in Head Start Kids Project, logistics for bread donation and Home Affairs cases.