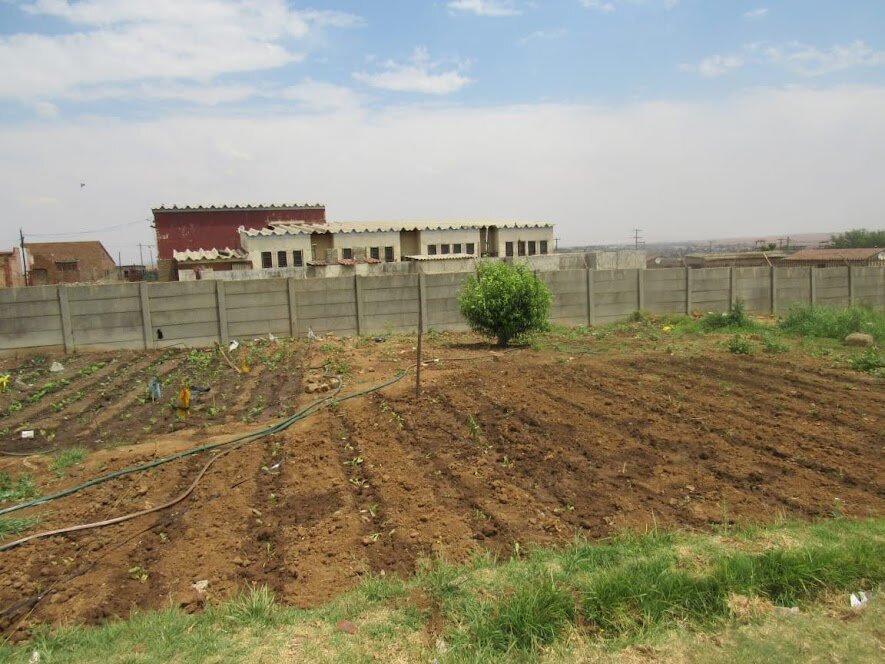 Vegetable Gardens
This year the weather was challenging and made maintaining the gardens difficult. There was either too much rain or too hot. Even with this challenge, the gardens are making a difference in the communities, providing a sustainable source of nutritious food.
At the beginning of March, the gardens were being cleaned to prepare for the planting of winter crops. Fertilizer and seeds were distributed to schools, ECD centres and individual households in Govan Mbeki and Dipaleseng. By the end of March, planting winter crops was almost completed. At the end of March, a total of 825 gardens benefited 2742 individuals. Long with the food gardens, we delivered food parcels to 10 families identified as vulnerable, feeding 383 individuals.
Water shortage is affecting the quality of the gardens, particularly in communities in Dipaleseng. Some of the ECD centres in Govan Mbeki do not have a fence leaving the gardens at the mercy of stray animals.
A challenge for our community workers is the distance between the different communities, particularly in Govan Mbeki. We are looking for a sponsor to donate bicycles to make it easier to commute.
Social Support
The most challenging part of the project is assisting families with children who have no birth certificates by applying at Home Affairs. Families we are assisting have expectations of how long the process will take, no matter how much it is explained that the process is out of our hands. While we have tried to build relationships with home affairs officials responsible for the respective communities, we are not exempt from the usual hold-up at home affairs.
The home Affairs process means we can't expedite cases, affecting our numbers. When we have a successful case, it makes up for all the challenges. One of the success stories we experienced recently is Nqobile, who is 12 years old and is from Siyathemba.
Stories of Impact
Nqobile's Story
Nqobile, who is 12 years old is one of the many children who live with special needs in Siyathemba. She lives with her maternal family after her mother passed away and left her in the care of her grandmother. Children who are living with special needs face a lot of discrimination and stigma in the community, lack of information in communities is a major factor that contributes to this.
At her age, she had never been to school like other children who get to experience school and play outside of their homes with their peers because of her disability and not having a birth certificate. Her grandmother is one of the vegetable beneficiaries we assist in our food
program; because of Nqobile, we saw the need to include her in the OVC and Social Support program. Topsy donated a wheelchair, toiletries from UPD and clothes to her. We have also liaised with Bophelong Stimulation Centre to enrol her in their facility. Wednesday 02 March 2023 was her first day attending the centre and she will receive all the care and support she needs.
Her grandmother will also receive basic training from the centre on different stimulation techniques she will do with her at home. We currently assisting her in applying for Nqobile's birth certificate and social grant so that their quality of life can improve for the better.