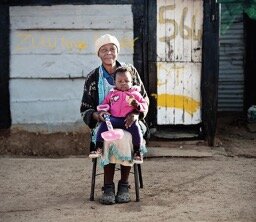 It has been twenty-two years, and The Topsy Foundation continues to serve and supports vulnerable communities in Dipaleseng and eMbalenhle, a peri-urban settlement/township. The two communities face similar socio-economic challenges and the services provided by Topsy's provide five pillars of support, particularly for children and women.
The communities we work in can typically face the following challenges:
High levels of unemployment
Low average educational and skills levels
The majority of homes are single female/child/elderly headed
Low average income
High levels of poverty,
Poor service delivery lack of resources
Impact of nutrition support in vulnerable communities
According to Stats SA, Mpumalanga is amongst the three provinces with the highest percentage of households with severely inadequate access to nutritional food at 12.3%. This is almost twice the national average. In both the communities we work in, many of the households are single-female-headed with little to no income. While many vulnerable households are receiving child/pension/disability grants, this is usually not enough to meet the basic needs of families in which three or more individuals and extended families in one household are common. The continued rise of food costs and a combination of low to no income means that many families eat what they can afford, which usually does not meet the minimum nutritional requirements. The most affected are children, with 16.7% of children aged five years and younger living in food poverty. Without adequate nutrition, children are not able to grow and reach their developmental milestones and are more susceptible to malnutrition, stunting and diminished health.
An integral component of Topsy's strategy to strengthen families and communities is to enable and assist communities served to establish, grow and maintain vegetable gardens as a supplemental nutritional source. One person from 829 households has been taught to start and maintain a vegetable garden. They are supplied with seeds and basic gardening tools including a garden hose.
Provided certain criteria are met (including dedicated gardeners and sufficient land), food gardens are established in homes, ECD centres, and primary and high schools and must distribute excess produce back into the community at no cost.
Skill gained include:
Transplanting
Growing seedlings to sustain the garden at a manageable cost
Using greywater
The benefits of establishing vegetable gardens
The worsening high unemployment rate is leaving many families living in food insecurity. Topsy, identifies at-risk families, recruits them into the project and assists them to establish vegetable gardens to improve the health and wellness of the children and their families. Over ten thousand individuals benefit from the vegetable gardens in individual homes, communal gardens and primary schools.
The Nutritional Support Project:
Teach beneficiaries how to establish and maintain home gardens and encourage the production and consumption of vegetables
Teach practical nutrition education to promote healthy diets and lifestyles
Provide beneficiaries with a tool for survival at times of food shortages
Familiarise beneficiaries with methods of sustainable production of food that applies to their homestead and is important for household food security
Promote income-generation opportunities
We also support 112 families identified as in need with food parcels and meal packs containing all the vitamins and minerals required for a balanced meal, along with sanitary products for 373 people. The vegetable gardens have been a source of joy and a purpose to those working in their gardens. They have beautified the communities and enabled some beneficiaries to have a source of income by selling surplus vegetables.
Parental Support
Parental support is provided to parents, siblings or grandparents who are the primary caregivers of babies and children up to the age of five. Building on the experience, knowledge and skills of these caregivers the sessions introduce ideas that may be new to some caregivers and it will also provide opportunities to discuss these.
From October to December, we had 8 sessions in Dipaleseng and eMbalenhle with 73 participants. The sessions are always a success and parents appreciate being able to communicate freely about the challenges they experience. Interactive exercises help parents see a new perspective and learn new skills learned to help them navigate parenting.
Stories of Impact
Rise Against Hunger provides meal packs which are distributed to ECD centres. Meal packs contain vitamins and minerals needed for children. Nutrition is important for a child's development at this stage of development. One of the centres we work with is Tswelopele DCC.
"We have 58 children who get two meals a day. The children are given food from Rise Against Hunger twice a week and they enjoy it. We are also able to save money because the food only needs hot water. We are not buying gas or rice like we used to. We are so thankful for the help from Topsy. The children are also served veggies from the garden which Topsy assisted the centre to establish."
Mrs Mphuthi, Principal at Tswelopele DCC
UPD
"Miss Topsy" is a 56-year-old woman who lives in Ext 5 in Siyathemba Balfour and was referred to Topsy from the local clinic in Siyathemba. Previous visits to our Health Centre have taught her the importance of doing her pap smear every year. The pap smear results from the clinic recommended that she go for a colposcopy due to high-grade squamous lesions that were picked up.
We provided her with transport from the clinic to our Health Centre in Grootvlei. The staff from Topsy welcomed all 15 of the Colpo patients with a cup of tea and something to eat. They were nervous but the staff reassure them that they have nothing to fear or be nervous about, and were seen by Dr Oosthuizen.
Other medical complaints she had included backache but she was struggling to get treatment at the local clinic. We received our Donation from UPD and were able to give her an anti-inflammatory gel and capsules. "Miss Topsy" was very grateful to receive a month's supply of medication and vitamins. This made me appreciate UPD and how their donations help us provide quality care,
"Miss Topsy" is a single parent and has 2 children and 2 grandchildren, all living with her. She was very grateful for the service Topsy provided for her over the years. Miss Topsy told the staff that she feels like she came home, every time she visits our facility.
Hannetjie van Jaarsveld, Pharmacy Assistant
Thank You!
"Giving children a healthy start in life no matter where they are born or the circumstances of their birth is the moral obligation of everyone" -Nelson Mandela