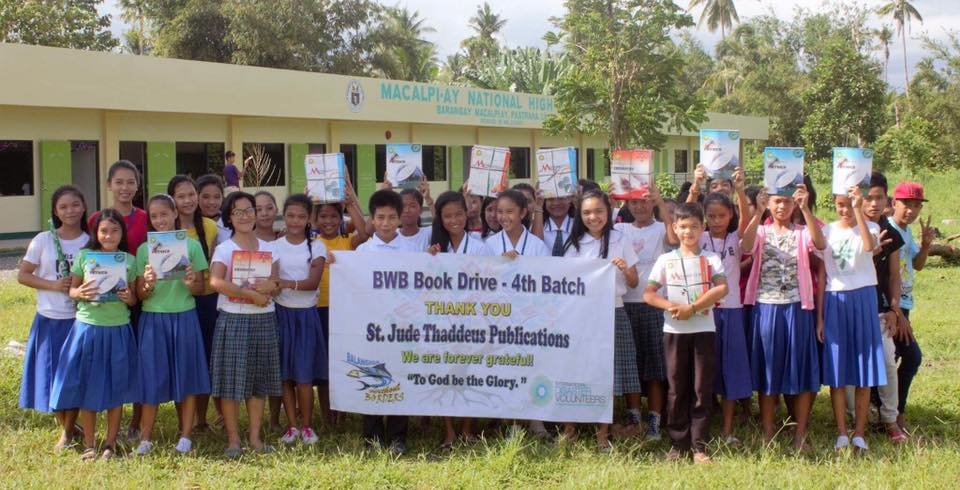 Thank you so much once again for supporting education in Tacloban.
In our last project report, we looked back on our work in Tacloban over the last three years, and described how your incredible support has enabled us to support the education of over 5,100 children. In that report, we also explained how we'd be retiring this project on GlobalGiving once we'd completed the distribution of another 20,000 books to typhoon-affected schools.
That work is now complete, and so we're writing again today with this, our last project report from Tacloban. We asked our local project manager, Siggy, to describe the book distributions:
"After some months of waiting, finally the books arrived in Tacloban City airport through the aid of the Philippine Air force. IDV help in unloading and transporting the books to be sorted at a volunteer residence at Brgy Apitong, Tacloban City.
Upon sorting we travelled 18 km south of Tacloban, to a second class municipality where most of the jobs [are] in agriculture and fishery. This town is called Tanuan, and there were five sites for the book distribution identified through the effort of two local volunteers.
The IDV truck was loaded with books from Tacloban to be delivered in the following schools; Tanuan School of Art & Trade, Our Lady of Assumption, Tanuan School of Craftsman and Home Industries, Tanuan National High School, and Kiling National High School. Together these schools teach around 3,130 students.
After Tanuan deliveries we also did few drops in Tacloban City, one is Tacloban City Night School with the population of more or less 130 students. This school was established after typhoon Haiyan battered the city, due to the demand of some students who want help in rebuilding their lives after the disaster. These student work in [the] day time and go to school at night.
Books were also delivered to Macalpi-ay National High school in Pastrana, Leyte with the population of 121 students. Most of the books were math, physics and chemistry since the previous delivery, dated Nov. 2015, was more on English and history.
The other distributions were done in parts of Leyte, and the rest of the books were delivered by IDV to the town of Balangiga, in Eastern Samar."
Overall these book distributions will help support the education of thousands of students after typhoon Haiyan, and we can't thank you enough for making this final work possible.
With these distributions complete all that now remains to be done is the handover of our two trusty multi-cab trucks.
The first of these we've decided to donate to our amazing local partners in Manila, a people's organisation called Buklod Tao. This group, which has over 600 members, have been fighting to make their community stronger and more disaster resistant since 1996.
We've worked with Buklod Tao since 2012, and we've seen first-hand what an incredible impact their projects make. From building flood rescue boats, to managing an evacuation centre and providing hot meals after typhoons, our truck will help Buklod Tao continue protecting hundreds of families from disaster.
The second truck will remain in Tacloban where it will be used by a local radio group called ACCESS (Alternative Channel Coordinating Emergency Support Services). Siggy is also a volunteer for this group and he explained their plans for the truck as follows:
"About the truck, I'm planning to make it into Emergency Response Communication Van with ACCESS.
Members of this group comes from all walk of life, from farmers, community leaders, private/small businessmen, government employees/public servants, young professionals and even young students. All united for one reason, to serve the greater public in times of emergencies and calamities by means of providing safe effective and stable communication systems.
Many people rely on pre-paid cellphone, and when the towers are down [after disasters] it takes them days or weeks in feeding information about the situation in their areas. Now ACCESS will use the truck to set up a mobile repeater system or a relay station. Then we can boost the transmission/propagation of local radio club member so they can directly contact the Municipal Disaster Risk Reduction Management Councils".
Overall we can't think of two better groups to handover our trucks to than Buklod Tao and ACCESS through Siggy. Have worked with both for so many years we know that these vehicles will continue to be put to great use in times of disaster.
One last time, thank you so much for supporting education in Tacloban. Siggy also had this to say about our work there coming to an end.
"I'm very thankful and feel bliss for the help and effort you guys spent here in Leyte, I experience things that I haven't done before, and it a great learning experience in my side. Everything has an end but what comes next is a new beginning, so Damo nga salamat Han eyo bulig :-) (Millions of thanks to everyone for helping us)"
If you have any questions then please don't hesitate to email Andy@IDVolunteers.org. I would be delighted to hear from you.
For more updates about our work please like us on Facebook or follow IDVExec on Twitter. You can also email Andy is you would like to be added to our direct mailing list. Note that IDV is also fundraising on GlobalGiving to increase its overall capacity to help disaster survivors.