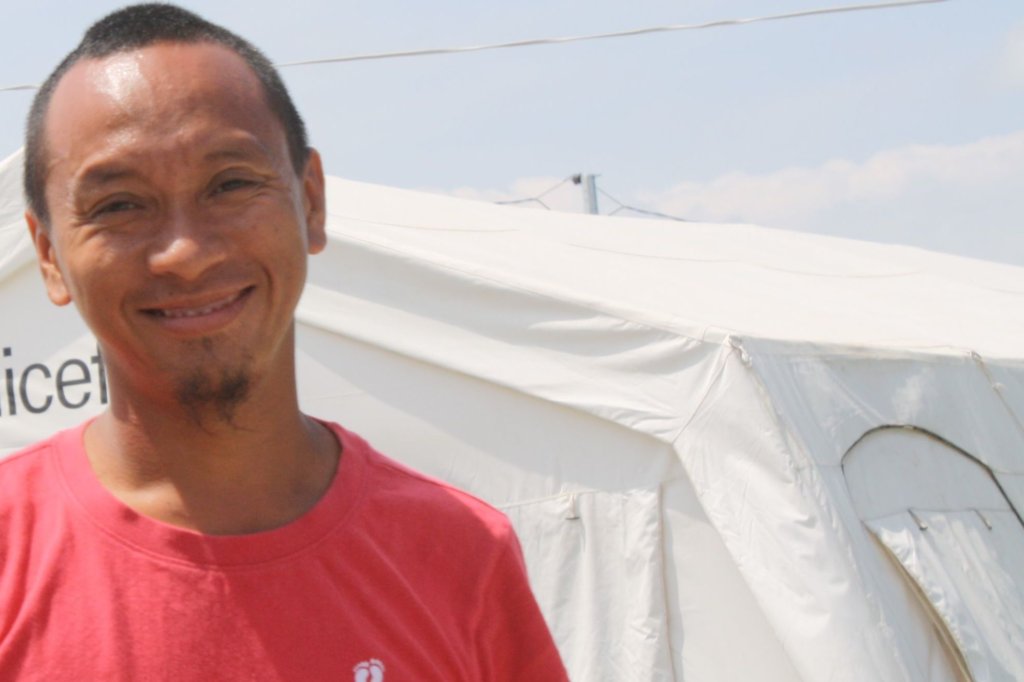 It's now over two years since typhoon Haiyan tore through the central Philippines affecting over 14 million people in total.
It's been a tough road at times but Haiyan survivors have been on an incredible journey since the typhoon and many stories of human hope and perseverance have shined through the dark times. For this report we wanted to share one of these amazing stories while also officially introducing you to Siggy, IDV's Project Manager in Tacloban, for the first time.
Despite this late introduction Siggy's been an essential part of IDV's Haiyan response since the beginning. When we first met Siggy he was a typhoon survivor looking to provide for his family following the disaster.
We first hired him as a driver as we assessed the typhoon damage along the coast from Tacloban to Guiuan. Siggy's skills, integrity and easy going nature soon impressed us and it wasn't long before we asked for his full-time help.
Siggy soon became a critical part of our overall work. He had many natural talents and, as a very quick learner, he soon picked up more skills. From driving to translating, through helping to build classrooms and taking amazing photos, we couldn't find a title for Siggy other than "superstar".
We asked Siggy to tell his story in his own words and he said this:
"Working in IDV created a big change in my life. After the typhoon haiyan hit my town and [I] survive the tragedy, my biggest fear is how to survive for tomorrow. How will I send my kids back to school? All the structure, machineries collapse and our rice product got wasted due to moisture. With a remaining debt to pay I become hopeless.
[But] Thanks to IDV who hired me as driver at first, I was able to feed my family. Working every day have given me a chance to learn new skills, none in my life that I have experience in construction work, I laid my first brick together with the international volunteer. From that I gain my confidence and managed some project in school repair and rehabilitations."
Over the months Siggy helped us to not only implement projects, but also to plan and manage them as well. By early 2015, even though our international managers supported him, Siggy was largely managing projects and other local staff himself.
And Siggy continued to excel and grow more. This was great news for us because we've always worked hard to transition our projects to local leadership over time. And as the months passed we realised that Siggy had become ready to take the final step and accept full responsibility for our work in Tacloban.
Here's what he had to say about the time since.
"When IDV told me that international staff will leave. It scared me when I heard the news. It scared me because I have no experience in office stuff like computer works and I'm afraid in making mistakes in the program.
It was 18 years ago when I last used a computer (windows 95!). Since that I have been working in the farm so gadgets were not updated in my life. Doing the accounts and report was quite a new experience, a task learned in practice and exposure. From the two task, making report was a little bit hard because of my English skills is poor - having a difficulty in expressing the right word to explain is a big challenge.
It take me ages in making the report, but it's not my biggest concern, it just a matter of learning process. Continuing projects is my biggest focus.
I work with a local NGO in Manila called CANVAS Philippines which provide 1 million books for a million Filipino kids. With CANVAS providing books I was able to deliver into rural area of Leyte that I visited like the Elementary schools and Daycare Centers.
I also work with Balangiga Without Border (BWB) a Local NGO in Samar that also provide books for High School and wheelchairs."
Despite his modesty Siggy continues to do an amazing job supporting local NGOs and families affected by Haiyan. He also loves his job and is incredibly grateful to the amazing donors who continue to support IDV's work in Tacloban.
Siggy summed this up below.
"Even if everything is quite hard at the start, at the end it is becoming [about] more than the pay I have, especially the big smile from the families that I see. A smile that silently saying thank you deep in their heart. It make me comfortable and happy of what I am doing helping community"
We think Siggy's story is a great example of how the biggest heros are usually survivors themselves. Thank you so much for enabling Siggy and IDV to support over 10,000 of his fellow survivors since Haiyan. As always, if you ever have any questions, please don't hesitate to email Andy@IDVolunteers.org. I would be delighted to hear from you.