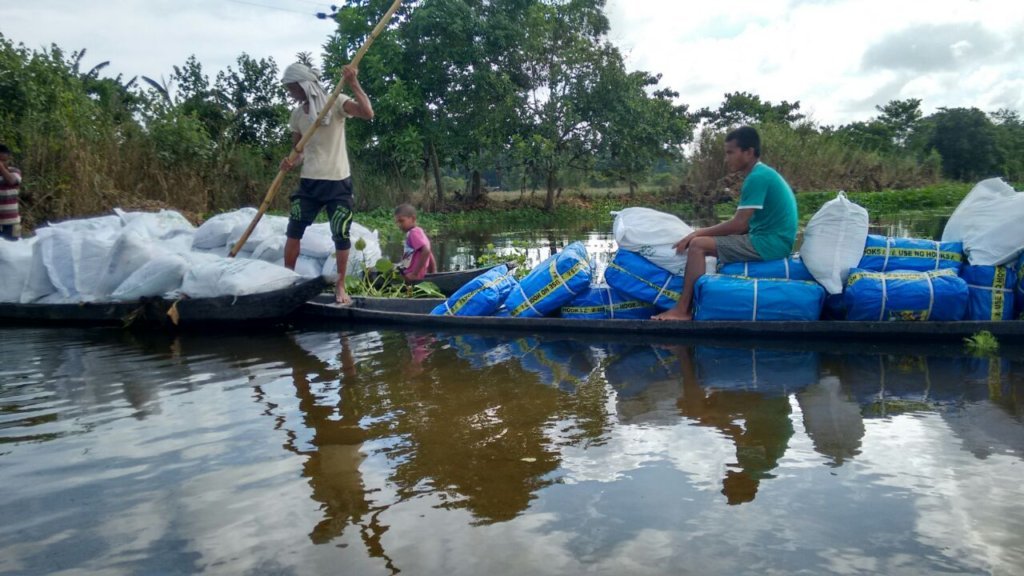 One of the worst monsoon seasons in decades killed more than 1,200 and displaced more than 40 million people across South Asia in August and September. Our vetted nonprofit partners in Nepal, India, and Bangladesh have been working to provide food, water, medicine, hygiene supplies, blankets, mosquito nets, psychosocial support, and other emergency services to communities affected by the severe flooding.
GOONJ, a GlobalGiving partner of more than 11 years based out of New Delhi, is working across India in the states of Bihar, Assam, Odisha, Manipur, Rajasthan, West Bengal, Gujarat, and Uttarakhand. With distribution centers throughout the country, GOONJ quickly mobilized 33 trucks of food, blankets, utensils, toiletries, and other supplies to flood-affected areas. Many of the items were donated by concerned Indian citizens.
"This time, floods are widespread in multiple states and the need is much more," said Anshu Gupta, GOONJ's founder and director, in their first project report. "In the next phase, with winter ahead and the larger work of rebuilding damaged local infrastructure, much more monetary and material resources are needed." GOONJ plans to reach 75,000 families, or about 500,000 people, in its relief efforts.
"Even though it was not our homes and cities that were flooded, the widespread devastation does have a connect with our life," the GOONJ team shared on Facebook. "We get on our table what they grow in the fields."
Community resilience grows in times of disaster. On Facebook, GOONJ shared the story of villagers in Tapu Tola, Purnea district, Bihar, in northeast India. To cross an area in the village now covered by deep flooding, 66 villagers built a 150 feet long, 5 feet wide bamboo bridge in just two days. GOONJ provided emergency materials to support Tapu Tola—but the villagers built the bamboo bridge all by themselves.
Locally driven nonprofits in Nepal, India, and Bangladesh are working with resilient communities like Tapu Tola to overcome flood damage and foster long term recovery. In the next report, you'll learn about other organizations receiving grants to provide flood relief in South Asia.