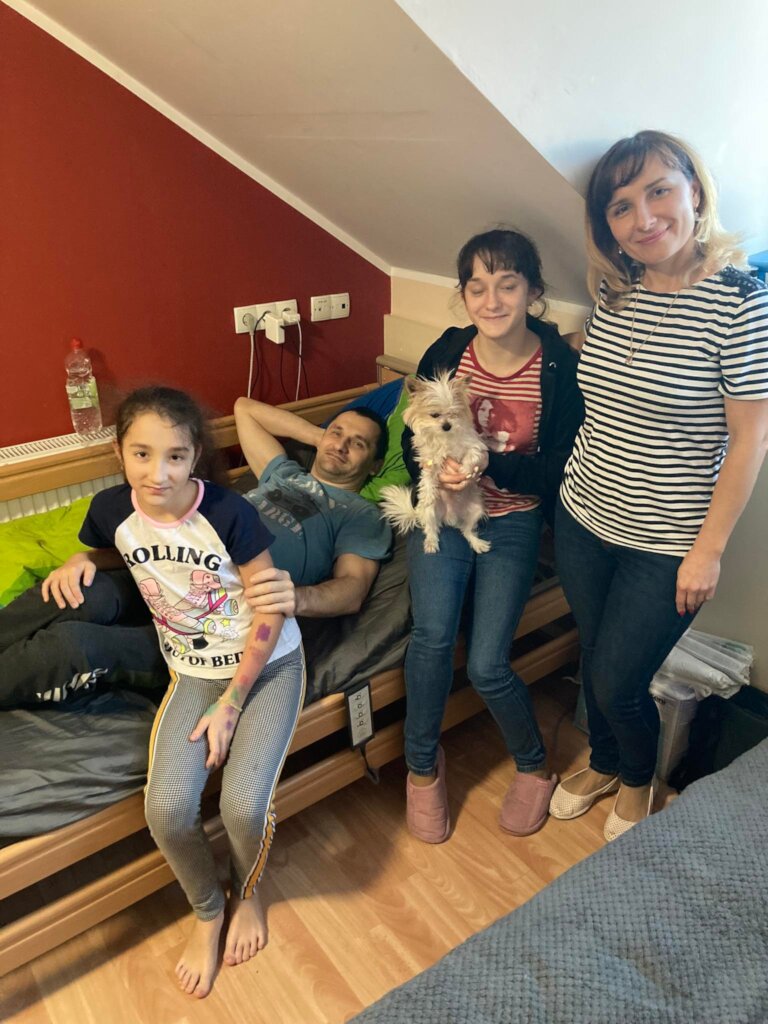 When you enter their small room in the refugee hostel, you're getting the feeling of entering a normal house. The dog barks, the girls laugh, the smell of freshly hung laundry. The attic with a small window to Konin's old market square is inhabited by Olesia, Ivan, Dasza, Maryna and of course Lolik the dog!
They fled Ukraine in a hurry. They had to face a rush caused by falling bombs, packing up, managing Ivan's pain, gathering all necessary things for the girls, and taking care of the dog. What's more, a long way was ahead of them. They had to remember about all the important things: food, medicine, family heirlooms. They arrived safely but not without troubles. In Konin, with the help of the Doctor Piotr Janaszek's PAY IT FORWARD Foundation, they have found peace, school for the girls, proper medical care for Ivan and a comfortable bed for the dog.
Unforgettable birthday.
Before Ivan's accident, they lived like most families. They both worked, the girls went to school, they had their own house, so you know, there was always plenty to do. They loved to travel. As soon as the opportunity arose, they set out into the world. She worked as a chief accountant in a large company, he as a computer programmer. They were at the seaside several times a year, after all, they lived in Kherson, not far from the Crimea and had less than a 100 km to the sea.
Olesia is 42 years old and very, very brave. She will never forget her 40th birthday never in her life. Ivan wanted to surprise her and they went to the seaside. Over there, they went on a boat trip. Unfortunately, a banana-shaped inflatable boat was attached to their ship and anyone willing could ride it during the cruise. That was an added attraction. The family boarded. It was fast and fun. At one point, the banana boat suddenly turned and Ivan fell over the board and hit the edge of the boat with his head. He shattered three vertebrae and will never be able to walk again. Their entire world collapsed for the first time.
- It was a nightmare. We went for a holiday trip, happy, glad that we had just bought a new car and we were going back in an ambulance with Ivan. I thought he wouldn't make it. The girls were more optimistic and Ivan, who seemed to be the least frightened by the whole situation. Sick, with terrible prognosis but he was the one comforting us – recalls Olesia.
February's Thursday
They met in high school when they were 16. They didn't fall in love with each other right away because they are both quite shy. It was Ivan who dared and so they have been together for 27 years and married for 19. They have two beautiful daughters: 17-year-old Maryna and 10-year-old Daszka.
Maryna loves to cook and bakes delicious cakes and Daszka would like to be an English cook. They are both beautiful, smart and very funny. After all, the whole family is like that, When Ivan found out that in Dasza's school there is the largest climbing wall in Konin, he caught the topic right away: "I need to sign up for classes…"
And once they somehow managed to accept the new reality, adapt their bathroom, make ramps to the house, change one room to an office for a remote work for Ivan, one Thursday in February they were woken up by a bombardment… Their world collapsed a second time. And once again, I thought I wouldn't be able to make it. Bombs are falling day and night, and we don't have a cellar. It's a long way to the shelter and for me and Ivan in the wheelchair it is very hard to run away from air raids and hide. It was a nightmare! When we found out about the possibility of fleeing to Poland, we packed in just a few hours and we set out on the road, into the uknown… - says Olesia with a trembling voice.
Silent Angels
What kind of trust do you need to have in others, in the world, in yourself to rush off into the unknown to strangers who speak a foreign language, to a foreign place, where we do not know what awaits us…
Employees and volunteers of Doctor Piotr Janaszek's PAY IT FORWARD Foundation are like silent angels. There is always someone waiting for the "new ones" who arrive at the hostel. Someone kind, affectionate, sensitive, attentive. Someone who had prepared the room with fresh sheets. Someone who logistically took care of transport, documents, nurse, shopping. The day after the arrival is the nicest. They are all gathered together in the hostel, at one table, in the kitchen. There are conversations, tea, salo (a type of smoked lard – an Ukrainian delicacy) on wholemeal bread. It's nice and safe. It feels like one big family. The dog barks and the girls are laughing.