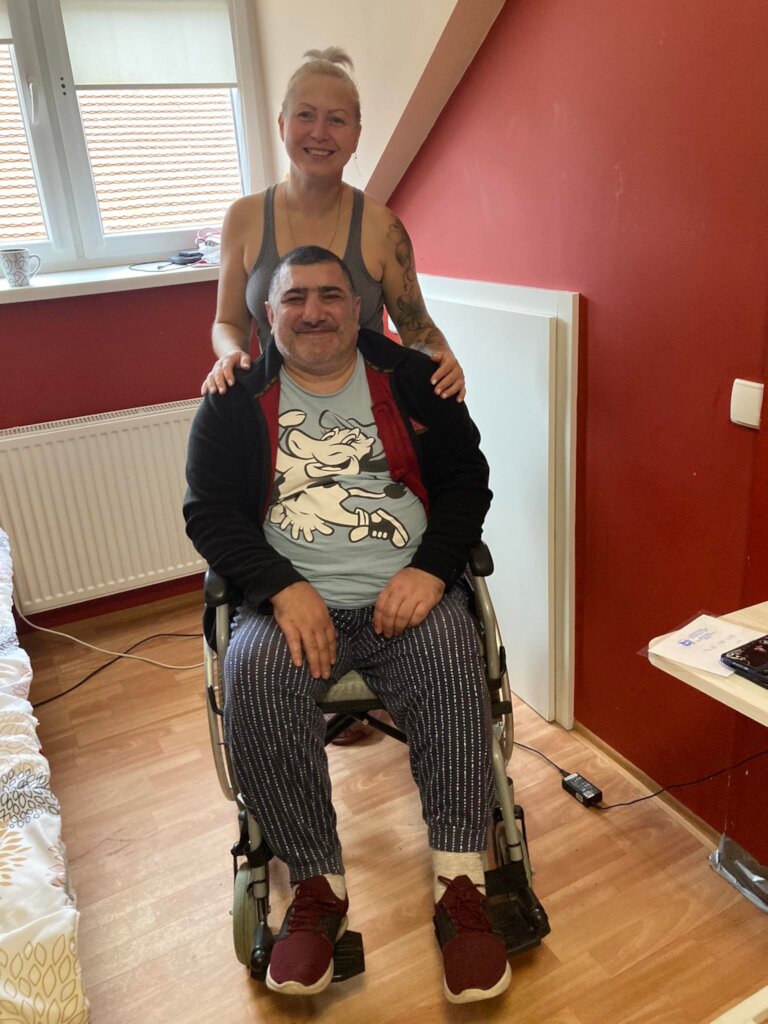 Tania is a pretty blonde and a volcano of energy. She is everywhere and nothing is impossible for her. Armen is her opposite: calm, slow but very attentive. And when he looks at his Tanya, he does it with such love that a person feels as if he is discovering something all over again. They have gone through a lot of difficult moments together but you can still see the spark in their eyes when they look at each other. After 33 hours of difficult travel from Ukraine, they ended up in a safe place under Foundation's care.
33 hours to freedom
Tanya opens the door to a hostel room. A person immediately feels like crossing the threshold of their little new world. Such wonderful energy flows from Tania.
- Zachadzicie budcie dobre - says Tania in Ukrainian, but immediately switches to Polish, a little broken, but understandable. From the bathroom on an orthopedic, clumsy and uncomfortable wheelchair emerges Armen - a large, heavy, friendly man, who squeezes your hand so warmly that your knuckles crunch ;)
They met at work 16 years ago and have been inseparable ever since. Together from previous relationships, they have three daughters and one grandchild. They make a wonderful, loving family. They treat their arrival in Poland as a salvation which saved their lives. They ended up under the care of the PAY IT FORWARD Foundation literally at the last minute. They came from Dnipro near Zaporozhye in Ukraine where the bombs fall every day. And having no shelter, they waited out the shelling under the table.... Their journey to Poland lasted 33 hours!
- It's impossible to express our gratitude to the Foundation and all the sponsors, thanks to whom we can be here, in peace, without alarms, without bombing. It's amazing that we wake up and hear nothing but the usual sounds of life: bus riding, a cyclist, a dog barking. It's wonderful! 33 difficult hours of the journey to freedom. Thank you! - says Tania.

The bear will sit
Armen, with his strength of calmness, has overcome many adversities. A difficult divorce, separation from his children and an accident just two years ago, after which everything changed...
- I was driving a car. Suddenly, from the opposite direction, as if from nowhere, head-on, another car emerged, going straight at me. Wanting to avoid a collision, I drove into a ditch. I lost consciousness and woke up in the hospital without feeling my whole body. My world collapsed once again but I didn't give up. I knew I had someone to live for. For Tanya, for the children. Practically from the first day I began to fight for my ability, because it is necessary first to arrange everything in my head, then in my legs," says this large, strong man, but his chin is shaking...
Doctors gave him virtually no chance that he would ever even sit up.
- They said Armen would be like a plant. I said to myself: My bear, maybe he won't walk again, maybe he won't carry me in his arms anymore, as he often did until now, but he will sit! And so it happened. They found a clinic in Ukraine that made for him a cast of the fifth vertebrae which Armen had lost due to the accident. Rehabilitation, the persistence of both of them, their determination and hard work but most of all - love, led to the fact that today Armen is sitting and has functional hands.
- We used to work a lot before the accident. Constantly, just work and work. We didn't notice when the day was passing. Always in a rush. Now we live more slowly. Before the war we traveled a lot, we enjoyed life, differently than before the accident, everything has changed and we are the only ones still together," says Tania.

Room with a view
Today it is she who carries him, literally, in her arms. Without access to specialized equipment to help Tanya with daily activities around her husband, she has developed a system of carrying Armen which saves her spine. She is also the one who finished her studies in Ukraine and is a certified rehabilitation therapist. All for this loveable "bear".
- The war took us by surprise.Not only mentally but also physically. We live in a tiny house in the suburbs, without a basement and therefore without a shelter. We survived all the bombings at home, lying flat on the floor, under the table. Bomb alarms sometimes lasted all night. So I would crawl out from under that table to bring something to eat... War is a terrible thing" says Tania.
At the hostel, Armen had a choice of two rooms: with or without a specialized orthopedic bed. He chose the one without.
- I am grateful for everything but a room with an orthopedic bed means separate sleeping for us, and we have always slept together, even, or maybe especially under that table during the bombings. It brought us together, closer than before. Thank you for the room with a view of freedom... - says Tania and strokes Armen's cheek affectionately.