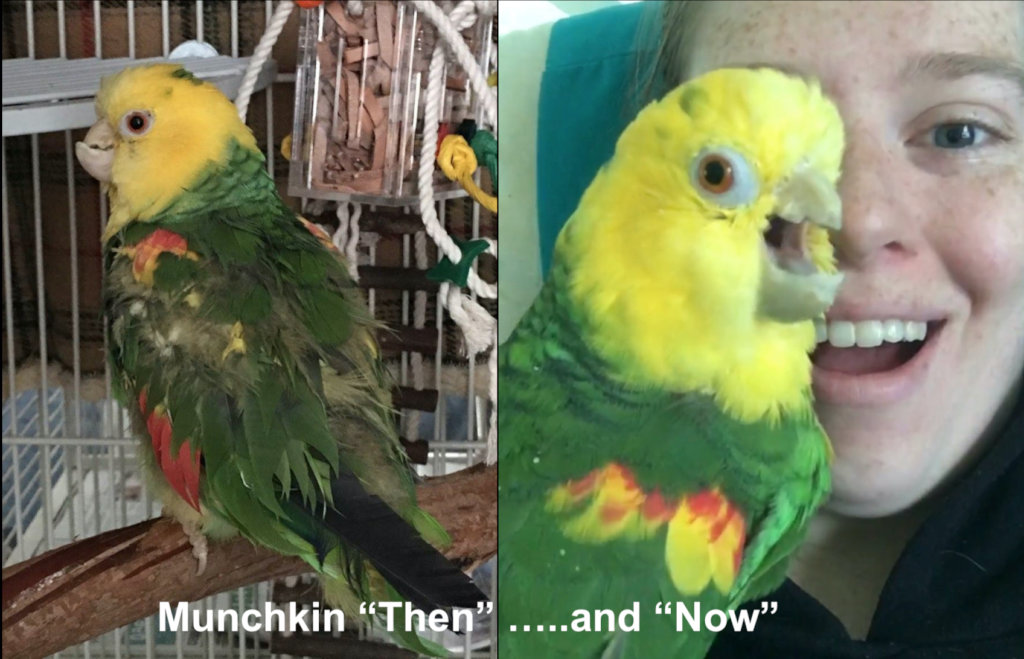 Don't Let the Year End Without Reading This: About the Incredible Impact YOU'VE Made!
The end of the year is a time to look back and reflect, and a time to look forward to our future with hope. And because of that, we wanted to talk about two of our parrots: Munchkin, who was adopted from PEAC in 2018, and Larry, who is with us now. Both were relinquished to the San Diego Humane Society and had almost no hope of being adopted because of their poor condition. Both were rather shy at first, and each has their unique challenges. But most importantly: both have found brighter futures because of YOU and your support.
Where are they now?! Munchkin & Melanie
In March of 2018, a Double yellow-headed Amazon, "found as a stray," was left with San Diego Humane. He had a funny looking face and beak, a problem with his right eye and possibly his leg, his feathers were a mess or missing, and he had only stiff shafts for a tail. Volunteer April exited him and with one look christened him "Munchkin" (the perfect name!) It was clear he needed help and had little hope of finding a home otherwise.
Avian veterinarian Dr. Cecil noted he had an under-developed upper bill & skull, which resulted in his (regular sized) lower bill growing up and over the top portion. His right eye was also malformed, and he had no external nares. Our vet deduced that these deformities occurred while Munchkin was still in the egg, and not as a result of injuries. A little arthritis was also not abnormal for a parrot who was in poor condition and with a vitamin A deficiency.
Munchkin ate like a champ (that bill is almost no problem for him at all!) and although not overly friendly with his foster mom Carrie, he cooperated with step-ups and made new foster-bird friends (Skye, our grey Indian Ringneck, who kept him company or would go on exploratory adventures with him when out of the cage.) By the end of July 2018, Munchkin was almost unrecognizable with gorgeous new plumage and full tail! Munchkin had begun to say "Hi Papa" and other cute vocalizations, so we knew he must have had a doting family at some point.
It was about this time that a young woman from the east coast saw Munchkin on Instagram and fell in love (hard!) Melanie was insistent that she wanted to fly out to California or do whatever was needed to adopt him. Volunteer Kelly spoke to her on the phone and was impressed by her bird knowledge and sensibility. Volunteer Barbara arranged for a qualified friend to do a home visit, and she approved of Melanie's home and the excellent care she provided for her current birds. The adoption committee reviewed all communications, and considering that no local inquiries had come in for Munchkin (who we all felt would have a hard time finding a home with his challenges,) they were open to the idea of an out of state adoption.
Melanie agreed that she was willing to fly to California and back without Munchkin if, at any time, the committee, fosters or volunteers felt the match wasn't right. She was willing to risk us pulling the plug and going home empty-handed because she wanted Munchkin to be happy and in the right home as well. … but was this going to happen?! How would Munchkin react?!
We encouraged Melanie and Munchkin to talk and video chat over the phone as much as possible before the visit. (We wanted him to know her voice.) Munchkin practiced traveling in the crate he would use on the plane that would fit under the cabin seats and received his veterinarian certificate for travel. Everything was set, including a scheduled veterinary visit with Melanie's avian vet shortly after they returned home and a new cage set up and waiting for him.
As soon as Melanie and her mom arrived, they rushed over to meet Munchkin at his foster home. They were encouraged just to talk to him… to "woo him" and help him know her voice, and Munchkin sat on the top of his cage, looking intrigued and perhaps a little confused. The next morning they returned to his foster home, and Melanie sat on the couch. Munchkin was placed on the back of the sofa, and without much hesitation, he walked over to her shoulder, climbed up, and began to preen her cheek. Everyone was in shock - he had *never* shown such affection or trust to anyone else while in our care. Not even close. Melanie giggled, and Munchkin acted like this was the most natural thing to do. He made his choice known by letting Melanie scratch his head while everyone else scrambled for either their phones to videotape this heart-melting moment or get some kleenex.
Melanie and her mom completed our classes, and we enjoyed many hours of conversation about parrot caregiving and Munchkin's special needs. Any hesitation we had about this adoption had vanished by now, and they were cleared for go! As a surprise, they upgraded their return flight to first-class - yes, Munchkin was going to fly in the first-class cabin with style! Munchkin did very well on his trip, even with no nares and a TSA security scan (done in a separate private room,) and arrived safely home.
But the fairytale doesn't end yet… over a year later, Munchkin has become an Instagram star! We frequently watch all of their cute antics together, such as when Munchkin calls to her, preens her, wants all her attention, and follows her everywhere. He enjoys talking to the other parrots in his home, but Melanie is the center of Munchin's universe, and it's the cutest thing ever. He loves her so very much, and she loves him right back. You can find them both on "@can_of_nutella" on Instagram.
Melanie recently shared, "Munchkin is the most handsome man in the world. I'm literally obsessed with the Munch. I cannot believe how lucky I am to have him and forever everyday grateful for PEAC for allowing me to spoil him and going the extra 2,307 miles, to be exact, to bring us together."
This #AdoptionSuccess is directly because of YOU - our members and donors! Thank you for making this incredible love-match possible.
The BIG Larry Update - What's happening right NOW (and Larry's bright future!)
About six weeks ago, we received a request to exit a 51-year-old, Yellow-naped Amazon named "Larry" from San Diego Humane Society. When we arrived, Larry had already received care from their vets who prescribed antibiotics, removed extensive "crust" from his eyes, and were concerned about "mucus" in his mouth. But everyone's biggest concern was his labored breathing and depressed mood. Larry had been on a "junk food diet," and he lacked developed muscle around his keel, not to mention the poor condition of his feathers. He did *not* feel well and ignored volunteer Kelly's voice. But the second that his future foster mom, Val, started to tell Larry how beautiful he was, he perked right up, flashed his eyes, tail and opened his mouth as if trying to respond back. Then he drooped back down, exhausted. Plans were made, cages were moved, and we all hoped Larry could hang in there a couple more days while we arranged his exit from SDHS.
Volunteer April helped set up Larry's new home and helped move him out with Val. Their first stop was for another veterinary exam with avian specialist Dr. Loudis. Immediately there was a serious concern. Larry had a very large granuloma at the back of his mouth, which was obstructing his ability to breath and swallow. He was ordered to come back in for immediate surgery. (You can see this mass in one of the photos below, with a red arrow pointing at it.)
Larry had a successful surgery and immediately perked up and dove into his warm, soft vitamin-A rich foods, literally shoveling it in. He was prescribed medications to fight fungal and bacterial infections and he took all of them with no fuss. A subsequent exam and droop in behavior several weeks later showed there were additional smaller granulomas deeper in his throat, and another successful surgery was performed to remove them. The biopsies revealed extensive yeast and bacteria infections, but no visible cancer!
Gratefully, a long-time member has stepped up to provide for all of Larry's medical care, and we wish to thank them profusely for this compassionate gift. He is doing so well now and loves playing "footsie" with his mom, grabbing and holding her finger through the cage with his foot. Larry will also show off by shredding the newspaper in his cage but is still learning what "toys" are. He likes to climb up on top when he's allowed out too and has begun vocalizing to the other parrots in the home. 2020 is going to be Larry's year, and we can't wait to see what he surprises us with next!
Everything accomplished this year was because of your kindness and continued dedication to supporting our parrots. We thank you from the bottom of our hearts.
It bears repeating:
"Giving is not just about making a donation. It's about making a difference." (Kathy Calvin.)

And what a difference you have made! Thank you!
Finally, we wish to thank volunteer April Adcock for sharing her photos and videos with us and documenting Munchkin's and Larry's stories. You can watch them in entirety on her YouTube channel "Parrot Playhouse."
With gratitude and wishes for a bright and happy New Year,
Kelly Flynn, President
Parrot Education and Adoption Center